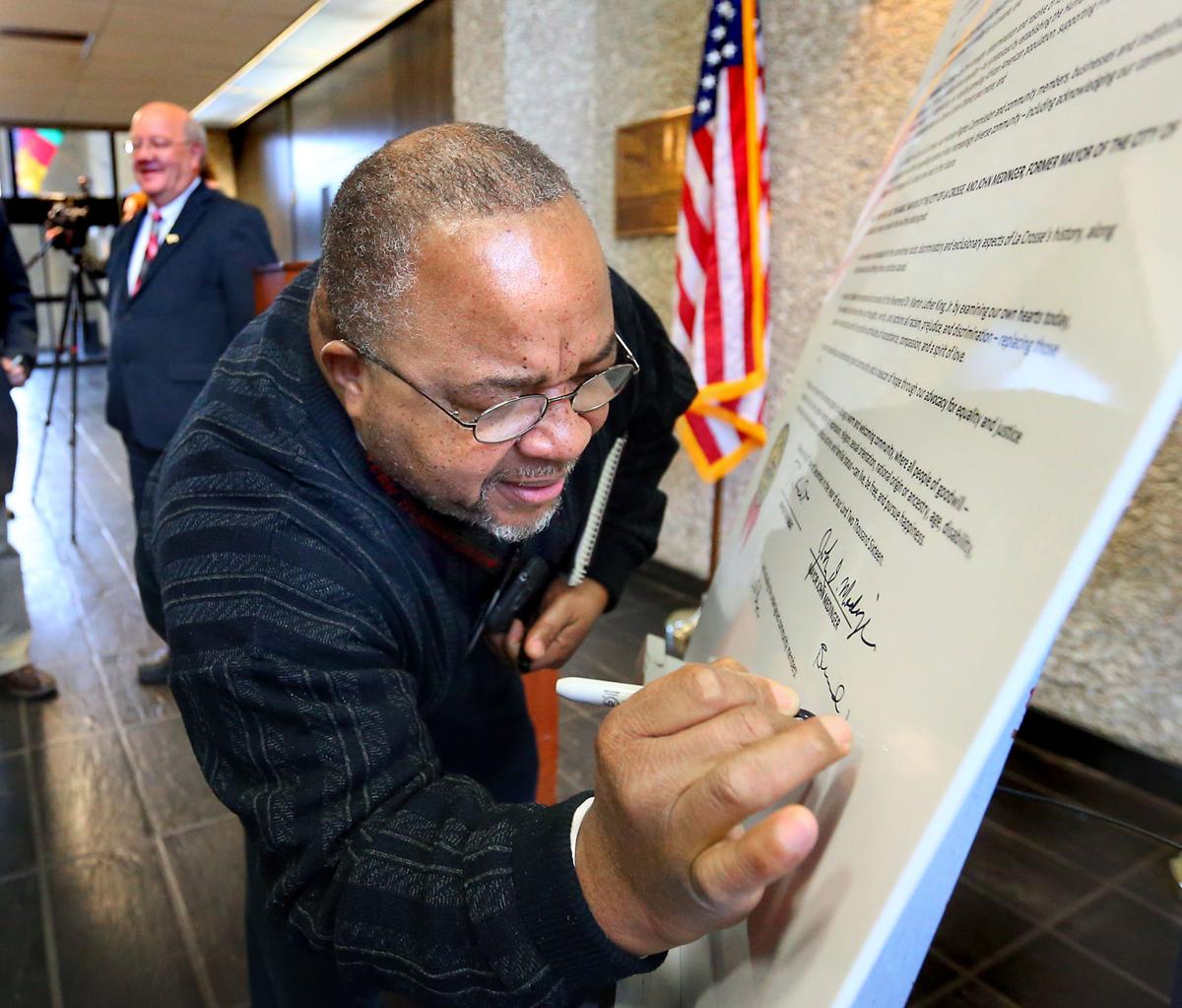 La Crosse's mayors proved Thursday that they know the value of words when it comes to healing divides.
Mayor Tim Kabat and former Mayor John Medinger came together in La Crosse City Hall to sign a proclamation acknowledging La Crosse's history with discrimination that strained relationships between the city and the minorities who live in it and pledging to work harder to ensure equality for all the city's residents.
"When there are strained relationships, we look for words to help us deal with them," Kabat said. "The way we use language and communicate with each other is really that first step. I can't think of any more powerful three words for rebuilding relationships than 'I am sorry.'"
The proclamation came a little over a month after Kabat apologized for La Crosse's history as a "sundown town," a city or village with either formal or informal codes that pushed black people out of the community after sundown, after a presentation from sociologist James Loewen at La Crosse City Hall. Loewen was invited by the University of Wisconsin-La Crosse and the city's Human Rights Commission.
"We had a great crowd and it was fantastic as far as being able to get a sense of what La Crosse's past is," HRC chair Fabio Burgess said. "We're never going to be able to change the future of this city and really make it the city that it can be without acknowledging what had gone on in the past."
Kabat and Medinger took that message to heart in the proclamation, which reads, "Healthy people and healthy communities are able to recognize their past mistakes, admit when they have been wrong and resolve to ensure equality for all people." It goes on to recognize the city has "made great strides in eliminating discrimination," while calling for the city to "commit to becoming an uncommonly great community and a beacon of hope through our advocacy for equality and justice for all."
It further includes a pledge "to work toward the common good in building a warm and welcoming community" for everyone, regardless of race, color, gender identity or expression, religion, sexual orientation, national origin, age, ability, marital status, physical appearance, political activity or familial status.
Medinger recalled a visit while he was mayor, when a priest from out of town suggested he put up a sign reading "Welcome to La Crosse, an ethical city." While he chose not lead an effort to put the signs up, he said he hoped the city lives up to the label.
"This proclamation will send a message to the world that La Crosse is a warm and welcoming community for everyone," Medinger said. "For everyone," he repeated.
The proclamation, which had garnered 33 signatures by Thursday afternoon, will remain up at city hall throughout the holiday season with participants encouraging community members to sign on to the pledge.
"I'm a great believer that this country and frankly the human race is in an upward trajectory. Sometimes it's hard to see in the moment or within the context of a few years, but I think this is one big piece of the puzzle in moving this community forward," Burgess said. "Anybody who comes and signs it is putting their mark in a positive way on this city."
While acknowledging La Crosse's history and pledging to improve is a start, the next steps are also important. Kabat praised the HRC for being at the forefront of action to change La Crosse's future, holding a series of listening sessions throughout the year to allow minorities to air their concerns and grievances.
"They've been so awesome to bring people together and most importantly, they've been just listening," Kabat said. "They've been giving people an opportunity to share their stories and share their pain, quite frankly."
The listening sessions have given the HRC a great many different perspectives and ideas, Burgess said.
"There is a lot of work to do and there is a lot of progress that has been made," he said. "The main thing we're hearing is that there is work that needs to be done and it may need to be done outside of government, as far as making sure the workforce in the city is really representative of the make-up of the community."
While Burgess said that was largely outside the purview of city government, Kabat said that was something that could be addressed within city hall when it comes to city staff.
"We're trying to make sure our workforce is reflective of the broader community," Kabat said. "We're not there yet as far as people of color who work here for the city or women and other groups who make up our leadership team. We're actively working on trying to recruit more applicants and try to get our workforce to look like La Crosse."
The city government has also supported additional training and workforce development to make sure current employees treat La Crosse's diverse population equally and stepped up efforts to support minority business owners as part of its economic development programs.
"This proclamation will send a message to the world that La Crosse is a warm and welcoming community for everyone." John Medinger,
former La Crosse mayor