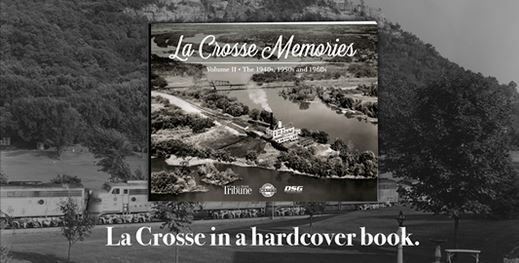 The latest book from the La Crosse Tribune, "La Crosse Memories, Volume II: The 1940s, 1950s and 1960s," is now on sale at the Tribune and at select retail outlets in the La Crosse area.
The book features 133 pages of photos and background on what La Crosse was like in the mid-1900s. You'll also find a recap of the early years of life in La Crosse.
The latest volume features everything from an Elvis sighting (page 86) to the early years of Oktoberfest.
You'll see presidential candidate John F. Kennedy's appearance in La Crosse (pages 100 and 101) and Roy Orbison at the Avalon in 1964 (page 114).
And, you'll see how La Crosse responded to the war years and how we enjoyed plenty of fun and games, too.
"La Crosse Memories, Volume II" is available for $44.95 at the La Crosse Tribune, 401 N. Third St. It also will be sold at several locations throughout the community, including the La Crosse Public Library, Gundersen Health System gift shop, La Crosse Convention and Visitors Bureau, Western Technical College book store and The Charmant.
Thanks to an additional shipment, the Tribune now has a very limited quantity of "La Crosse Memories, Volume I: The Early Years" for sale at our front counter.
From Tribune files: A look at life in La Crosse from 1900-1987
These photos are filled with many familiar faces and places from our area's past.
Get local news delivered to your inbox!
Subscribe to our Daily Headlines newsletter.