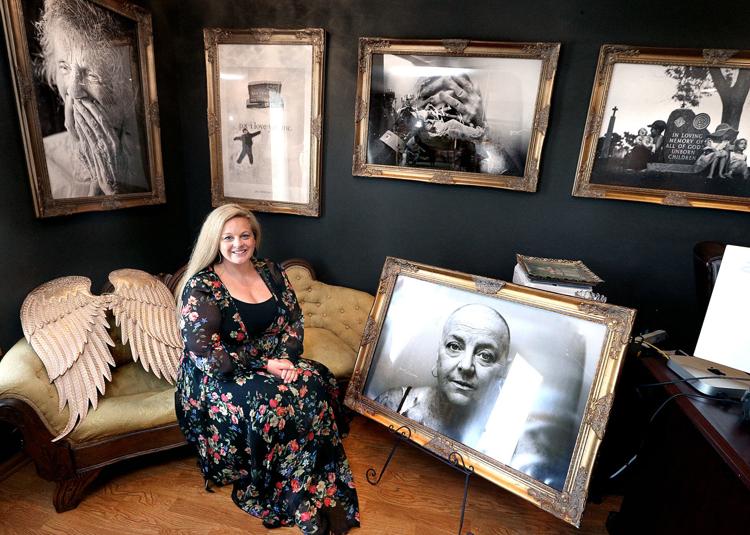 The image is a stunning juxtaposition of grief and joy: a grinning young boy, gleefully making snow angels, the marble headstone of the uncle he would never meet behind him.
The striking photograph was taken six years ago by Sarah Petersen, owner of Sarah Schultz Photography in La Crosse. Known for her gorgeous wedding photos and expertly styled senior portraits, the shoot was out of the norm for Petersen but marked a turning point in both her career and her life.
"It's not always about putting babies in the cutest (prop) or lying in a field," Petersen said. "Would you prefer a photo of you holding a (loved one's) hand or posing in a fancy dress?"
While she maintains a love for and continues to take elegant and lively special occasion, newborn and graduation photos, in March Petersen, 35, launched the nonprofit organization p.s. i love you inc., which creates legacy fine art photography, audio and video recordings for individuals who have suffered a personal tragedy, miscarriage, loss of a child and or have been diagnosed with terminal or life-threatening illness.
A board of 13, including medical and legal professionals, read through and approve applications, with Petersen and her husband and business partner, Brent, capturing and editing the memorabilia, all free of charge. Petersen's friend Katie Meyers, a therapist who also holds a social work degree, provides the emotional support aspect of the process, talking photo participants and recipients through the experience, which can prove cathartic, painful and comforting all at once.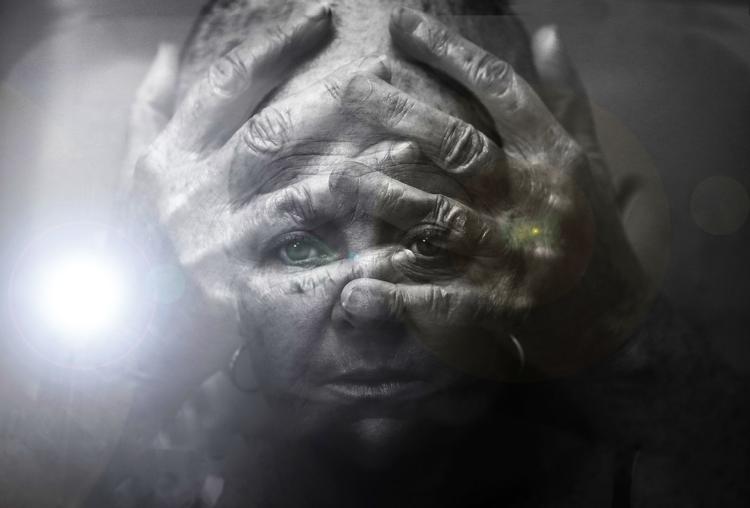 "It's not just snap pictures and let them go," says Meyers, who is currently living in Bemidji, Minn., and soon relocating to the La Crosse area. "There's a lot of emotional stuff that comes up that has to be dealt with. This is their life — it's not just a snapshot."
It is Meyer's son, Trevin, 9, who is featured in the pivotal photo from 2013, the grave belonging to her brother-in-law, Craig Meyers, who drowned in the Mississippi River in February 2010, the day before Trevin was due. Welcoming a child is a heartwarming occasion, but the birth was tinged with sorrow for Craig's loss.
When Trevin turned 3, Meyers reached out to friend and "soul sister" Petersen with a request she thought somewhat controversial — to unite her son with the uncle he would never know in the form of a keepsake photo. The result proved so beautiful and powerful, Meyers turned to Petersen to capture her grandmother's last days in 2015, the 97 year old photographed with both her namesake great-granddaughter, Luella, and solo. Meyers is also mom to daughter Alana and son Lincoln.
"My grandmother was beautiful — she was tiny and wrinkly and I wanted to capture the life lines and the years and the life that she had," Meyers says. The finished portrait, in black and white, features a closeup of the elderly woman's face, her creased and veined hands covering her laughing mouth, her eyes shining, and fine, wiry hair forming a halo around her head.
Petersen, who in 2010 had grappled with the death of her mother-in-law shortly before the birth of eldest son Jack, suffered another loss in 2016, miscarrying her fourth child. Her walls filled with images of Jack and daughters Sophia and Scarlett, "I so badly wanted a picture of him," Petersen said of her lost infant. "I didn't want to forget him. I had prepared a place in my heart for him."
Initially reticent to discuss her heartbreak, Petersen found once she opened up that others did as well, especially those she had become close with over the years as they continually hired her to document their expanding families.
"Everything wasn't always rainbows and butterflies," Petersen says. "I could understand how much they hurt."
She began capturing pivotal moments for clients. Some were triumphant: a cancer patient post chemo, on the road to health. Some were somber: a woman tenderly planting a kiss on a frail relative in a hospital bed. And others both melancholy and hopeful: a young boy affixed with chest monitors and wires, awaiting a transplant.
"It started opening up this floodgate," says Petersen, who has also helped dying individuals record final words, advice and wishes for their loved ones. Petersen estimates she did around 40 legacy shoots before starting her nonprofit, including one for herself. In honor of her unborn baby, Petersen captured her four children — son William was born two years ago — seated in a local cemetery around a stone marker etched with "In loving memory of all God's unborn children."
Linda Oldenburg, 57, of Viroqua was facing a daunting battle when she reached out to family friend Petersen last May for photos, shortly after being diagnosed with breast cancer. Knowing she would soon lose her hair and undergo a mastectomy, Oldenburg wanted pictures with her husband, Loren, "before everything changed." Oldenburg wasn't expecting to have her breasts marked for surgery the morning of the early June photo shoot and apologized to Petersen, who assured her the measurement lines could be impactful.
"I really trusted her," Oldenburg said. "She was really sweet with me and made sure I was comfortable."
The resulting images were profound, and Petersen asked whether Oldenburg would be open to documenting more of her cancer battle. Two weeks post mastectomy, after her second round of chemotherapy, Petersen took a second series of photos, Oldenburg's head now bald and her eyes haunting.
When Oldenburg saw the photos later in large scale, she was stunned to see how taxing the ordeal was on her body. Through it all, she says, she remained positive, assuring others she was OK, but when she saw the pictures, "I looked into my eyes and thought, 'Oh my God, I was worse off than I thought.' I had to face that."
Oldenburg initially felt vulnerable having the images shared with the public for p.s. i love you inc., but wanted to show the "human" side of cancer and remind others to be proactive about their health. Her story is also one of triumph, having been given "the all clear" by her doctor two months ago.
"Life isn't always pretty," Oldenburg said of documenting her battle. "But it's still life and it's worth living."
Anna Frazier was selected by Petersen to receive a session for Bereaved Mother's Day, the photographer on hand for the birth of Frazier's son Jaiden on May 23. The joyous occasion was a long time coming for Frazier and her husband, Jeremy, who struggled for five years to conceive. After trying holistic treatments, the Onalaska couple had turned to IVF and while Anna became pregnant, the pregnancy did not last to term. A second round of IVF was successful, but Anna was fearful, saying, "I spent the first trimester living life week to week praying baby would make it through the scary first trimester. I struggled before every appointment because I was convinced I can't be a mom — something would go wrong."
Petersen's photos from the birth are something she will cherish forever and mean the world to her, Anna says, noting Jaiden will likely be her only child.
"All of the emotion, the strength and beauty of the moment will be with us forever," Anna said of the images. "...The experience to me was healing and an 'end' to that chapter. We got our happy ending — not everyone does. It was fitting to have the birth documented as I have documented our five-plus-year struggle (on social media). Our journey had a following and I was able to give support to others also struggling."
Knowing many will continue to need emotional support after their sessions, p.s. i love you inc. clients will receive a followup call from Meyers six to eight weeks post-shoot, when Petersen is ready to deliver the images. If needed, Meyers will help make therapy or counseling referrals, as well as locating resources or services of need, such as someone to run errands for a family with a hospitalized child.
The experience is affecting for Petersen as well, who concedes her work carries an emotional weight. Sensitive and empathetic by nature, Petersen becomes teary eyed when talking about the people and circumstances she has photographed.
"It's hard to take in," Petersen says. "But it's easy to do for others what you would want them to do for you."
Meyers knows just how dear Petersen holds p.s. i love you inc. and its mission.
"Sarah had been dreaming of this for years," Meyers said. "It's been on her heart for a very long time."
Sarah Petersen, 35, launched the nonprofit p.s. i love you inc., which creates legacy fine art photography, audio and video recordings for individuals who have suffered a personal tragedy.
Get local news delivered to your inbox!
Subscribe to our Daily Headlines newsletter.