Rural resentment of urban and suburban areas has existed for a long time, but the election of 2016 was the first instance in which a presidential candidate exploited it well enough to make it a major deciding factor, political scientist Joe Heim says in assessing Donald Trump's victory.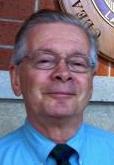 The increasingly negative polarization of the country will have long-term implications, Heim told an SRO crowd of more than 150 people Wednesday at the Interfaith Leaders' Coalition's Community Conversations program at English Lutheran Church in La Crosse.
"If you play on resentment, I don't think that is very good for the country, long-term," he said.
Rural residents' resentment "has been building for many, many years," said Heim, who is public administration professor emeritus at the University of Wisconsin-La Crosse.
Republican Gov. Scott Walker "recognized the value of rural resentment" first, said Heim, who referred to UW-Madison professor Katherine Cramer's book, "The Politics of Resentment: Rural Consciousness in Wisconsin and the Rise of Scott Walker" as providing a good analysis of the electoral atmosphere.
Heim confessed to an initial skepticism about Cramer's technique of meeting regularly and repeatedly with "old white guys" in rural areas to develop her theories because he relies more on polls.
Even though the rural sector doesn't constitute the majority in a country with so many people concentrated on the East and West coasts and in urban areas, "a significant minority was awakened by Trump and Walker," Heim said.
They moved the needle enough to give Trump an Electoral College victory even though Democratic candidate Hillary Clinton beat him by about 3 million popular votes, he said.
The rural-urban-suburban enmity was apparent in Trump's win over Clinton in several respects, Heim said, with factors including:
Distrust of American institutions, including government agencies such as the federal Justice Department and FBI, both of which Trump has undercut with unbridled criticism. "I do not think this is healthy," Heim said.
Distrust of Washington, which Trump nurtured with his "drain-the-swamp" mantra.
A slow and uneven economic recovery from the Great Recession of 2007-09.
"Clinton thought the election would fall into her hands because, by God, nobody would vote for that guy," he said, resulting in missteps such as her not coming to Wisconsin because she thought she had a lock on the Badger State.
Trump exploited the rural angst, which Heim said could be "political intuition or luck, but in Donald Trump's case, I'm not sure which it was."
Contributing to the acrimony from rural areas were feelings that nobody cares about rural decay; a sense that teachers, college professors and minorities in urban and suburban areas receive preferential treatment; political elites look down on rural residents; undeserving people receive welfare benefits and racial resentment, he said.
White and nonwhite voters even in rural areas clearly took sides in the presidential election, Heim said, noting that rural whites generally voted for Trump, while rural nonwhites supported Clinton.
The traditional blue-red rivalry has devolved into increasing polarity and political incivility, demonization and vilification of opposing views, he said.
Walker has honed his catering to rural interests to the extent that he has an advantage in seeking to become only the second Wisconsin governor elected to three terms — with the only other one being fellow Republican Tommy Thompson, he said.
For example, "Walker is very much opposed to a gas tax increase," a position that gains favor in rural areas where people drive a lot, Heim said.
Although there is no way to determine exactly how much influence Russian meddling might have affected the presidential election outcome, Russians proved adept at tapping into rural resentment and definitely had some effect, Heim said.
Heim displayed a map showing that at least 20 Wisconsin counties shifted voting allegiances from Barack Obama in 2008 and 2012 to Trump in 2016, adding, "Southwest Wisconsin counties are fertile for shifting."
Part of the reason Obama voters switched was because Obama fell short of expectations, Heim said.
"He'll go down as one of our better presidents, but he didn't accomplish as much as he had hoped," he said, adding that it is up to the individual to determine whether the blame lies at the feet of Republicans who obstructed his agenda or his own track record.
Then there is the issue of whether people voted for Trump and his agenda or just against Clinton, he said, with the Wisconsin split seeming to be half and half, he said.
The looming question is whether the country's apparent shift toward embracing the negative is permanent or temporary, he said.
"So far, Trump's base is sticking with him," he said.
Asked how 45 maintains almost unwavering support among evangelical Christians despite the furor surrounding sexual allegations and his demeaning attitudes toward so many, Heim said, "Evangelical (views) seem to be less religion dominated than you might think."
Abortion seems to be the main underpinning of evangelical support for Trump, even though "presidents don't have any control over abortion," he said.
"I would like to know" what motivates evangelicals' fervor in backing Trump, he said.
"They seem to forgive a lot of things Donald Trump does that doesn't seem like they are particularly forgivable," Heim said.