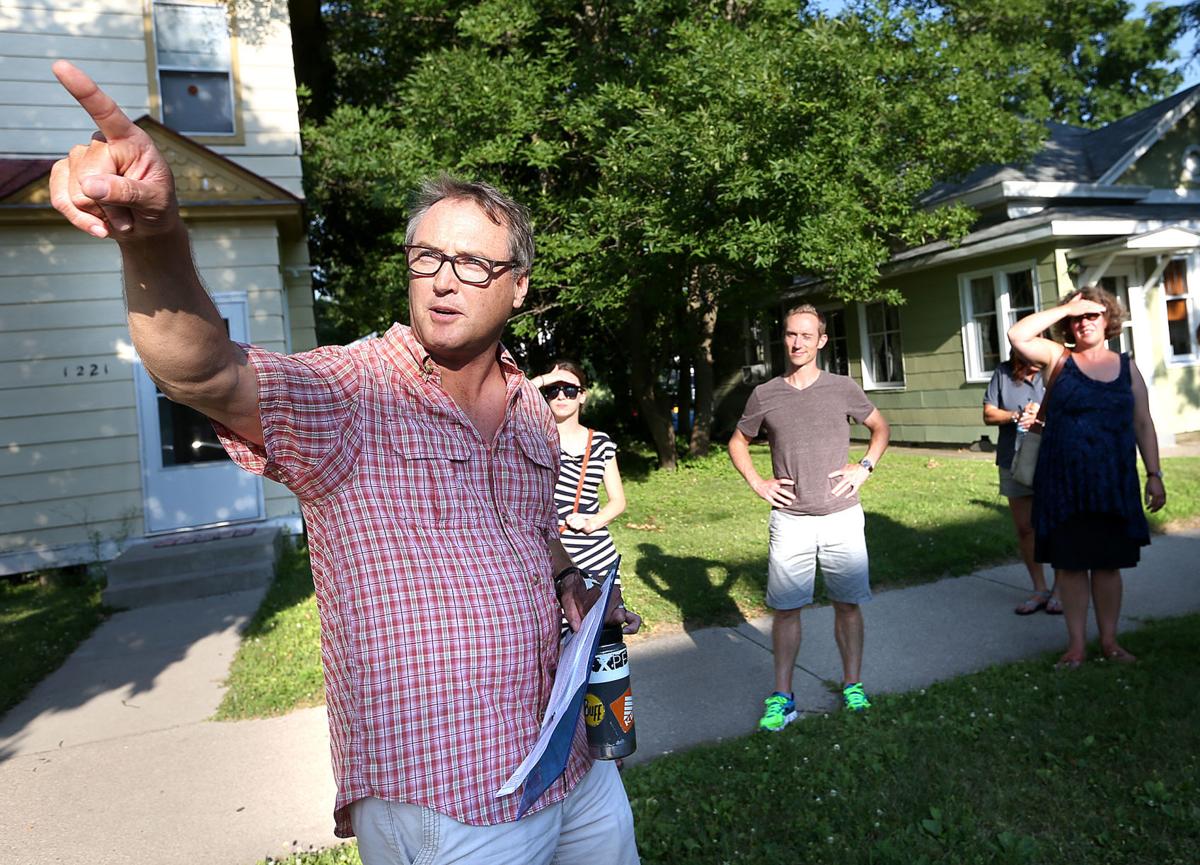 Michael Scott's La Crosse Promise Neighborhood Walking Tour begins with a disclaimer.
"I am a story-teller who likes history, not a historian who tells stories," he said Wednesday as he gave a preview of the tour to a group of young adults from the La Crosse area.
Despite the disclaimer, Scott gathered historically accurate stories, with a few ghostly tales woven in, of the people who populated the Powell-Poage-Hamilton and Washburn neighborhoods in bygone eras. The creator of La Crosse's Old School Variety Show will put his story-telling chops to good use, leading three free tours, rain or shine, Aug. 13 and 24 and Sept. 1 that will weave through the two neighborhoods.
The stories range from phantom custodians to speak-easies to a spat between the barbers' union and Dr. Adolf Gundersen, founder of Gundersen Clinic, which went on to be known as Gundersen Health System.
"Some of these stories have a bit of a darker tint to them, but that's really what was written about at the time," Scott said.
Among Scott's favorites is the story of George "The Tiger" Markos, a previous owner of the bar now known as The Recovery Room at the corner of Seventh and Mississippi streets. Markos, a professional lightweight boxer, bought the building shortly before he retired at 33 in 1949 and named it Ringside Bar, and he could be found behind the bar most nights.
Despite earning his nickname with a 76-11-13 record, Markos was known as a gentle man outside the ring. He taught boxing lessons at S&H Sporting Goods on the second floor of 327 Main St., the current home of Mind Altering Tattoos.
"On one particular day a very large, drunk man, came in saying he wanted to take on the champ," Scott said. "George tried to get him out of the building, but he knew the guy wasn't going to go quietly."
At 5 feet 5 inches and 135 pounds, Markos wasn't imposing, but it didn't take him long to convince the interloper to make his exit.
"Apparently it took five blows to this guy's midsection and down he went," Scott said.
Scott, who also was the script-writer for last fall's Dark La Crosse trolley tour, found his stories by walking through the neighborhood, finding interesting-looking buildings, then looking for the previous owners' obituaries.
"I'm really standing as shoulders of local historians and the librarians at the La Crosse Public Library archives," Scott said.
The tours, which are each an hour long, were organized by La Crosse Promise, the non-profit organization dedicated to increasing the housing diversity in those neighborhoods by offering $50,000 in college scholarships to families that build or renovate a home within their borders.
The group's board was inspired to organize the tours after taking a smaller tour of their own. Executive director Jerilynn Dinsmoor enjoys driving through and seeing the new construction and the historical buildings together and wanted to take the time to walk through and really get to know the features.
"Walking it just gives you a very different feel," she said.
Dinsmoor hopes the tours will create an emotional connection between La Crosse's residents and the neighborhoods and combat the poor reputation she believes they have not earned.
"Getting in touch with history connects people to these places," Dinsmoor said.
Scott was glad to join in, not only for the history, but also for the cause.
"We've got to get people out here, and we've got to get people walking this neighborhood," Scott said.