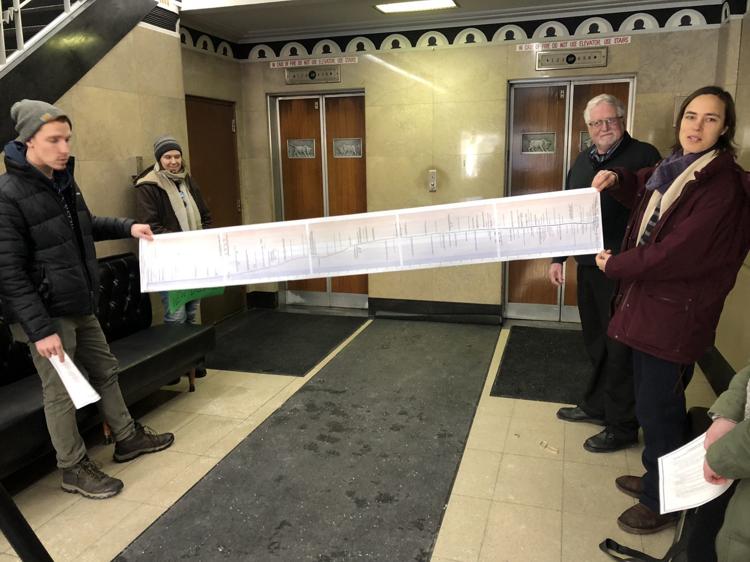 About 10 La Crosse residents, many of them college students, gathered to support the Green New Deal on Friday morning in the lobby of U.S. Rep. Ron Kind's office in downtown La Crosse.
The deal, which was unveiled Thursday as a resolution in the House of Representative by two Democratic legislators, calls for the transition from fossil fuels to renewable energy within a decade and the creation of fair and equitable green energy jobs. A price tag has not been attached to the plan.
More than 600 groups across the country have petitioned their legislators in support of the deal.
"From 20,000 B.C. to now, life was always sustainable," said Annika Mersmann of Viroqua, who organized the local petition. "Every species worked towards contributing to the balance. Now we're the one going totally off balance, not even making a change when we know what we're doing."
Mersmann brought an XKCD cartoon charting global temperatures going back to 20,000 BC, printed across five sheets of 8-inch-by-14-inch paper, which she presented to Loren Kannenberg, Kind's 3rd District director. The chart shows a gradual overall rise in temperature until the end of the 20th century, when temperatures veer sharply toward a one-degree increase above the global average.
"This generation and the past, we're determining the path of this planet for all the species," Mersmann said.
"I will carry your message to the congressman," Kannenberg said, as Kind was in Washington, D.C., this week.
The Green New Deal is a framework that treats clean energy solutions to mitigate climate change as an economic opportunity. The name harkens back to government mobilization during the Great Depression.
The plan would build resilience against climate-related disasters, support sustainable farms and food systems, electrify the transportation sector, and provide universal health care. Exact details have not been worked out.
Unlike its predecessor, the Green New Deal would ensure that groups and communities excluded from the original New Deal, including indigenous communities, people of color, rural communities, women, children, the poor, the elderly, and people with disabilities, are not left behind, according to its text.
The deal grew from the Sunrise Movement, an organization of young people on a mission to "stop climate change and create millions of good jobs in the process." It gained momentum after a newly elected Alexandria Ocasio-Cortez joined Sunrise supporters for a sit-in in then-House Minority Leader Nancy Pelosi's office.
Ocasio-Cortez, D-N.Y., and Sen. Ed Markey, D-Mass, unveiled the Green New Deal on Thursday in Washington.
It stands in stark juxtaposition to President Donald Trump's stance on energy. During the State of the Union address this week, Trump praised America's dominance as the world's top fossil fuel exporter and did not mention climate change, which he calls a hoax.
The plan, which is nonbinding, would face opposition in the Republican-controlled Senate and White House.
It leaves out some strategies for reducing greenhouse gases, including a carbon tax and cap-and-trade program, and has also has been critiqued for its ambitious timeline.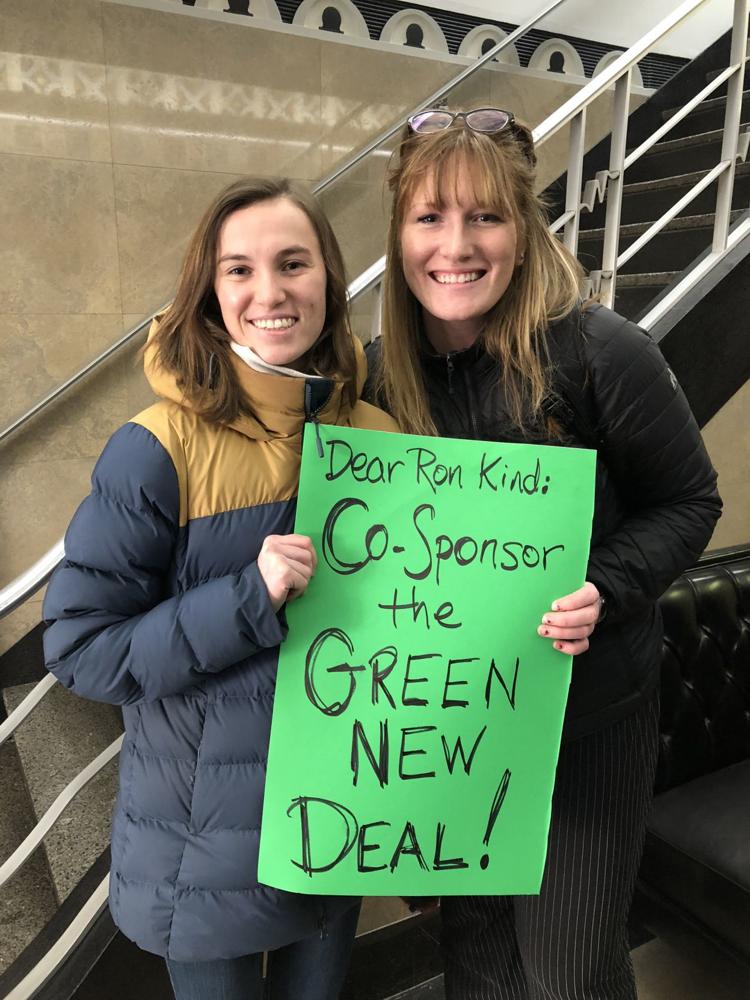 Many of those in La Crosse who came out to support the Green New Deal said they they did so because climate change is their present and future.
"We care because in 50 years, we're still going to be here. We're the ones that will have to deal with the repercussions," said Marissa Despins, a senior at the University of Wisconsin-La Crosse majoring in biology. Despins kept an eye on the clock. Her next class for the day, on global warming, was at 11 a.m.
Erin Burke, also a UW-L senior majoring in biology, spent a summer in Alaska studying spruce bark beetles. She got a firsthand look at how climate change sped up the beetle's reproductive cycle, allowing it to devastate forests at an unprecedented pace.
And climate change isn't only something that happens elsewhere, like Alaska or along the coasts. "Even now, with the polar vortex, scientists are starting to link those changes to climate change," Burke said.
"Because of climate change and our land use, there are way more floods with more water where the water just runs right off," Despins added.
Avery Van Gaard, who works for Coulee Region Ecoscapes, a sustainable landscaping company, said the plan was not only crucial for averting the worst climate change impacts, but also a way to invest in renewable energy produced locally.
"There's a whole industry, right?" Van Gaard said. "It's excellent for the economy, so why wouldn't you?"
"We have 10 years left to figure this out," Van Gaard said. "I feel like we've got to the point where everyone else isn't going to do anything about this; I have to do something about this."
Jennifer Lu is the La Crosse Tribune environmental reporter. You can reach her by phone at 608-791-8217 and by email jennifer.lu@lee.net.
Get local news delivered to your inbox!
Subscribe to our Daily Headlines newsletter.