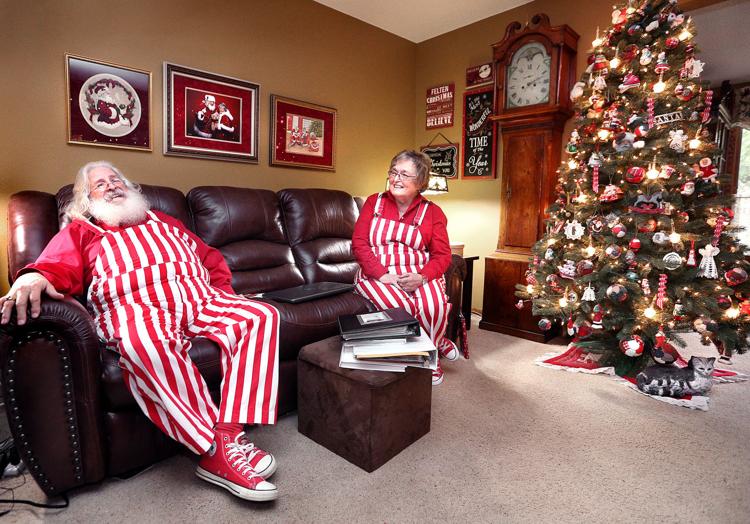 Most people spent March 17 celebrating St. Patrick's Day, resplendent in green and dining on soda bread and dark beer. And while Bonnie and Dan Felten were indeed in the holiday spirit, they were pairing red with their green, extending the joy of Christmas three months past.
In truth, every day is Christmas for the Feltens, better known as La Crosse's renowned Santa and Mrs. Claus.
Dan, 75, and Bonnie, 74 — whose maiden name is, fortuitously, Claus — keep their home in North Pole-condition year round, a tree standing tall and shining brightly in their living room during a May 1 interview. Though the jolly couple have nearly two decades of experience embodying Christmas' most prominent pair, they suited up for a little refresher mid-March, joining some 400 other suit clad Santas and Mrs. Claus' at the annual Santa Family Reunion at the Gatlinburg Convention Center in Tennessee.
The Feltens, who have been attending for the past 11 years, were first alerted to the event by 10 people who saw it in a newspaper and shared the clipping.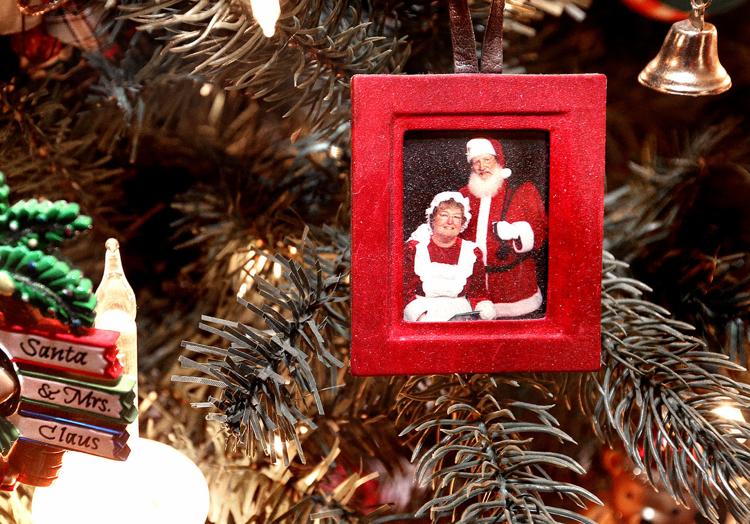 "They make such a celebration about it in Gatlinburg," Dan said. "People get a charge out of seeing all the Santas."
Held March 14-18, the mass gathering brings Santas and their spouses from across the country to share tips, meet fellow boot and belt enthusiasts and do some good.
They participate in a blood drive for Tennessee area hospitals, bid on a charitable live auction on secret, gift-wrapped items, stuff a sleigh with donations for the Smoky Mountain Children's Home in Sevierville, Tenn., and attend workshops on creating visits for individuals with disabilities, portraying Santa professionally and ethically, preparing and posing for perfect pics and spreading the spirit of Christmas through the use of simple magic.
A decade ago, Bonnie opted to attend the puppeteering class — "I wasn't interested in the 'how to keep your beard white' course" — developing ventriloquist skills she utilizes with sidekick Olive, a stuffed puppy.
"Olive is so revered, she had her own name tag (at the reunion)," Bonnie said with a chuckle. Asked how many of the fellow Santas they know by name, Bonnie smartly replied "They're all Santa!"
While "most people think all you have to do is put on a Santa suit and sit in a chair," Dan says, he and Bonnie start preparing for the next Christmas on Dec. 26, collecting trinkets and stories at the convention to pull out next winter.
Among the new treasures they picked up are a reindeer harness, a wand that glows when the spirit of Christmas is present and the tale of the white feather, which Santa leaves if children wake up during his visit. The feather clears the memory from their mind, but they awake to find the "proof" he was there.
During the "Swap and Share" portion of the convention, Santas traded holiday decor and props, while a talent show offered a chance to demonstrate skills beyond a hearty "ho ho ho."
During a runway fashion show, Santas strutted their stuff while wearing the latest trends in "Clauswear." In past years, the Feltens have donned both red- and white-striped 1920s style bathing suits and Oktoberfest-style Santa gear for the show.
There is no competition among the men — and women — in red, the Feltens say, with the convention all about mentoring, sharing experiences and spreading joy.
During the convention's "Parade of Santas," community members flocked to the sidewalk to marvel at the sea of Santas flooding the streets in the midst of spring.
"People just come and wander up and down — you can take pictures with kids for hours if the legs hold up," Dan said.
Children are, of course, curious about the abundance of bearded men, a curiosity which reunion members explain as a training of helpers. At holiday time, Santa is simply too busy to solicit assistants, gathering a group in spring instead to work out any kinks for the next holiday.
"We tell them to talk to all the Santas, and the one that touches your heart is the real Santa," Dan said.
Beyond the convention, the Feltens also enjoy a Santa Cruise and stay dressed in seasonal attire spring, summer and fall. The sight brings smiles everywhere they go.
"By staying in character all year and wearing red all year, anytime we go to a new city or a restaurant or a hotel, people want to take their picture with us and tell us their Christmas stories," Dan says. "It's such a joy."
Get local news delivered to your inbox!
Subscribe to our Daily Headlines newsletter.