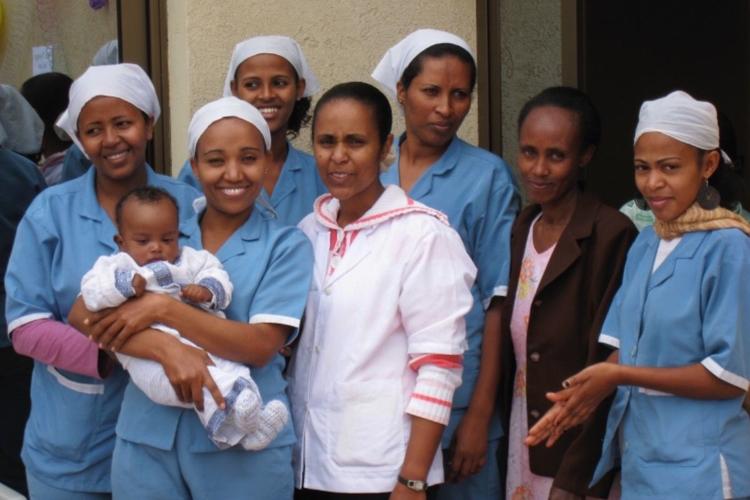 Last month, La Crosse's crochet wonder Jonah Larson released his first book to great fanfare.
Early next year, copies of "Hello, Crochet Friends!," along with hundreds of other tomes and textbooks, will grace the shelves of Jonah's Library in Ethiopia, an establishment made possible by the world-famous preteen's generosity and tenacity.
Jonah, who has been crossing the country for television spots, promotional appearances, celebrity collaborations and sponsored crochet tutorials since the La Crosse Tribune first wrote about his unrivaled passion for hook and yarn last January, will be perhaps the youngest person to finance an entire library. He will enter seventh grade this fall.
Jonah was born in Durame, a town in southeastern Ethiopia, and adopted as an infant by Jennifer and Christopher Larson of La Crosse, also parents to son Leif and daughter Mercy. He had previously supported the nonprofit Roots Ethiopia, donating his crocheted creations for auction, and hoped to do more.
In late February, Jonah established a GoFundMe with the intent to split any donations between Roots Ethiopia and himself, the latter to be put towards a return visit to his birth country and to support his medical school aspirations. After surpassing the initial $10,000 goal, the Go Fund Me target was raised to $20,000. Currently at nearly $19,000, Jonah's family cut a check in the amount of $9,300 for Roots Ethiopia last month.
"I just have my deepest thanks to everyone who donated to my Go Fund Me," Jonah said. "And for how much they support me and how much they want to help me spread books and crochet around the world. The money makes me happy because it lets me give back, but what matters more than donations are people's kind words. That's what drives me, fuels me, to help others."
Jonah decided to leave the use of the funds to the discretion of Meghan Walsh, founder of Roots Ethiopia. It was Walsh who, knowing of Jonah's passion for reading and family, suggested putting the money toward the creation of a library in the rural Kembata-Tembaro zone, near Jonah's birthplace, and naming it in his honor.
"To be honest, the first emotion that came was tears," Jonah said. "Then it struck me how they have no books and I just know what an amazing impact Jonah's Library is going to have on the kids there and the whole community. I'm a very avid reader and I love crochet and reading. I can't imagine my life without books and I wanted to be able to give them the joy of reading. ... I can't wait to go back and see Jonah's Library and I hope I can spread Jonah's Libraries everywhere."
Libraries, both public and those in schools, are a rare commodity in Ethiopia, Walsh says, with learning establishments already struggling to purchase desks, blackboards and other basic items. Without textbooks, students — as many as 70 in each single-teacher classroom — are responsible for copying every lesson from the chalkboard. It's a struggle to keep up, Walsh says, and half of students drop out of school by fourth grade.
"Books are still a luxury item," Walsh said. "Parents might own a Bible, but that's really it."
The funds from Jonah are enough to complete the eponymous library, in a K-8 school yet to be chosen, in full. But a surprise $5,000 donation from a celebrity, whose name the Larsons are unable to reveal at this time, will allow for the creation of an additional children's reading room. Jonah met the famous donor last week, who had given him the sum to donate in whatever capacity he saw fit.
Of the $9,300, about $4,000 will go toward furniture, including around a dozen tables and 80 chairs, $3,000 to the purchase of 900 books — the average K-8 school has 1,000 students — $700 for the installation of solar panels, and $100 per librarian for training. The additional $5,000 will be dedicated to the youth reading room.
Community members and the school itself are responsible for building or allocating a mud structure for the library, and Roots Ethiopia lays down a concrete floor, adds windows and a lockable door and installs solar panels, a metal roof and light fixtures in addition to furnishing and stocking the library. Rural schools generally have dirt floors, and the concrete will help with cleanliness and longevity.
The library will be a "game changer," Walsh says, and Roots Ethiopia will select a school based on parent involvement, capacity for a long-term partnership with the organization and willingness to put labor into building the initial mud structure. The decision will likely be made by mid-September, with an anticipated completion date of March 2020.
Roots Ethiopia has worked with 25 primary schools to create quality library spaces, where books can be checked out, teachers can make lesson plans and students can develop reading habits, as many struggle with literacy. The organization works closely with each school to ensure the library is open consistently, well staffed and stocked and contains materials suitable for all grade and age levels.
"It is the wish of local people to have libraries," Walsh said.
A sign reading "Jonah's Library" is being custom made by an artisan in Hayward, Wis., and Jonah has requested the interior be painted orange, his favorite color.
"It's bright, it's fun. It's like a sunset color and it goes with everything," Jonah said. He will, of course, also be supplying copies of "Hello, Crochet Friends!: Making Art, Being Mindful, Giving Back: Do What Makes You Happy" for the library to inspire others to take up the fiber art.
Walsh marvels at Jonah's commitment to both his own goals, including becoming a surgeon and expanding his business, and the wellbeing of those, especially youth, in his birth country.
"These are his peers, these are children he might have grown up with. These kids have dreams too and we hope this library will help make some of those dreams happen," Walsh said. "I bet there is a little boy in Ethiopia who wants to be a doctor too and maybe he will open up a chemistry book and believe he can do it."
Jennifer, who has been by Jonah's side as he balances crochet, school, family, fame and travel, marvels at her son's journey from 2,400 to nearly 200,000 Instagram followers, his humbleness despite hobnobbing with movie stars and his big heart — he not only gives back monetarily but emotionally, encouraging others to stay true to themselves and kind to others.
"I'm at a loss for words really," Jennifer said. "To think of all that transpired from January until now — in that short amount of time he really is changing the world."
Get local news delivered to your inbox!
Subscribe to our Daily Headlines newsletter.