La Crosse school board considers $9 million expansion for Hamilton Elementary
When Jennifer Speckeen's first-grade students need to use the bathroom, they have to walk through another classroom. Same thing if they need to turn on the lights.
"It's an adventure," Speckeen said of her unorthodox classroom at Hamilton Early Learning Center.
Now, in an effort to relieve crowded classrooms and give a boost to one of La Crosse's most challenged neighborhoods, the La Crosse public school board is considering a potential $9 million expansion of the 57-year-old building.
It would be the district's first major school expansion since the completion of the $15.7 million Northside Elementary in 2014.
The board has looked at preliminary plans to add nine classrooms, a gymnasium and an expanded library, which were identified as areas of need during a series of meetings with parents, staff, community members and other stakeholders.
Board president Connie Troyanek said the board will likely not make any decisions before this summer, and if approved construction would begin in 2019. The two-story classroom addition, identified as the highest priority, would cost about $4 million, according to the district.
"This isn't something we're doing right away," she said. "We're just talking about it."
Troyanek said the board intends to do the work in phases, paying for it with reserve funds.
"We're not going to increase taxes on anybody to do this," she said.
Built in 1961 and last expanded 33 years ago, Hamilton is the smallest school in the district, with just over 46,000 square feet. Yet it houses about the same number of students as Southern Bluffs Elementary, which has more than 70,000 square feet.
To compensate, Principal Steve Michaels has turned offices into classrooms, even though they lack outside windows and are only about half the size of a regular classroom.
Part of the library was walled off for fourth and fifth graders. Speckeen's classroom was created by splitting the first-grade room in half.
Children receive speech, occupational and physical therapy in one room that also houses adaptive physical education.
A basement storage room across from the electrical closet has been re-purposed as the orchestra room, and drama classes are held on the stage in the gym, which doubles as the cafeteria. Unfinished drywall blocks some of the din, while students enter and exit through the teacher's lounge.
There are less than 145 square feet per student, 20 percent less than the district-wide average for elementary schools.
"I think it's time to give our kids a little more space," Michaels said.
Angela Manke agrees. Manke, who has two children at Hamilton and serves in the parent teacher organization, is also chair of the Powell-Poage-Hamilton Neighborhood Association.
"Mr. Michaels is a magician of trying to make the best of a situation, but you can only go so far," she said. "It's definitely a much-needed expansion. Not only for the students, but for the community."
With nearly three out of four students considered economically disadvantaged, Hamilton has the one of the highest concentrations of poverty and is situated in one of the core neighborhoods where city and community leaders have focused revitalization efforts.
District Superintendent Randy Nelson said one of the goals is to support the mission of making Powell Poage Hamilton a desirable place to live.
Investments in public schools are critical to attracting and retaining city residents and reversing long-term trends of suburban migration, said La Crosse planning director Jason Gilman.
"These urban elementary schools are an absolute cornerstone to urban revitalization," Gilman said. "If the schools perceived to be the best are outside the city, that's where parents will invest."
Gilman said an investment in Hamilton would also be a step toward social equality.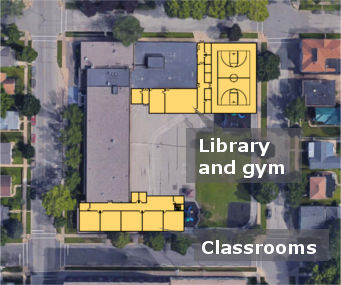 "The children in that neighborhood should have the same advantages as any child," he said.
Manke thinks the investment will benefit all neighborhood residents, not just those with young children.
"School is not just for the young," she said. "School is for all of us."
In spite of its location and spacial limitations, Hamilton is the district's second-fastest growing school, thanks in part to the addition of grades four and five.
Over the past decade, enrollment went from 126 to about 200, in addition to the 120 students of the School of Technology and Arts, or SOTA, which occupies classrooms on the second floor. Only Northside Elementary, which absorbed the students of the former Roosevelt Elementary before completion of the new building, saw a larger increase.
Since going to a year-round schedule five years ago Michaels said he's had to turn away some students from outside the school's boundaries.
But Michaels said he's not looking to further expand enrollment, just to gain some flexibility and give students and teachers a better learning environment.
Overall district enrollment has fallen about 7 percent over the past decade, but Troyanek said losing about 50 students per year doesn't significantly affect the number of classrooms needed at a dozen elementary schools.
Despite Hamilton's challenges, Michaels said none of the teachers have complained, even if they might have cause to.
Speckeen, who is in her first year with the district, said while she would prefer a room with its own door, she loves the school.
"There's enough good," she said. "The other parts are just how it is."