Gerke, an 83-year-old member of the FSPAs, recalls being gobsmacked herself when she first saw the chapel as a 14-year-old high school freshman seeking to join the order.
"I was wowed," she said last week during an interview about her new 355-page book, "Mary of the Angels Chapel: God's Answer to a Bold Promise," tracing the history of the 112-year-old chapel.
The coffee table-style tome not only chronicles features that are clearly visible in pew's-eye views but also provides peeks into hidden nooks and crannies of the church and adjoining adoration chapel.
For example, until Gerke began her research for the book in May of 2016, tradition held that the chapel contains 165 angels. But the former music teacher found three more angels that had hidden devilishly before her headcount.
"About 75 percent of the chapel was locally done — much of it by local people volunteering," she said. "I don't think people know that this type of talent was available here when it was built between 1902 and 1906."
Gerke's zeal for the chapel runs so deep that she can spew facts and minute details about it faster than God parted the Red Sea on Moses' command.
Tourist reactions inspire book
Her inspiration for the book came in part from the enthusiasm of people she guided on tours of the chapel after she retired from teaching in 1990 and became the congregation's liturgical director until 2001.
The talent included not only immediate La Crosse area artisans but also stone workers from Genoa, plasterers from Sparta and immigrants from Europe who poured into the country headed to La Crosse because they wanted to work on the chapel.
Work was scarce, and the laborers "didn't have money, but they had skills," said Gerke, a La Crosse native whose great-grandfathers were among the craftsmen.
Their mantra was "Anything for the sisters," she said.
Special bricks crafted
in La Crosse
Among the unique materials in the building are rounded bricks created at several brickyards in La Crosse to construct circular areas of the chapel. The bricks were crafted and measured onsite, then taken to the brickyards to be fired in kilns.
Then as now, people often wondered how the sisters built such an elegant chapel, Gerke said, adding, "We couldn't afford it. How could we? We were surviving on potatoes."
The book's subtitle, "God's Answer to a Bold Promise," solves the conundrum with its description of a prayer of Mother Antonia Herb in 1865: "Dear Lord, if you will bless us … we will build as beautiful chapel as our means will allow."
"I'll paraphrase God — 'Just you wait,'" said Gerke, whose pursuits these days also include playing the harp for worship services and other events, as well as volunteering at hospitals and homes for the elderly.
She learned how to play the harp in five lessons at age 63, and that led to her first book, "Instrument of Peace," published in 2008.
The FSPAs came to La Crosse in 1873, and their numbers grew from a handful to 80 in 1878, when the sisters began the perpetual adoration that continues today. Membership rose to 300 by 1901, and they needed to replace the cramped Maria Angelorum Chapel they had built on Market Street and would accommodate only 100.
Gerke credits God's answer to Mother Antonia's prayer with creating circumstances that brought together some of the finest architects, builders, painters, sculptors, woodcarvers and other craftspeople in the world to work on the project. Many donated their labor for the chapel that, along with the adjoining adoration chapel, would become the vessel to cradle the order's heartbeat of prayer.
"We still volunteer," she said, acknowledging those who donated their time and talents toward the book, including photographers John Zoerb of La Crosse and Sue Retzlaff of Holmen, both of whom contributed photos and technical expertise to the project.
The book, which costs $50 and is available at St. Rose of Viterbo Convent at 912 Market St. in La Crosse, includes hundreds of photos that allow readers to see wide views of the chapel, close-ups of statues, paintings and other features, as well zero in on minute details normally unseen because they are so high or tucked into recesses.
Zoerb, who described Gerke as "a great gal — very talented," said one thing that attracted him to the project was "the chapel provides a very nice feeling, and it was an opportunity to go places (in the building) where nobody else could."
"It was quite a challenge, because so many things were out of sight and 30 feet above the ground," said Zoerb, former manager of La Crosse Floral and longtime photo buff as a member of the La Crosse Area Camera Club.
"Every inch of this place is special," Gerke said. "The windows are to stained glass as Stradivarius is to violins."
'Finest stained-glass windows in world'
Less than a handful of people worldwide are skilled enough to work on stained-glass windows as well-done as the chapel's, Gerke said, adding that finding one of them just 5 miles away was nothing short of miraculous.
"It has some of the finest stained-glass windows in the world," said Johnstone, who acknowledged having a small company whose workers nonetheless have removed and rebuilt all of the chapel's windows during the past 14 years.
"They are astounding, very well done," he said, marveling that the German artists who crafted the windows around the turn of the 20th century were able to accomplish the glass-blowing and heating feats without modern-day digitized ovens to fire windows to around 1,200 degrees.
Some of the stain is actually embedded in the fired glass, while people and scenery are painted, with the paint then infused into the glass, he said.
To repair any cracks in windows, he was able to use a special glue that does so almost imperceptibly, "so we don't have any bad replacements," Johnstone said.
"I'm sure I've glued 1,000 cracks," during the 14 years his company has worked on the chapel's windows.
"You have to learn the church work," he said, adding, "It can be fairly dangerous."
Describing restoring the windows in the chapel domes as "some of the hardest we've ever worked on," Johnstone acknowledged postponing that part of the job until the end.
"It was so difficult that we spent years thinking about how to take them out," said Johnstone, whose company also makes new stained-glass windows and is booked six years out.
If removing and replacing the windows is such a daunting task now, imagine the initial installation — the European artists used the metric system of measure to craft them, but the chapel is based on the imperial system.
The installers had to do some jimmying and puttying to accommodate the difference, Gerke said.
Gerke shakes her head in amazement as she talks about details that are as thought-provoking as they are logical.
Pointing out that the sanctuary ceiling is a light blue, she explained that early baptisteries were open to the sky, and this aspect of the chapel connects the sacraments of Baptism and Eucharist.
The filigree on the ceiling appears so uniform that viewers can't believe that decorations are all hand painted, but Gerke said it often was a team effort between the artist and volunteers. The artist would outline the design, and the volunteers would fill it in, similar to paint-by-numbers for kids.
"Otherwise, how could they have gotten it done in that short time?" she said, conjuring up images of Michelangelo, spending four years on his back, painting the ceiling of the Sistine Chapel in the Vatican.
Six-ton beams hold dome
The four beams that hold the eight-sectioned dome above the sanctuary are said to have weighed 6 tons apiece. It took six men working with horse and tackle to raise the beams into place.
The chapel's statuary, in which prophets and other historical figures are depicted as people with young faces, signals a substantial difference from the usual images of prophets and other historical figures as elderly folks.
"That's because they did the prophets did their best work in the prime of their lives," she said. Most statues "put them in halos and with beards — but prophets did not do their best work when they were 82."
Some elements are sort of like inside jokes, such as a painting above the altar of St. Francis kneeling before God on three red-carpeted steps. Observant chapel-goers might notice that the steps are the same as the chapel's, although the carpet has been changed.
Many of the chapel's statues and altar work are crafted from Carrara marble, but the chapel's pillars and walls are painted in a 19-step process that makes them appear to be marble.
"Even our fake is good," she said, adding with a mischievous smile, "I love it."
Gerke said she has a few regrets about the chapel, such as the fact that the original pulpit and sanctuary furniture are in storage instead of on the altar.
"I also have sadness about the roof," she said, pointing to a drone photo in the book and noting the intricate designs of the Spanish tiles. "The people who did this never even got to see this, and how perfect. How could they?"
But their pride in craftsmanship runs throughout the chapel, she said, noting the expertly carved 5½-foot cross atop the highest peak.
"They knew nobody would ever see this," but their attention to detail was meticulous as well as timeless, Gerke said.
"I think God gave us this chapel for this time in our life of our community," she said. "We're few in numbers," with 208 sisters, along with more than 250 affiliates and more than 220 prayer partners.
"But this chapel will stay — and it shows what God will do if you are faithful," she said.
Photos: Mary of the Angels Chapel in La Crosse
Overall Mary of the Angels Chapel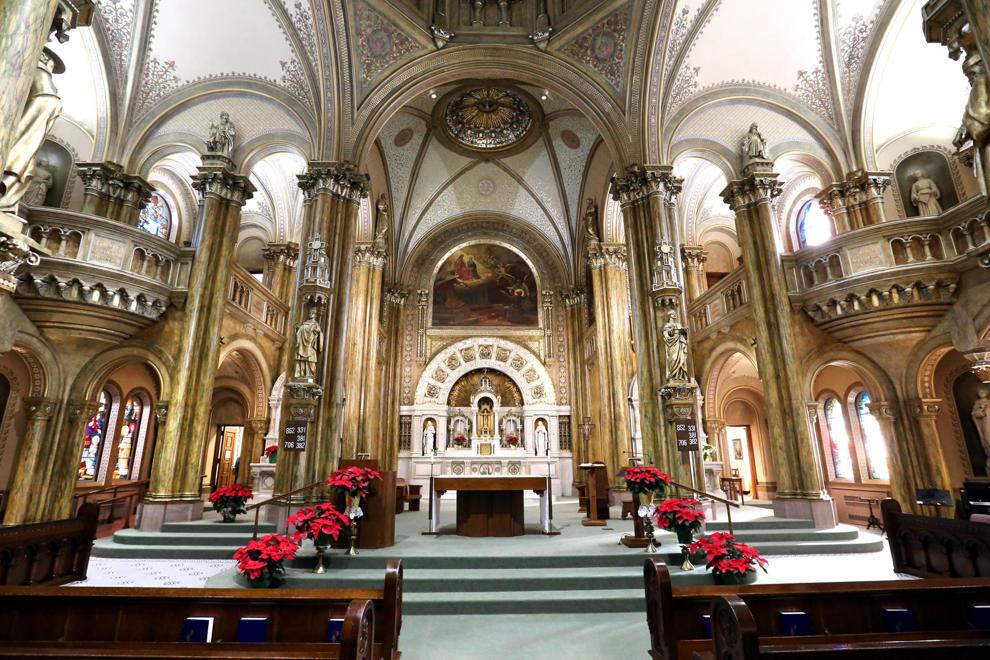 Marble pillar top Mary of the Angels Chapel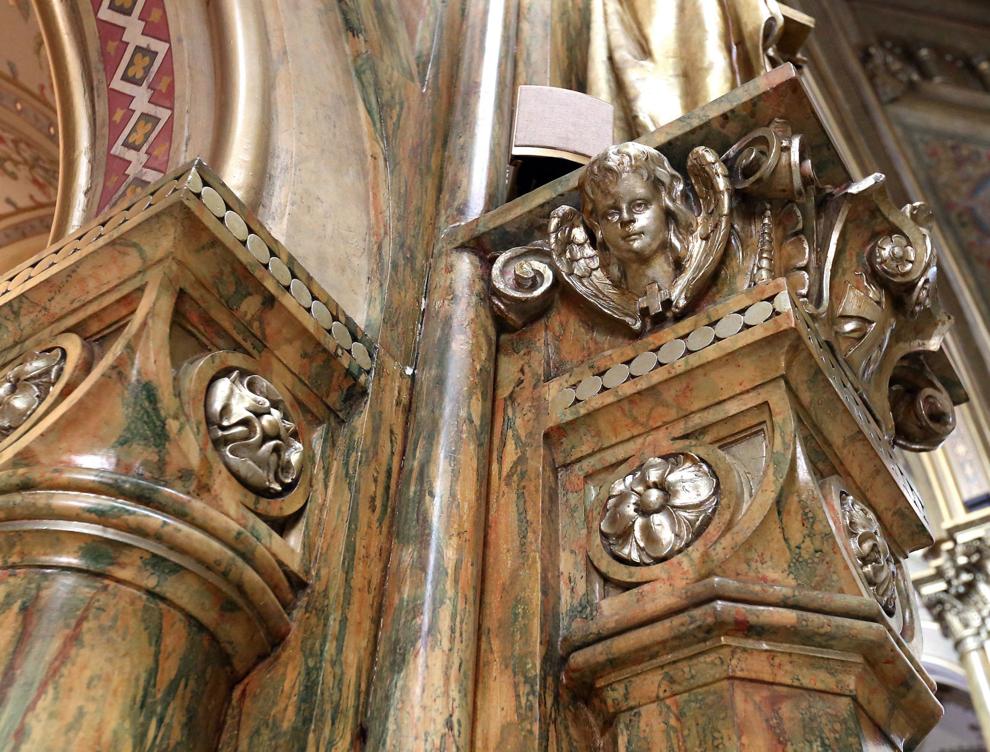 Altar cherubs Mary of the Angels Chapel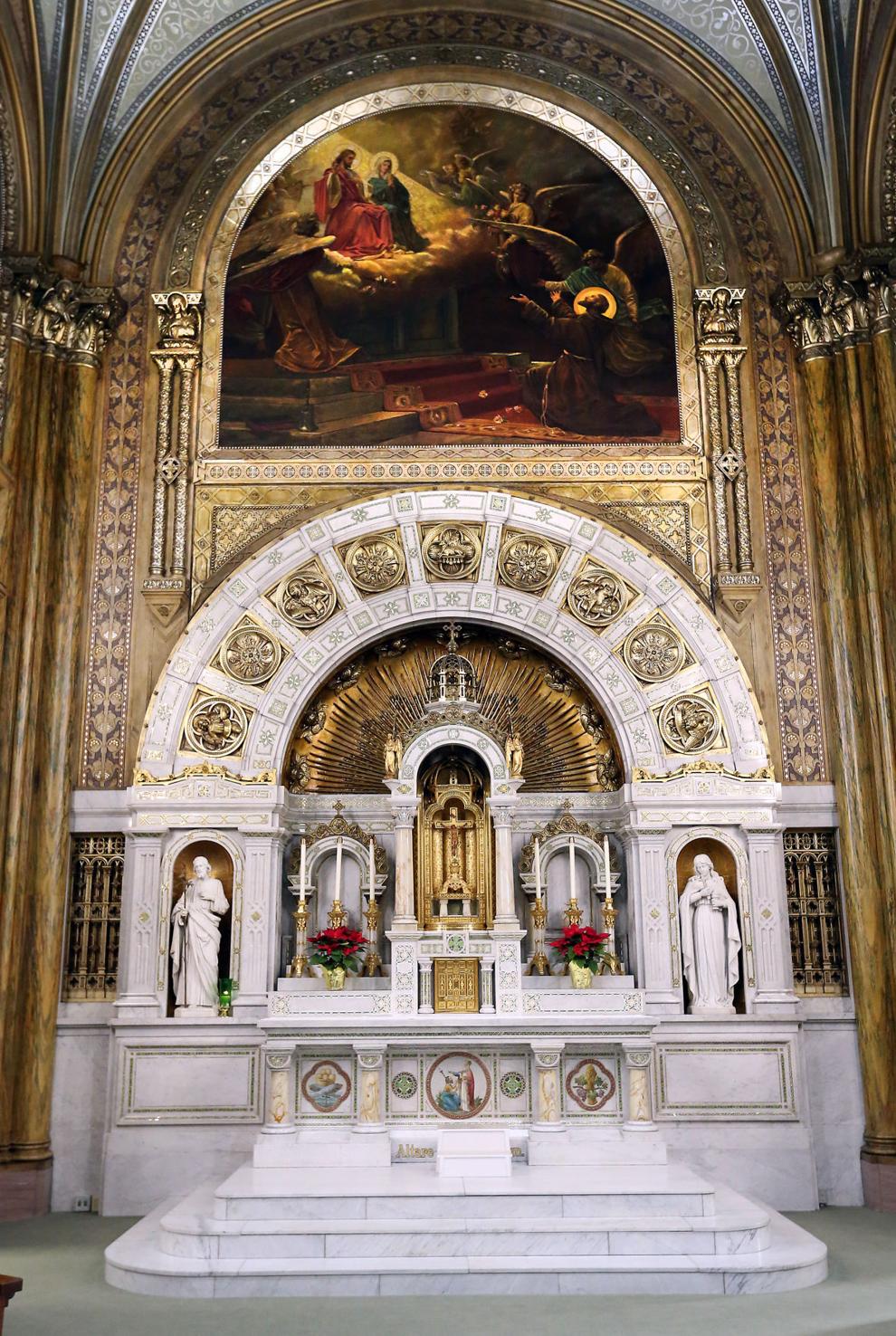 Dome window of Mary of the Angels Chapel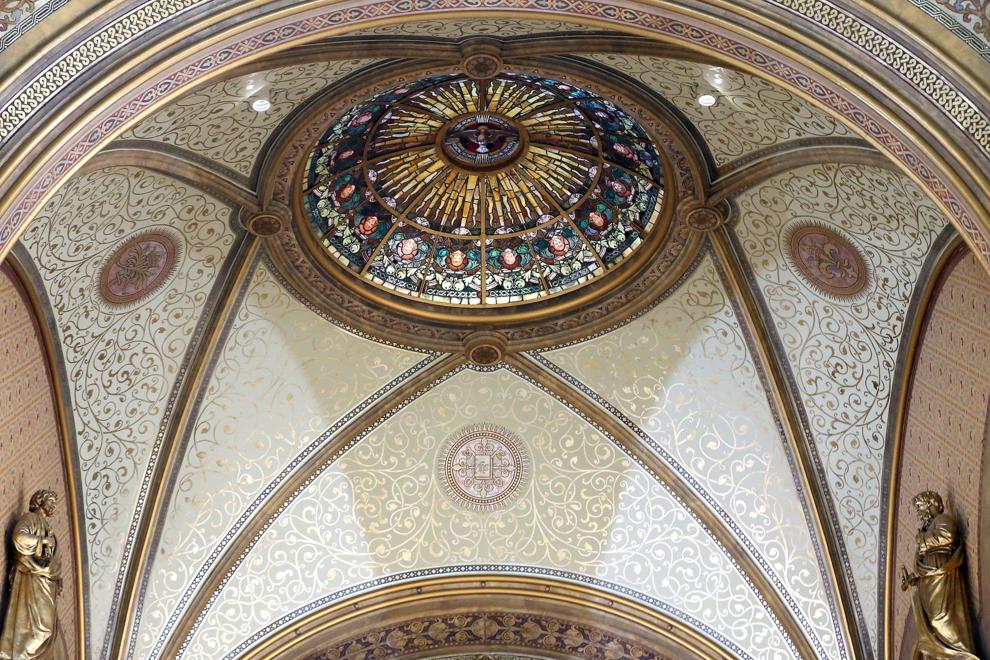 Dome 2 Mary of the Angels Chapel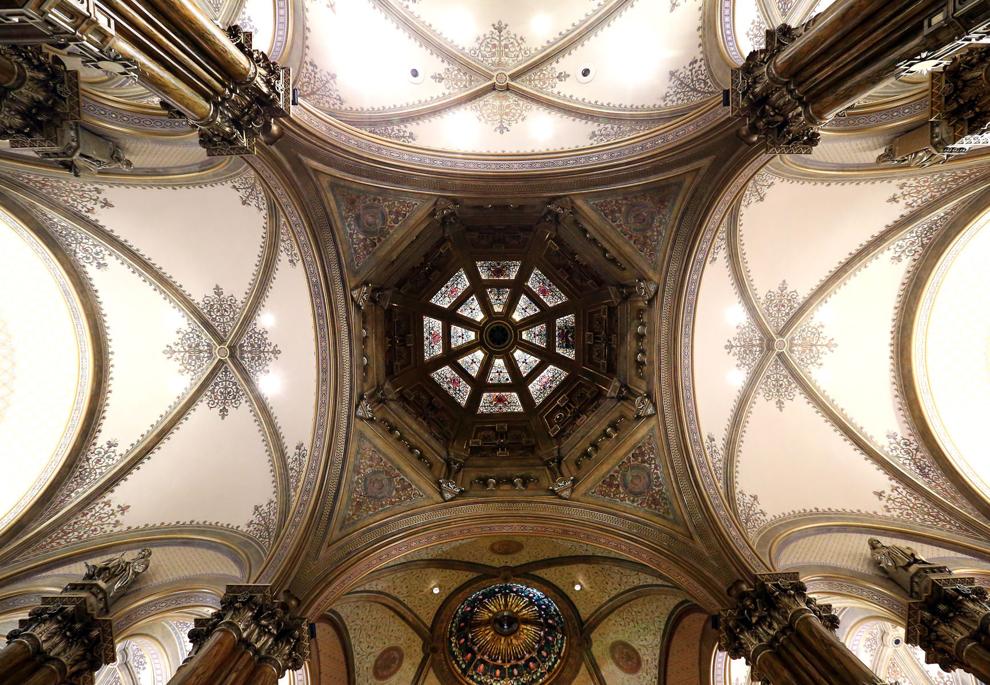 Stations Mary of the Angels Chapel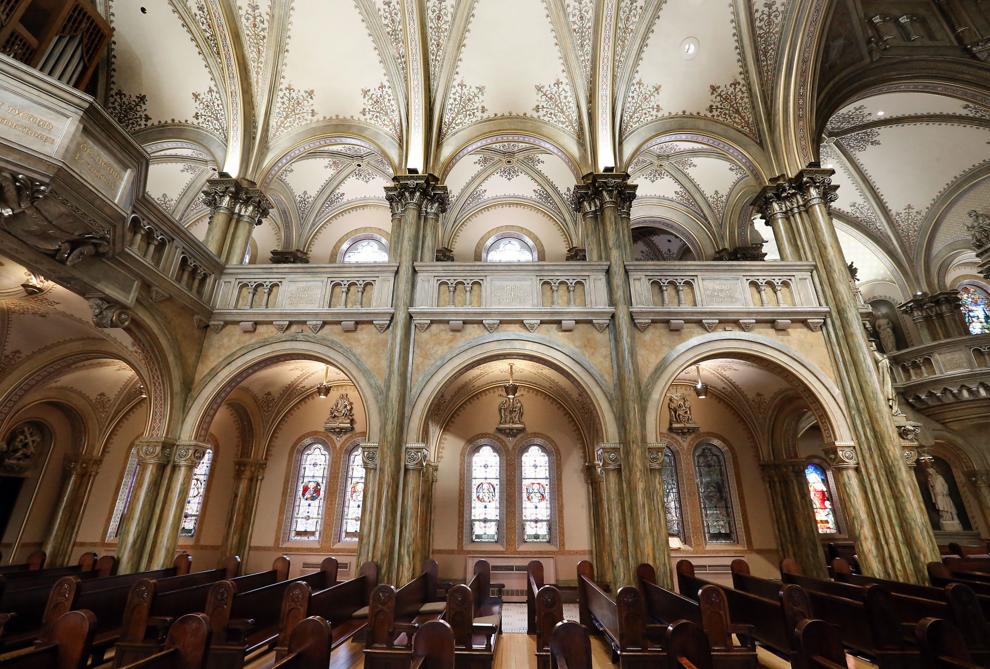 St. Gregory the Great Mary of the Angels Chapel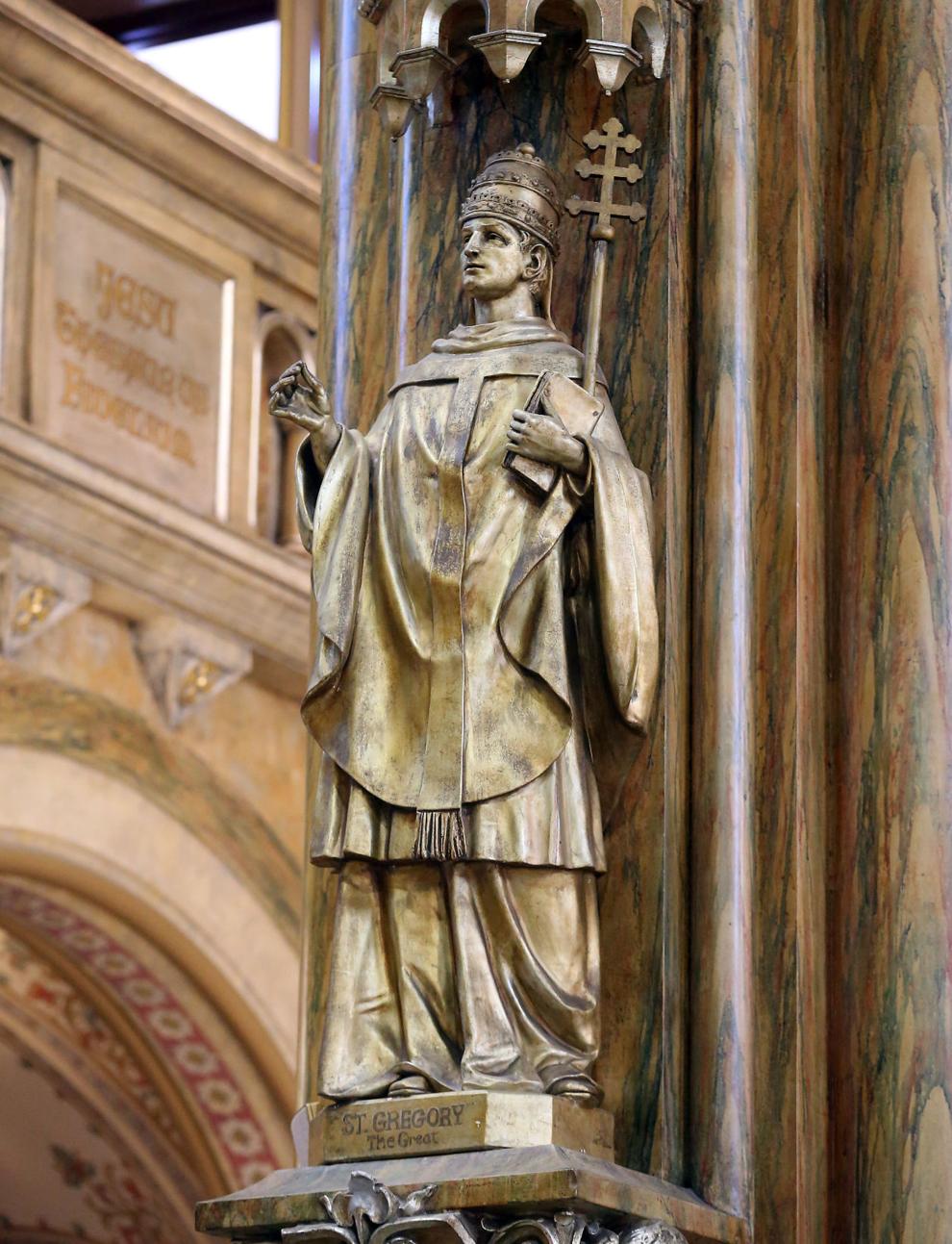 Three panels with Jesus Mary of the Angels Chapel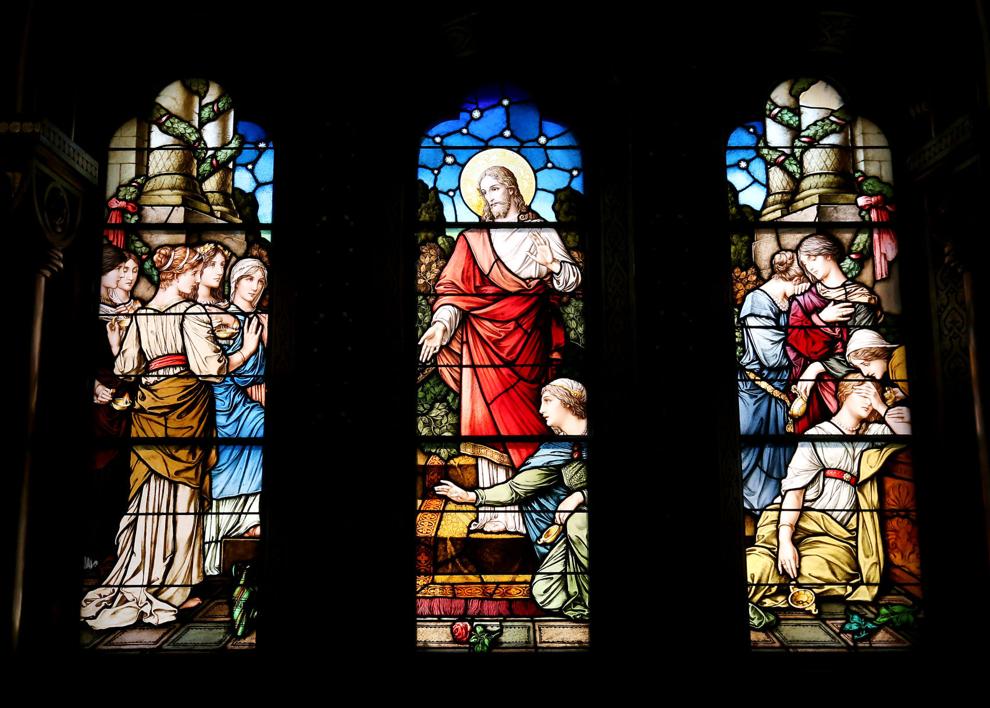 Mary legend in Mary of the Angels Chapel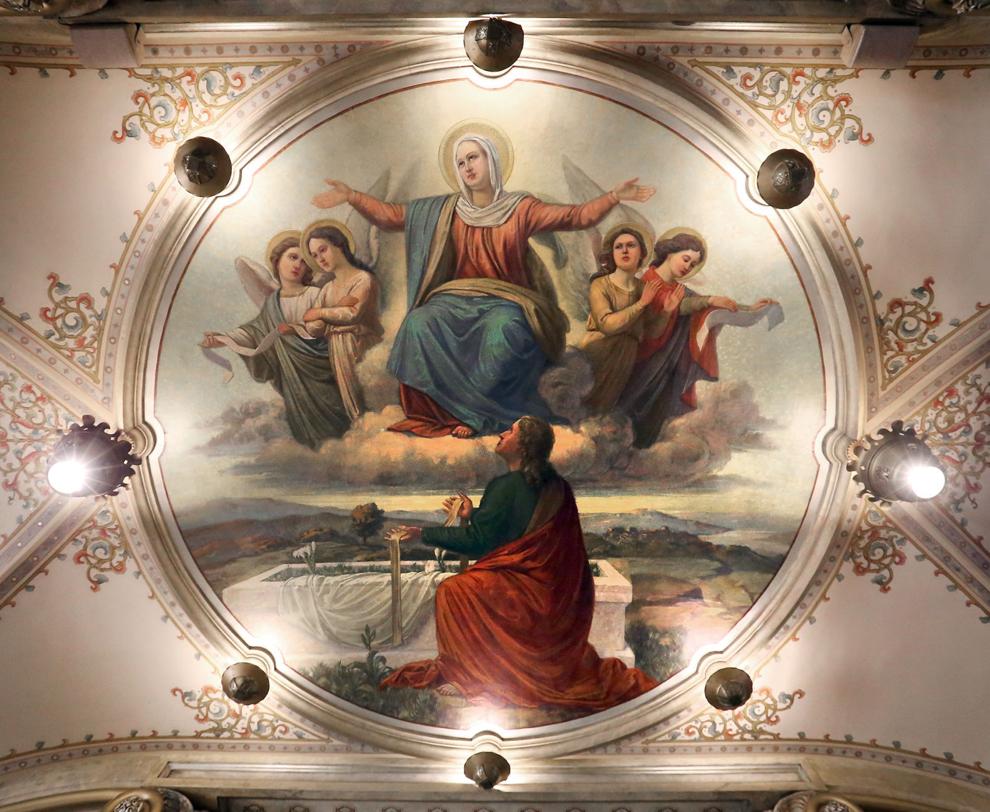 Cherubs in Mary of the Angels Chapel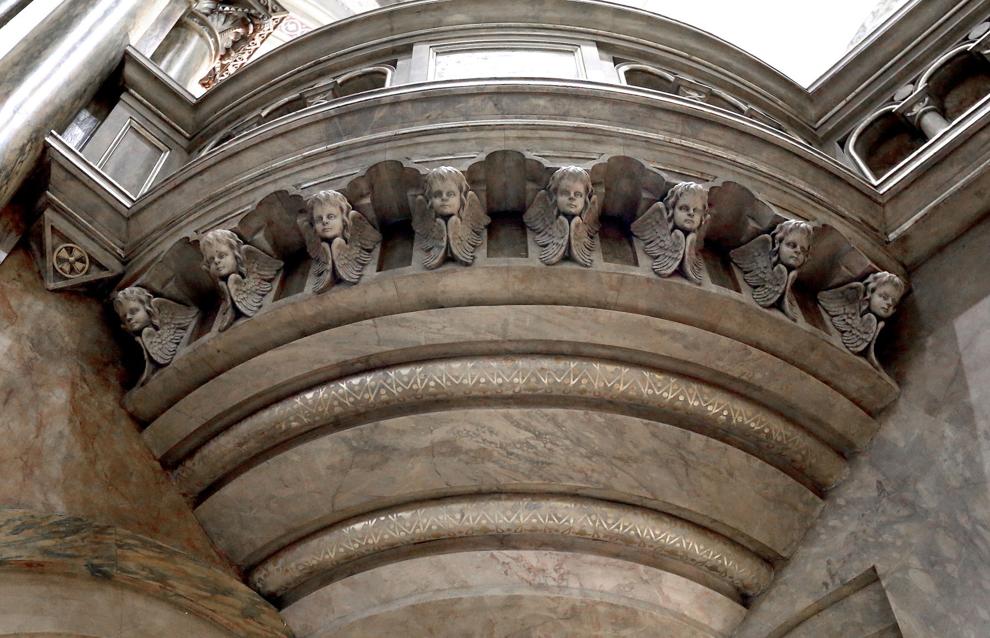 Agatha statue in Mary of the Angels Chapel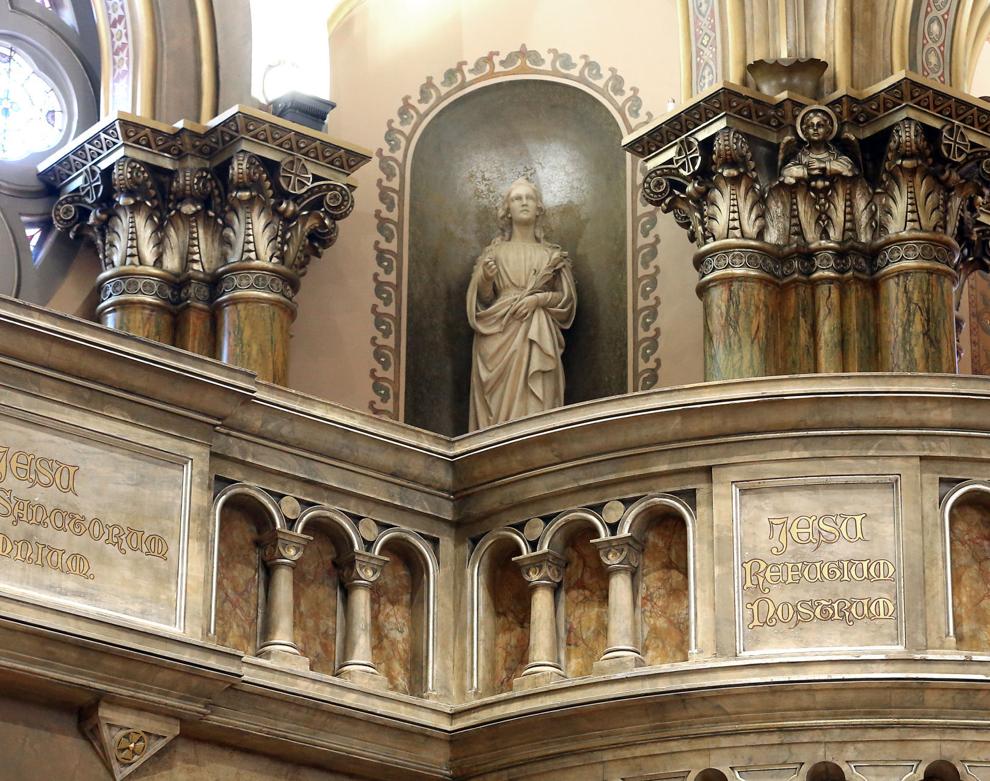 Latin Mary of the Angels Chapel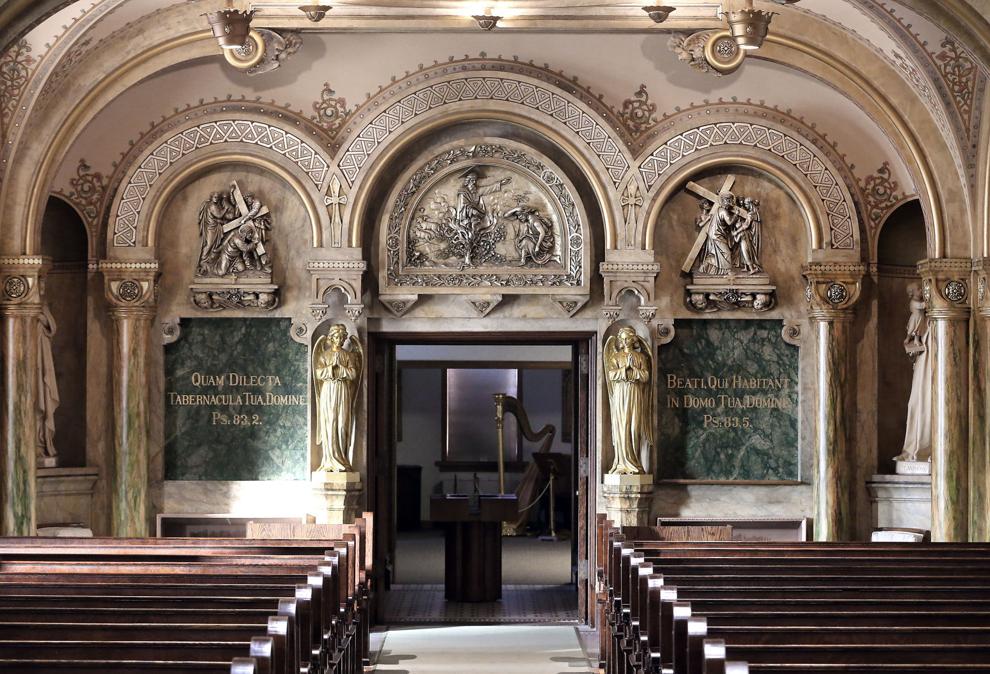 Sacred Heart statue Mary of the Angels Chapel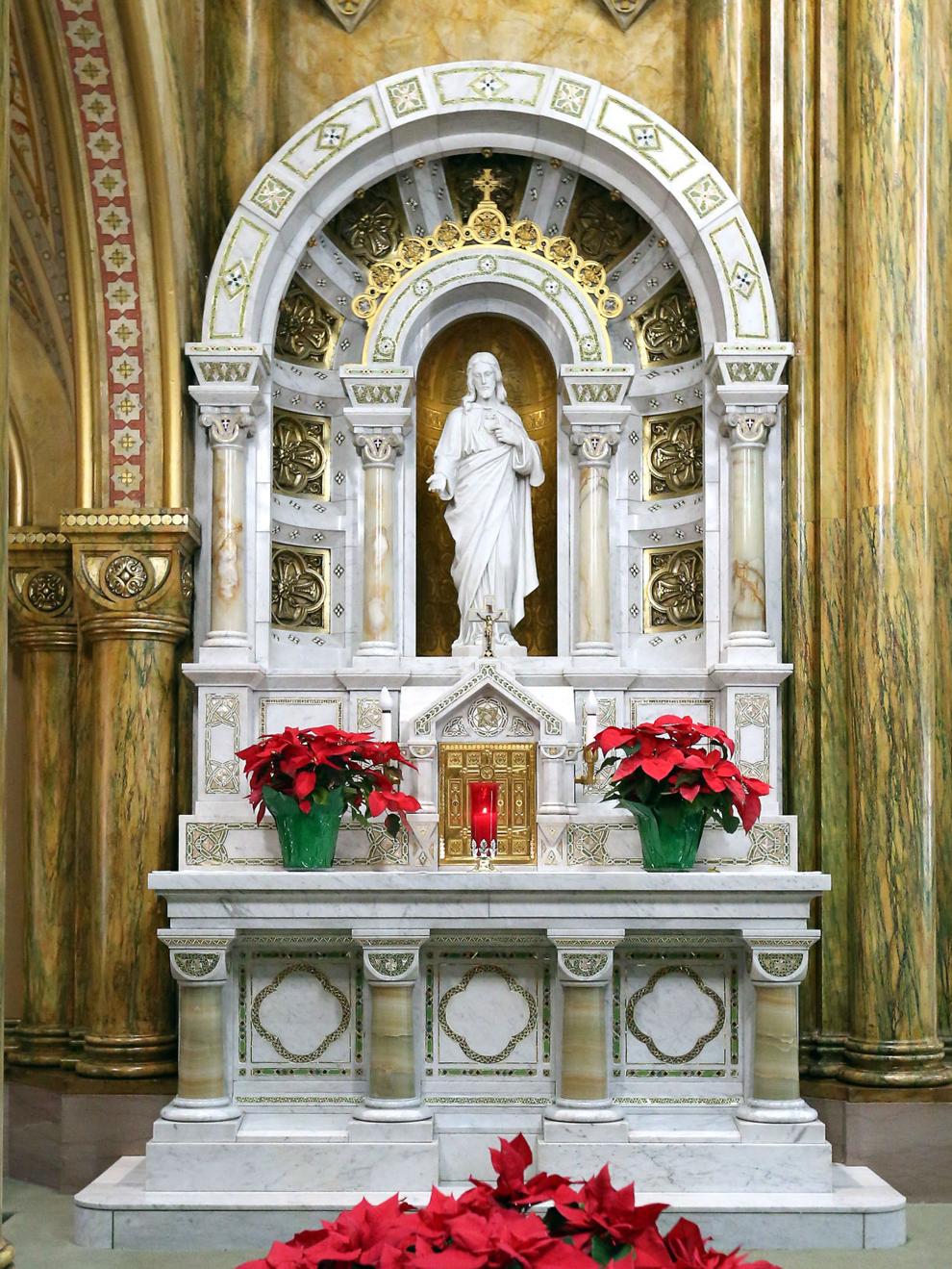 St. Francis kneeling in Mary of the Angels Chapel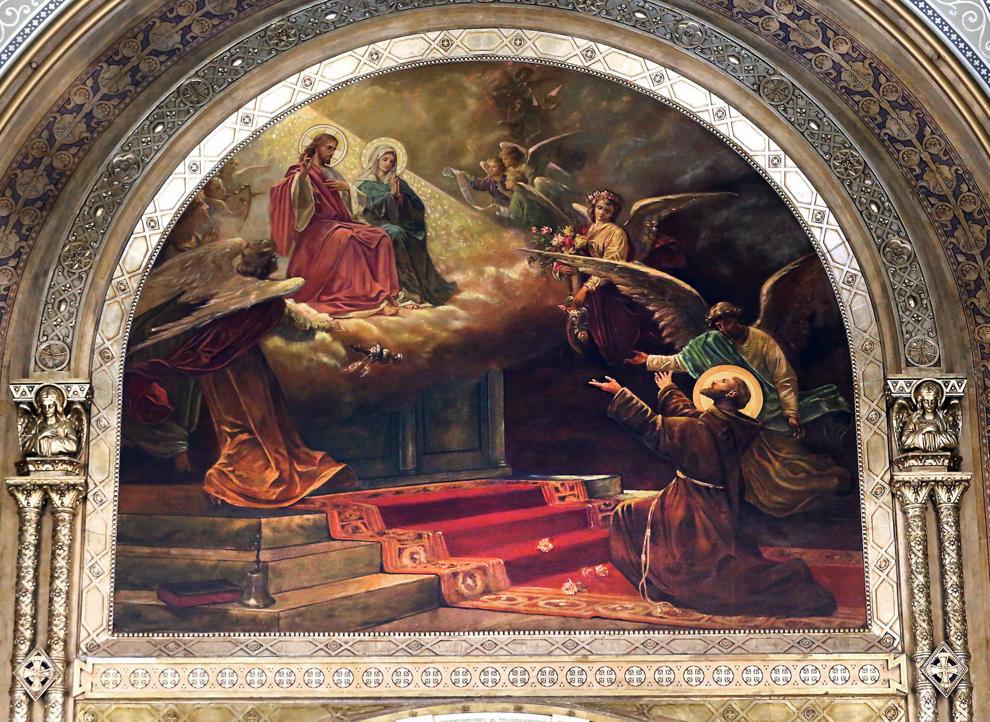 Angel statue Mary of the Angels Chapel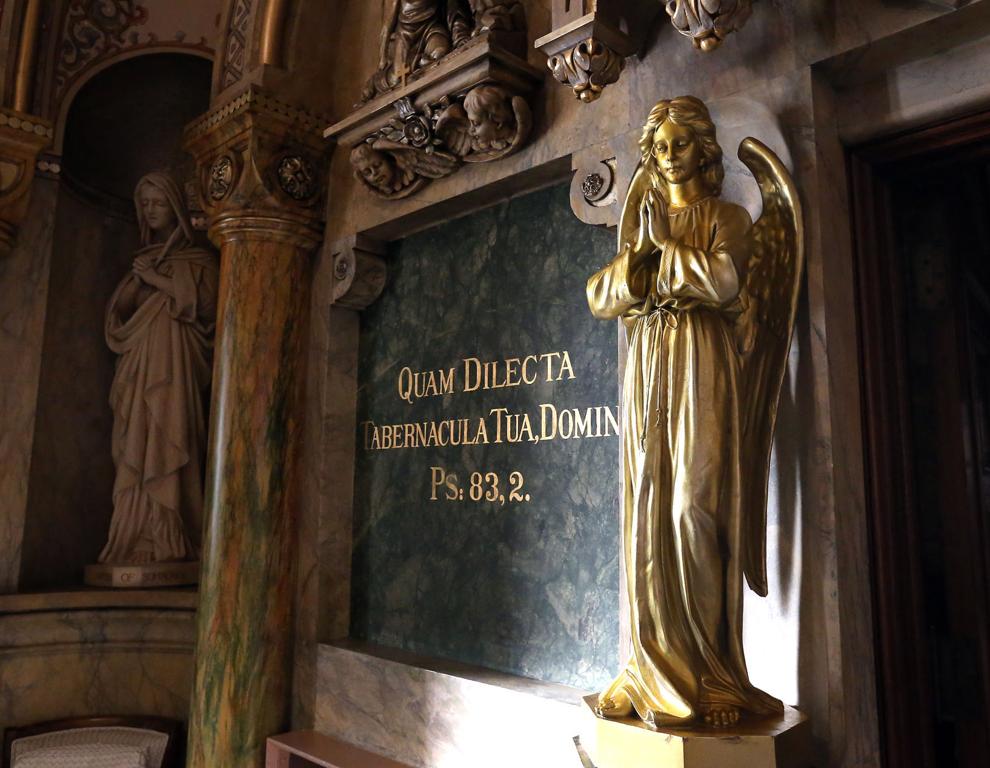 Wing for Mary of the Angels Chapel
Pew carvings in Mary of the Angels Chapel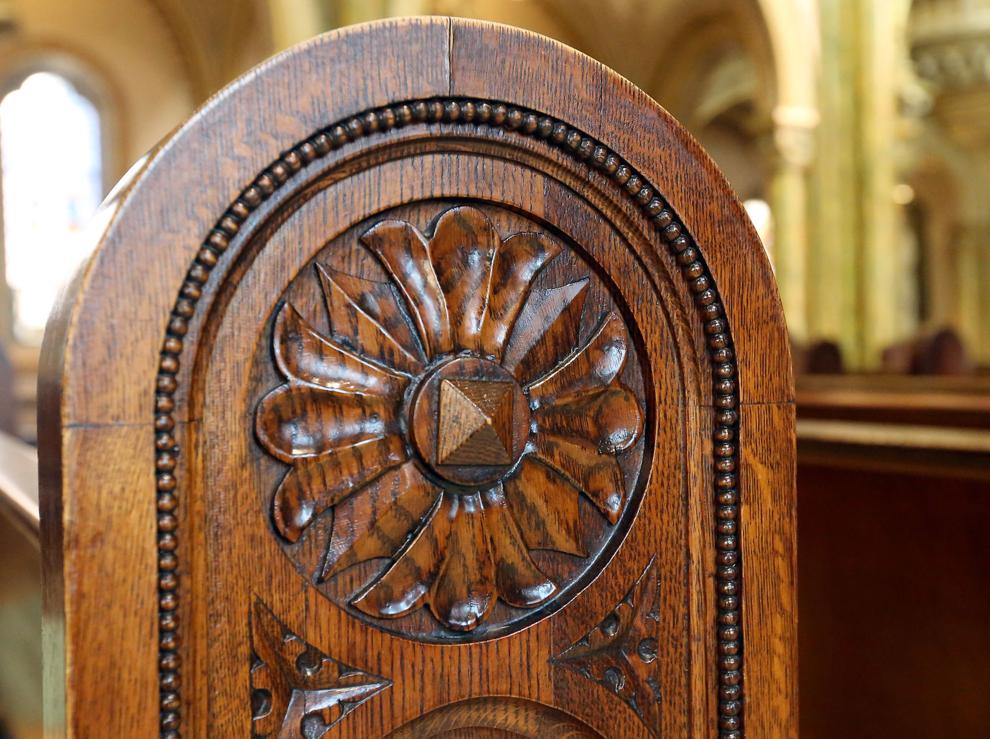 Malinda and book in Mary of the Angels Chapel