For the first time in 37 years, there's a new spiritual leader at the La Crosse area's only synagogue.
Brian Serle has been given the reins of Congregation Sons of Abraham on Main Street, replacing longtime rabbi Saul (Simcha) Prombaum, who retired this summer.
Serle, who had a long corporate career in Milwaukee and St. Paul, has been heavily involved at a number of synagogues in Wisconsin and Minnesota — presiding over services, teaching children the Torah, leading spiritual songs and prayer.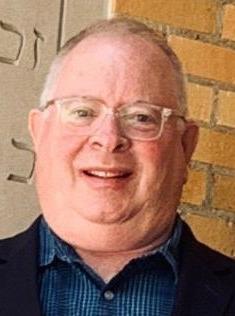 "I'd always been involved at my local synagogue, and after retiring, I was looking for an opportunity to lead a congregation," Serle, 68, said. "I rapidly fell in love with La Crosse. We have an incredible network of bike trails, so many new and old restaurants, and the people have been very warm and friendly."
He likes the congregation for the same reasons: Its members are diverse in their backgrounds and needs, and everyone has been "very loving."
"Whether I'm bicycling down a path or walking around downtown, people stop me all the time because they recognize me," he said. "As Sally Field once said at an award show, 'They really, really like me.'"
Serle's arrival has brought a measure of change to a congregation that has been aligned with Conservative Judaism since it was founded more than 100 years ago.
Sons of Abraham will remain conservative, meaning its members are expected to adhere to tradition while at the synagogue, Serle said, but it will also adopt aspects of the more liberal Reform Judaism to cater to its young interfaith population.
"We're starting to liberalize our services, souping up the songs and things like that," Serle said. "I bring my guitar frequently, so we can have singalongs rather than solo, and we've been giving kids percussion instruments — drums, maracas.
"A lot of our members are married to Christians, so there are a lot of interfaith things taking place."
Prombaum, who knows the congregation better than anyone after four decades, described Serle as a "good fit," someone with strong credentials and experience in the faith.
"He brings wonderful strengths — he's very musical, he knows Hebrew and Spanish, and he has this common touch where he's good with everybody," Prombaum said. "Having someone like Brian in the synagogue, it brings continuity. And I think that's what it needs to thrive."
Though he is technically a "cantor," a title reserved for Jewish leaders specializing in song and prayer, Serle is handling everything a rabbi would: couples counseling, baby-naming ceremonies, funeral services. (By next June, he expects to become an ordained rabbi.)
He is also preparing for his first major Jewish holidays as the leader of a congregation.
Rosh Hashanah (Sept. 29 through Oct. 1) is the Jewish New Year, an opportunity for members to both celebrate their faith and reflect on ways they can improve in the coming year.
Yom Kippur (Oct. 8 and 9) is a day of fasting and prayer, during which members seek atonement for their wrongdoings.
"In the Catholic church, you can go to confession every week, but this is our one chance each year to talk to our maker and improve ourselves," Serle said. "It's like how everybody in January goes to the health club and goes on a diet. We don't try to change somebody from a crazy person to a sane person — just pick one thing and try to improve their behavior."
As for the future of the La Crosse synagogue, Serle is optimistic.
Its numbers have been remarkably stable — roughly 200 total members, though many don't attend every week — despite many of the nation's places of worship reporting major losses.
The synagogue is bolstered, he said, by some third- and fourth-generation members, and by the scarcity of Jewish houses of worship in the area. On major holidays, members will drive as far as 75 miles for a service.
"I love reaching out to the young people who are the future of the congregation, but there's also 104 years of tradition we don't want to throw out," Serle said. "Everybody has different needs. Some want a weekly service and to go back to playing golf. Others want to make food on Friday nights and Saturday. Others want a good place to bring their kids.
"I can't always keep everyone happy, but the idea is to find something I can do for everybody."
Get local news delivered to your inbox!
Subscribe to our Daily Headlines newsletter.