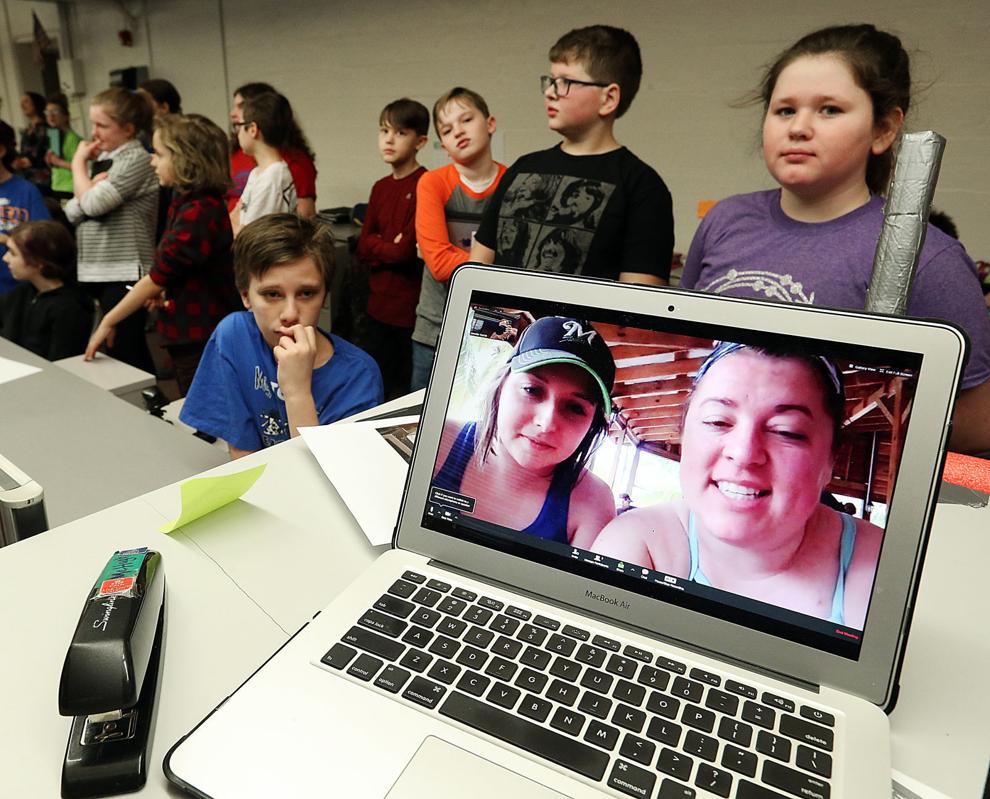 University of Wisconsin-La Crosse researchers Gretchen Gerrish and Megan Litster couldn't bring local middle and high school students on their field expedition to Belize, so they did the next best thing: They brought their teachers.
La Crosse Design Institute teachers Maggie McHugh and Katy Weber Skyped into class on Tuesday through a satellite internet connection from a Smithsonian field station in the Caribbean Sea. They reported results from the first of several experiments designed in part by their students and answered questions about their first days on the island.
Do you miss us? What was the airport like? Have you seen other luminescent creatures? Is it pretty over there?
McHugh and Weber pivoted the camera in reply to show students the sandy beaches and palm trees behind them.
McHugh and Weber are two of five teachers from project-based learning schools, including LDI and 7 Rivers Community High School, who got to trade a week of Wisconsin winter for fieldwork on Carrie Bow Cay.
Their short-term goal: to collect data on tiny light-producing shrimp known as ostracods and send the data back to students electronically, along with regular in-person video chats. The students have also been promised live ostracod samples upon their teachers' return.
Their long-term goal: to let students experience what science research looks like.
"Science is traditionally taught in textbooks and in labs," said Litster, who studies how we learn science. Taking students into the field, albeit through Skype, shows them that science is a lot more creative, messy and frustrating in real life.
Litster got the idea to take middle and high school teachers into the field after years of hearing about impressive ostracod light displays from her research subjects: Gerrish's undergraduate and graduate students. So she and Gerrish teamed up to write a National Science Foundation grant for teachers, reached out to project-based schools and went into the classrooms to give students a primer on ostracods.
Ostracods, or seed shrimp, are a type of crustacean that look like mostly heads packaged in clear plastic wrap. They range in size from a poppy seed to a gumball and live in freshwater and saltwater environments.
The ostracods Gerrish studies, Photeros annecohenae, are famous for their light displays during courtship. For about 90 minutes after dusk, male ostracods produce bursts of blue light to attract females.
"They're kind of like underwater fireflies," Gerrish said.
Eight species of ostracods are known to live on the barrier reef off Carrie Bow Cay, Gerrish said. They densely cover the seafloor and help decompose decaying matter, like ants in a forest, though scientists only know what one species of ostracod eat.
After their introduction to ostracods, the students came up with a slew of questions they wanted to answer, which Gerrish whittled to a few focal areas.
How do marine ostracods fare in freshwater? How does artificial light, such as light pollution from cities, affect courtship behaviors? Do females ever get confused by light pollution when choosing a mate? What do the other seven species of ostracods eat? How do you sort different species into an ostracod family tree?
LDI students Abby Smanski, Addie Wieman, Maxwell Petersen and Paige Yang are tackling the question of where ostracods go during the day and at night. They've received an underwater photo of the reef, but they're still waiting for pictures of ostracods taken at different times of the day. They'll make a diorama of the reef as their final project.
They're not too fazed by the delay. That's just how science works sometimes, said Yang, an eighth-grader. When things don't go according to plan, you have to adjust.
For instance, a weak internet connection is limiting the number of weekly Skype sessions they'll have with their teachers, said Wieman, a sixth-grader. She pulled up a map of Carrie Bow Cay on Google Earth to measure the island's dimensions: 330 by 113 feet.
If given the chance, Wieman said, she would go to Belize in a heartbeat.
Yang said she wasn't so sure: "I'd get homesick."
McHugh said she hopes that in addition to learning about ostracods and the scientific method, students will be exposed to professional opportunities they might otherwise not realize were open to them.
"As a teacher in La Crosse, Wisconsin, I never thought I'd be going to Belize to conduct research," McHugh said.
For students who want to stay close to their families, Gerrish is an example of how you can live in the Midwest and still travel to faraway places to do science, McHugh said: "There are opportunities in so many jobs if you're open to them and seek those possibilities."
Jennifer Lu is the La Crosse Tribune environmental reporter. You can reach her by phone at 608-791-8217 and by email jennifer.lu@lee.net.