La Crosse will hold a meeting Tuesday to discuss its study of the neighborhood around South Avenue and to gather residents' ideas about land use and transportation access when the road is redesigned.
The study, by the Toole Design Group, is occurring at the same time as the Wisconsin Department of Transportation develops plans to rebuild a 1-mile stretch of South Avenue, which carries several state and federal highways between Green Bay Street and Ward Avenue.
That project is slated for construction in 2022 and is expected to cost between $6 million and $10 million depending on how much real estate is required for the right of way.
City leaders and transportation officials have clashed over preliminary designs, which called for widening the road to include a center turn lane, taking out dozens of homes and businesses. The DOT has since revised its proposed plans, though differences remain.
The DOT is considering four alternatives, only one of which would fit within the existing right-of-way. That would require the acquisition and removal of eight buildings to accommodate roundabouts at West Avenue, 16th Street and Ward Avenue.
The three alternatives that include bike lanes or a side path would require 21 to 31 displacements, according to the DOT.
Despite concerns about pedestrian safety, lack of bicycle facilities and limited vehicle access, project manager Kevin Luecke said Toole recommends the narrow option, primarily because it has the lowest impact on the neighborhood and tax base.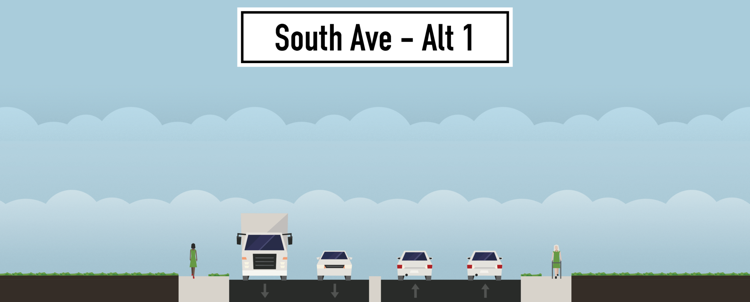 Luecke also fears that in spite of narrower lanes, the DOT design will not calm traffic. Speeding and difficulty crossing the street were the two top concerns voiced by neighbors at the study's first public input meeting.
"We have significant concern that with center medians speeds will rise," he said. "Speed will increase because of no left turns."
The study is also looking at how best to use land around the corridor and the potential for redevelopment of parcels where buildings must be removed.



South Avenue option matrix
Get local news delivered to your inbox!
Subscribe to our Daily Headlines newsletter.