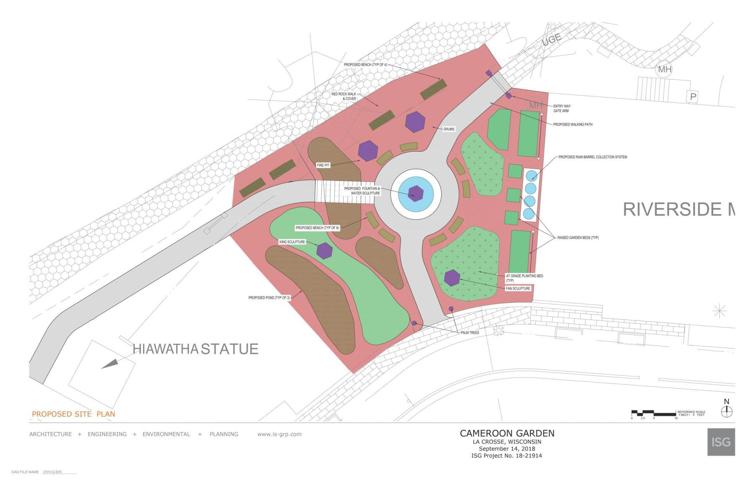 The site of the latest International Friendship Garden could not be more different from La Crosse's sister city in the Republic of Cameroon, especially on Thursday morning as a cold wind blew through Riverside Park.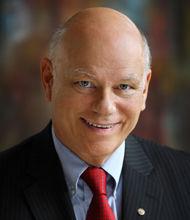 "This is not the weather they have in Cameroon, Africa. I wish it were," joked International Friendship Gardens president Chuck Hanson as he opened the groundbreaking ceremony for the seventh international garden, situated to the west of the Explore La Crosse building at the north end of Riverside Park.
"The vision behind the gardens is to recognize that there is beauty in cultures all over the world," Hanson said.
The gardens sit on the far north side of Riverside Park and feature six sections celebrating La Crosse's connection to its sister cities, which include: Bantry, Ireland; Dubna, Russia; Epinal, France; Forde, Norway; Friedberg, Germany; and Luoyang, China. The gardens feature plants and art from each community.
"There's also a common path that goes through these gardens, recognizing that we're all connected, we're all part of this good earth and we all have a responsibility to maintain it," Hanson said.
The Cameroon garden, which connects La Crosse to the city of Kumbo, will sit on the ground between Bantry garden and the sidewalk, just to the east of the Hiawatha statue. Like the other gardens, it will include pieces that speak to the culture of La Crosse's sister city.
"This, of course, presents some special challenges for us because the climate and the soils are very different in Cameroon, so we recognize that to represent that culture, we're going to have to use sculptures," Hanson said.
Those sculptures will connect to Cameroon's strong oral traditions, said Eva Marie Restel, a leader of the garden's art committee, including characters from stories still told today in Cameroon while families sit around the fire, such as fons and Mami Wata.
A fon is a traditional leader in Cameroon — a tradition that began with a little girl who refused to flee when Cameroon was under attack.
"She turned around and gathered all the people that had not yet fled and asked them to join together and fight back for their land. They listened and they won," Restel said.
People in Cameroon believe that when a fon dies, the fon's spirit reawakens in another person, keeping the custom alive.
You have free articles remaining.
The proposed Mami Wata statue will depict a mermaid who is said to protect the water in Cameroon.
"The Cameroon people have a deep respect for water. They appreciate what water gives to them, they respect the power and force that water has as it flows through their land, and they teach their children to respect water through the story of a mermaid living in the water," Restel said.
The relationship between La Crosse and Kumbo began through the Franciscan Sisters of Perpetual Adoration's Common Venture project, which connected local nuns to members of the Tertiary Sisters of St. Francis in Cameroon.
"Together we have learned a lot over these 25 years. We have learned that we are not in a relationship to give them a hand up; we are in the relationship to grow and learn from each other," Sister Linda Mershon said. "We have learned that our sisters in Cameroon have a lot to teach us, and we have learned to open ourselves up to that learning."
They built upon that connection to become sister cities.
Successful cities are inclusive and collaborative, said La Crosse Mayor Tim Kabat, and the gardens are a symbol of La Crosse's dedication to creating partnerships all around the world in the tradition of the sister city program created by President Dwight D. Eisenhower.
"The goal was really to show that people, regular people like us, could work together and spread world peace, and we could be diplomats and we could show by our relationships, by our words and our deeds and our examples that we didn't need to have world wars anymore," Kabat said. "That's what our sister city program has done. Cameroon has been just an incredible addition to that."
The Cameroon garden is primarily sponsored by the Rotary Club of La Crosse as part of its centennial celebration, which will take place in 2019.
"This garden is a perfect fit to celebrate Rotary's 100 years in our community. We celebrate all cultures. We do work to bring peace to the world and this garden represents a small piece of that hope," said club president Todd Restel, adding that all nine of the local Rotary Clubs plan to participate in the garden project.
While work is underway, the group is still fundraising to reach its $290,000 goal and finish work in the spring. The goal is to have it finished and ready to view by summer 2019.