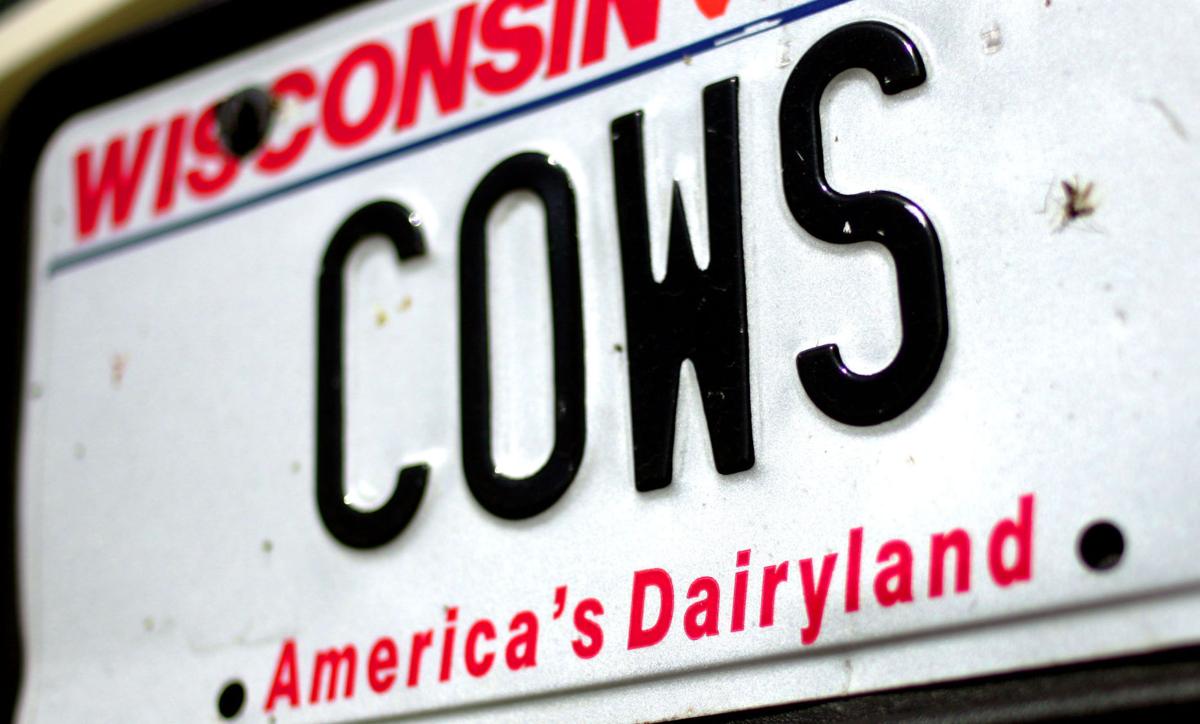 MADISON — A Wisconsin lawmaker wants a new design for state license plates and a potential new slogan that would replace "America's Dairyland" to come from a contest among state high school students.
Rep. Scott Allen, R-Waukesha, is looking for co-sponsors for his proposed bill that would have a state art education association conduct the contest and choose the 10 best designs and then have the governor pick the winning design for the new license plate from those 10.
"I think it will be absolutely fascinating to see how our young people think and how they would like to see us positioned in the state and advertised across the country," Allen said.
The proposed bill puts the future of the state's longtime dairy slogan in the hands of the high school artists.
"If they want incorporate America's Dairyland into their design, they can," Allen said. "If they want to come up with a whole new design, a whole new slogan, they can do that as well."
Allen's proposal follows a call last month by Kurt Bauer, executive director the Wisconsin Manufacturers & Commerce, to change the "America's Dairyland" slogan.
Bauer said it's time for state residents, some of whom like to be called "Cheeseheads," to reimagine their identities for the 21st century. The slogan has been on the state's license plates since 1948.
Allen's proposal was ripped by Wisconsin Cheese Makers Association executive director John Umhoefer. He took exception with Allen's comments in a memo Allen sent to legislators Thursday that said the state does much more than make cheese and that its license plates "should reflect who we are, not who we were."
In a statement, Umhoefer cited how the dairy industry generates $43.4 billion of economic activity and directly supports tens of thousands of jobs in Wisconsin and that three billion pounds of cheese are made in the state each year and the state expects to increase its nation-leading production totals by more than 250 million pounds by 2019.
"Dairy isn't 'who we were.' It is, without question, where we are going as a state," Umhoefer said. "It's disappointing that Rep. Allen would fail to celebrate Wisconsin's hardworking dairy farm families and cheesemakers."
Allen said he isn't proposing legislature just to change the state slogan. "All options should be on the table and let's have a statewide conversation about how we portray ourselves," he said.
But Allen said 70 percent of state residents live in urban areas and said the current slogan doesn't reflect the today's population or workforce.
The bill includes a list of 17 words or phrases that Allen said he hoped would serve as inspiration for the designs, leaning toward Wisconsin's bioscience and high-tech manufacturing industries. Among them: "Authentic," "pioneering" and "approachable."
"We think (the words) characterize the spirit of Wisconsin and the people of Wisconsin and what we are about here," Allen said. "It's really to get them thinking. It's not a limitation but a mind-jogger to encourage inspiration."
The bill would require the state Department of Transportation to contract with the Wisconsin Art Education Association to conduct the contest in 2018 and give the high school artist who provides the winning design a $1,000 scholarship.