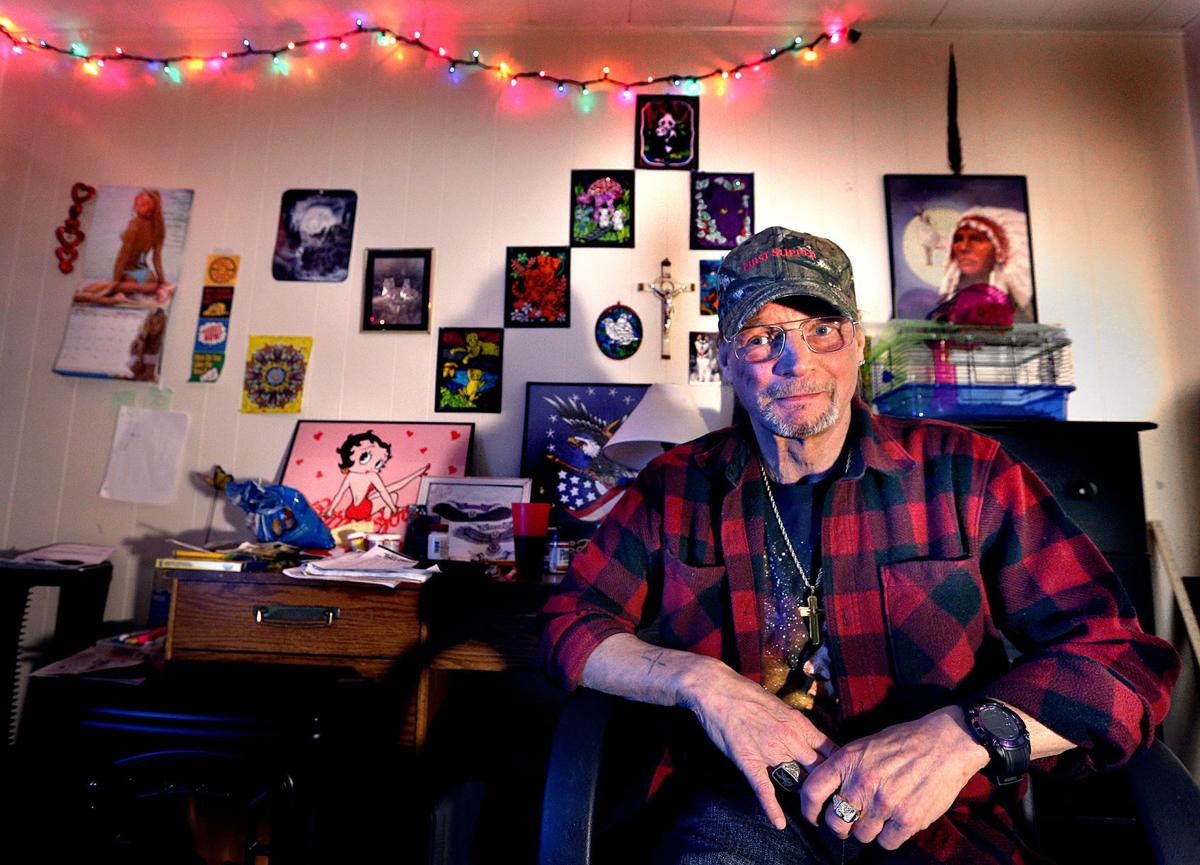 Mitch can summarize his life in 23 feet.
Unfurled in the hallway outside his bedroom at the Live By apartments, a scroll of paper chronicles five decades of toxic relationships, battles with addiction and arrests:
"1969: Taken out of home."
"30s: Drugs. Disorderly conduct. 13 times in jail."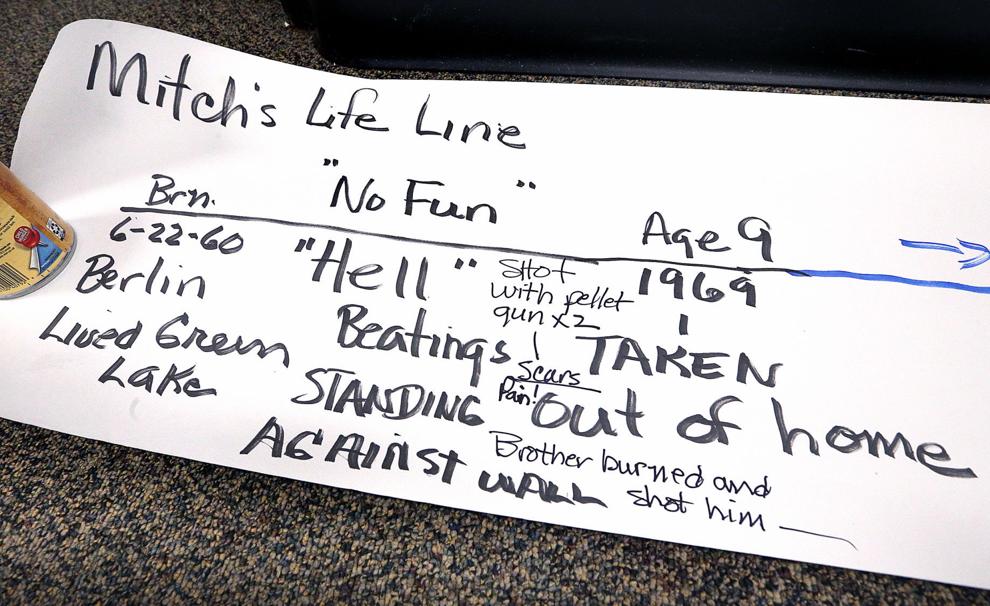 The lifeline has been a multi-month project for Mitch, 57, and his therapist, starting with the traumatic upbringing that led him down a troubled path, paving the way to his stay at Live By.
For the past 22 months, the recovering alcoholic has rented one of four bedrooms at the downtown area apartment. Established in September 2015 as a collaboration between La Crosse County and Catholic Charities, Live By offers a safe, supportive and drug- and alcohol-free environment for individuals struggling with substance abuse or mental health issues.
"Anyone could be in that place," said Steve Burnette, director of disability services at Catholic Charities. "Something happens in your life and things aren't quite as easy as they used to be — you need some help."
Since the facility opened, 10 individuals ages 18 to 55 have resided there, paying a $430 monthly rent, either out of pocket or with county assistance, for a private bedroom, two communal bathrooms and kitchens and living room, as well as assistance from Live By program coordinator Barb Martin, who is on site from 8 a.m. to 4 p.m. on weekdays to help with transportation to AA meetings, counseling or doctor appointments, locating resources such as food pantries, learning how to use public transportation or applying for a driver's license and advocating for the tenants during appointments. Basic living skills such as money management, housekeeping and cooking are covered, with each tenant responsible for meals and housekeeping.
"The idea of the program is to allow for individuals not quite ready to live on their own to get on that track," Burnette said. "That's their goal."
The majority of tenants have been male, and the average stay is six months. Mitch, who moved in March 2016, has been Live By's longest resident, having arrived under particularly difficult circumstances, recovering from a near fatal bout of double pneumonia and ingrained addiction.
Mitch's dependence on alcohol started at age 9, and was born not from rebellion or escape but survival. The youngest of nine, Mitch experienced abuse from a young age, both at the hands of his parents and some of his siblings. One brother "tortured" him, burning him and shooting him with a pellet gun. Pantry cabinets were locked and the refrigerator chained shut, leaving a starving Mitch seeking nourishment from the only available source: partially consumed bottles of beer his parents left lying around.
"Half a bottle here, half a bottle there," Mitch recalled. "That's why it's such a bear to tackle (my addiction)."
In 1969, Mitch and his siblings were removed from the home, and Mitch was shuffled among four temporary homes before being placed in rural foster home with one of his sisters. Conditions failed to improve.
"She beat me with paddles until they broke," Mitch said of his foster mother, who would also abuse him with a pitchfork. "(Childhood) was just a rough period — there's no way around it."
At 14, he found respite with a caring couple, but after they suffered a miscarriage, the grief-stricken foster parents decided they could no longer care for him.
"It sucked it didn't work out," Mitch said. "I wish it would have."
At 17, he moved in with an older sister, and shortly after his girlfriend became pregnant. At 18, his mother died, and a couple years later Mitch's girlfriend, now wife, left him, taking their daughter with her, and Mitch was jailed for failing to pay child support.
Mitch remarried, having a son, but the relationship ended when he was sentenced for three years in prison for a crime he chooses not to elaborate on, saying, "I was just young and dumb."
After his release, Mitch found work but resumed drinking, mixing in cocaine and other drugs and finding himself in and out of jail 13 times from age 30 to 40 for offenses including disorderly conduct, public intoxication or simply to detox. At 40, his alcohol consumption tapered but work accidents — shattering his heel during a roofing job and breaking his back while working in a restaurant kitchen — left him in persistent pain and struggling to keep a job. Mitch says settlements from his employers were minimal.
Homeless on and off for several years, he spent nights in the woods during the summer and at the Salvation Army in winter. A bright spot came when he met Yvonne Boehme in his early 50s. Sleeping on a bench downtown, Boehme was without shelter herself. The pair fell in love and became engaged when tragedy struck in December 2012. Crossing West Avenue after leaving the Warming Shelter, Boehme was struck be a vehicle and died a day later. The loss hit Mitch deeply, leaving him depressed, anxious and turning to alcohol for comfort.
Mitch was living in housing sponsored by Couleecap when he became deathly ill in 2014, contracting double pneumonia, exacerbated by his drinking. He was transferred to UW Health for intensive care that spanned several months. Upon his release, social workers recommended he be placed in a nursing home. It was then he came to Live By, still fuzzy from his pain medications and undergoing a wave of emotions.
"As much as I think it would be a relief (not to be in nursing home), he was with strangers in a new situation," Martin said. "He came with nothing — all his things were thrown out when he was in the hospital. People don't move in here with an apartment full of stuff — they start over."
While the situation was an adjustment, Mitch felt immediately welcomed by his fellow tenants, with one greeting him with an exclamation of "Welcome home!"
"That felt nice," Mitch said. "Everyone was really decent."
Mitch shares an occasional meal and frequent chats with his fellow tenants, but spends much of his time in his room, coloring, watching TV, listening to music and playing with his hamster. Like many of Live By's tenants, Mitch is on Social Security Disability and is not working, but regularly spends time out in the community, frequenting the Salvation Army to check in with friends and to let employees know he's doing OK.
In AA for the past decade, he regularly attends meanings, as well as therapy, where he works through the grief of losing Yvonne and his alcoholism.
Still coping with health issues, Mitch has regular doctor appointments and at times asks Martin to accompany him as an advocate, finding the visits stressful. Some tenants elect to have Martin come with them to attend meetings or acquire food at Coulee Council on Addictions, finding it less intimidating to seek help with a partner. Martin is happy to lend her support but doesn't keep tabs on tenants' schedules.
"I'm not in charge of their day," Martin noted. "It's about them taking the initiative to come to me if they need something. We're trying to help them navigate until they get their own place."
Live By tenants are free to come and go as they please and to have guests, and while Martin says people have remained mostly respectful of the rules in the apartment, temptations remain beyond the doors of Live By and relapses happen.
"We understand that individuals here have struggles," Martin said. "It would be naive to think they aren't ever (relapsing)."
Mitch is honest about his ongoing addiction, saying December is always hard as he mourns Yvonne. He drank over Christmas but was able to regain control quickly.
"His alcohol use is almost nonexistent compared to when he came here," Martin said. "He's come a long way. He drank for so long that it's his go-to coping skill. The fact that he hasn't been to jail in years and is maintaining an apartment is a success."
During his stay at Live By, Mitch has learned accountability and responsibility, having saved enough money to fully decorate his room, showing up to his doctor appointments, keeping his food supply stocked and gaining almost two years of rental experience. Tenants are in charge of the length of their stay, and Martin believes Mitch is ready to live on his own. Only one Live By tenant has returned for an additional stay — the others are "all in good living situations."
Mitch is unsure when he will leave, but after decades of moving in and out of homes and on and off the streets, he hopes his next address will be permanent. He is grateful for "Godsend" Barb, his therapist and simply to be alive.
"Every day above dirt is a good day for me," Mitch said. "My health and my recovery are number one."
Mitch feels prepared to succeed, and at the end of his timeline, in bold black marker, he has written his future:
"In the end this is the man I want to be: gained the respect of others. Respected others. Slayed the dragon — sober. Treated others as I want to be treated. Lived and loved for all. Tough, true survivor. Loves to laugh. Likes to look good."