Despite America's longstanding tradition of separating church and state, the First Amendment does not mean that people can't mix faith and politics, according to Lutheran Bishop Jim Arends.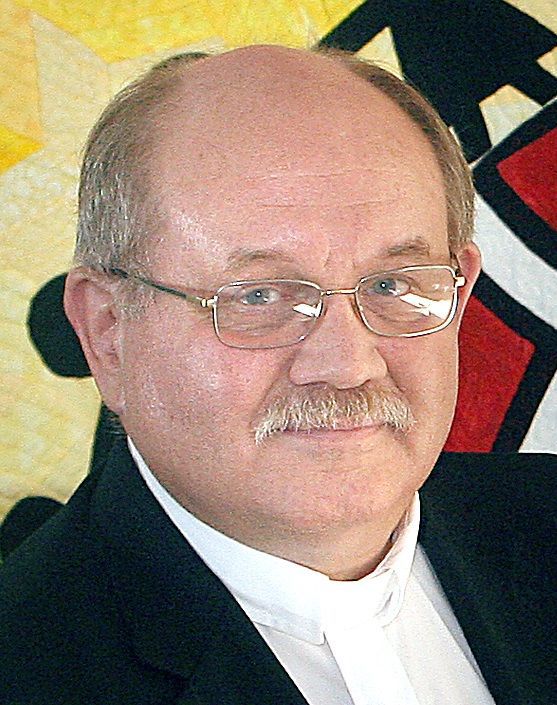 Rather, it bars the government from designating just one religious tradition for everyone to follow, Arends said Wednesday during an address titled "Religion and Politics: A Faithful and 'Common Sense' Approach," at the Interfaith Leaders Coalition's monthly Community Conversation at English Lutheran Church in La Crosse.
It is impossible for people of faith to keep those views separate because the question remains, "How do we live in politics and make a difference, because Jesus wants us to make a difference?" said Arends, head of the La Crosse Area Synod of the Evangelical Lutheran Church in America.
Citing a typical mother's hypothetical admonition not to discuss three things in public — religion, politics and sex — Arends said, "Mom was wrong."
People are called to be citizens of faith and citizens of their country, which requires respect of others, said Arends, who lives in La Crescent with his wife, Lynn.
Pausing in his address to show a couple of family pictures, Arends displayed a slide of their daughter's wedding, at which he officiated, in September.
While the women in Rachel's wedding party spent the day prepping for the nuptials, he said, his assignment was to get acquainted with the groom — Mustapha El Hilali, a native of Morocco who is Muslim.
Acknowledging with a laugh that he wouldn't be able to use a traditional Midwestern method to bond, because Muslims don't drink beer, Arends said they discussed common interests, such as religion and politics.
"I thought, we can do that as a Muslim man and a Lutheran bishop — starting with respect," he told the Community Conversation audience of about 100 people
They were enjoying each other's company so much touring the area that the women wondered where they were at the end of the day.
Arends recalled that, as a pastor before the Iraq War began, he ran a statement in the parish bulletin from the denomination's presiding bishop saying that going into Iraq would be wrong and urging the U.S. not to do so.
Some congregation members disagreed and suggested it was inappropriate for the denomination to take such a stand, he said. In such cases, those who agree or disagree with such a public position have a duty to tell political leaders rather than grouse about the church voicing an opinion, Arends said.
The ELCA's guiding principle is not to advance the cause of any specific candidate or political party but to strive for world-changing social justice, said Arends, whose synod includes 74 congregations in southwest Wisconsin and southeast Minnesota.
Apologizing for a communication lapse, La Crosse Diocese Bishop William Callahan has notified hundreds of current and former lay employees tha…
The denomination does so by raising awareness, accompanying those who need justice and advocating just causes as Jesus would do — aiming to help people who are hungry and homeless, bring relief to dying children, discourage war, press for clean water and fight against human trafficking, he said.
He displayed the outdoor sign of a Lutheran congregation proclaiming, "Followers of a brown, Middle Eastern Jew say white supremacy is a sin." Anyone who disagrees with that is missing Jesus' point, he said.
In advocating such causes to members of Congress, as Arends often does as a member of religious delegations to Washington, D.C., politicians from both parties often say, "We don't hear from Christians who believe like we do. We hear from people who say America first" and let the rest of the world fend for themselves, he said.
"We care about refugees," the bishop said. "One of the deadliest pictures out of Syria is dying children. How can you bomb Syria because it won't care for the kids you won't receive?"
He quoted a famous statement from St. Teresa of Avila that "Christ has no body now but yours …" and said that challenges people to be Christ's hands and mix religion with politics when necessary to advance justice.
"Jesus is the only hope we have to get us out of the mess we're in," he said.
Arends ended his presentation with a slide of a bumper sticker declaring, "If You Love Jesus, Seek Justice — Any Fool Can Honk."