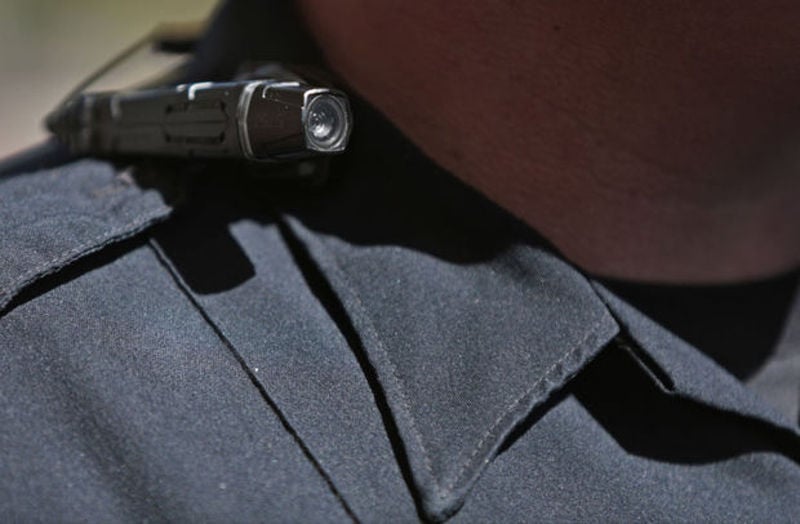 MADISON — A report from Madison police on officer-worn video cameras questions some of the touted benefits of having police record interactions with citizens, and estimates the cameras could cost the department close to $1 million.
Amid national calls for greater police accountability, body cameras have emerged as a popular recommendation by advocates who say they can improve trust in police and act as objective witnesses in incidents such as officer-involved shootings.
Some Madison police officers are set to start wearing body cameras in 2016 as part of a recently approved pilot program.
The report, which police will present to the Madison City Council on Tuesday, acknowledges studies that have shown police departments that use cameras have seen fewer citizen complaints against officers.
But it also says more research is needed to see if the cameras make good on their broader mission to bolster public trust in police.
The report refers to a study published by the U.S. Department of Justice's Office of Justice Programs, summarizing it by saying the "perceived benefits of body-worn video are largely that — perceived."
"It is too soon to fully understand the impact that their use has or may have on the relationship between officers and members of the community," the report said.
Police estimated the department will have to spend $955,447 to implement a citywide body camera program.
That includes about $468,000 to buy 312 of the cameras — at $1,500 apiece — as well as $247,000 for data storage and $240,000 to hire three employees to manage records.
Most of the price tag would be one-time costs for cameras and servers. But staff salaries and maintenance costs would be recurring expenses, department officials said.
Madison police Capt. Kristen Roman, who prepared the report, said the cost estimate is based on a Panasonic camera model, which would be compatible with dashboard-mounted cameras officers already use.
The report ultimately asks, "Whether or not what we gain from implementing a (camera) program as a department and a community is worth the extraordinary financial cost of doing so."
A pilot program, approved in the latest city budget, calls for officers in one of the city's five police districts to start wearing body cameras in 2016. That program is budgeted at $105,000.
Complex questions
Other potential benefits of body cameras noted in the report include better documentation of evidence and the opportunity to review footage as part of officer training.
Among drawbacks, however, were the privacy concerns associated with taking video inside peoples' homes and questions about how to handle requests for video footage under the state's open records law.
Roman said the study was meant to look at the pros, cons and estimated costs of a body camera program, not whether to endorse or reject the idea.
"We're not taking a position one way or the other," she said.
The idea of having officers wear cameras and record their interactions with citizens may seem simple, but Roman said the report was meant to show that such a program would be anything but.
"It is a complex issue and there are no easy solutions or technological fixes to what, in the end, is a matter of trust," the report said.
'Healthy skepticism'
Ald. Scott Resnick, who introduced resolutions that prompted both the report and the pilot program, called the study "a first step to kick off the process of implementing body cameras."
While he said he understood the department's "healthy skepticism" on the issue, Resnick added that "real-world examples" show the cameras have proved their worth.
He pointed to a study from the Police Executive Research Forum, also cited in the report, in which officials from departments that have body cameras said they improved transparency and interactions with the public.
"We can learn from, now, the hundreds of cities that have implemented body cameras (or) body camera pilots," Resnick said.
He also said the cost of the cameras represented a small piece of the department's budget.
In a letter attached to the department's report, Dan Frei, president of the Madison Professional Police Officers Association, echoed many of the concerns about privacy. Officers often see people in vulnerable situations such as medical emergencies, Frei said, and filming those situations could add to the stress of the moment.
Frei was concerned as well that some civilians, who might be wary of talking with police in the first place, would be even less likely to cooperate with officers if they know they're being recorded.
He credited the city's comparatively low crime rate in part to "the relationships we have built and maintained with our community" and questioned if Madison police need the cameras.
"We would urge policymakers to sincerely examine whether this technology, in this community, and with this police department, is the right way to go," Frei said.
Get local news delivered to your inbox!
Subscribe to our Daily Headlines newsletter.