Democratic gubernatorial candidate Mahlon Mitchell called for his own strong leadership Monday during a campaign stop in La Crosse.
"We expect leadership, real leadership, in the state," Mitchell told a small crowd at the Bodega Brew Pub in downtown La Crosse.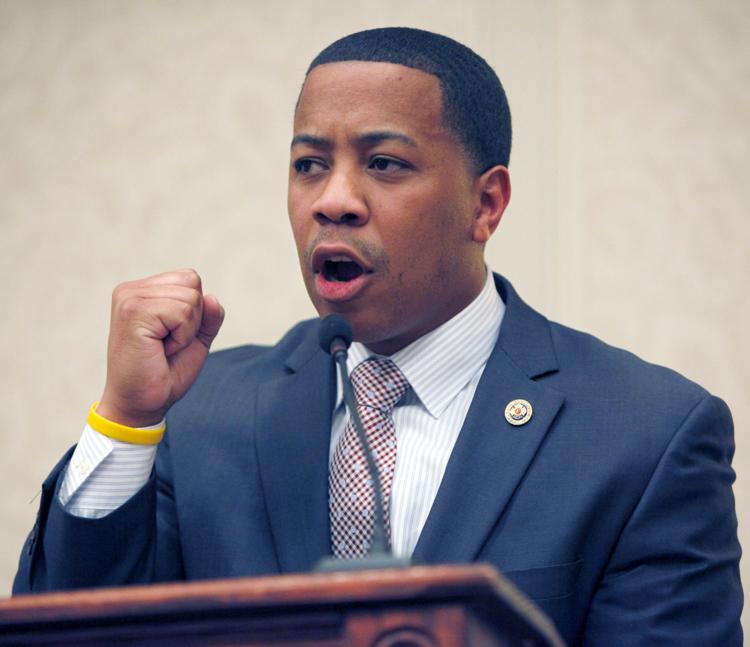 The head of the Professional Fire Fighters of Wisconsin criticized Republican Gov. Scott Walker's handling of education funding, the decision to turn down federal money for Medicaid expansion, Walker's 2016 presidential bid and the $3 billion Foxconn bill, while pointing out he and the governor attended the same high school in Delavan, Wis.
"We obviously learned some different lessons," Mitchell said.
Mitchell said his career as a firefighter taught him the importance of working together, referring to a firefighter mantra, "All hands working."
"We can do this together. We can win this fight and we can bring true change to this great state with all hands working," he said.
Mitchell called for more good-paying jobs and policies to stop the shrinkage of Wisconsin's middle class.
"I want to raise all wages, skilled and unskilled labor," he said. "We do that by investing in jobs, jobs training and apprenticeships."
Eight of the Democratic candidates competing for a chance to run for governor took aim at th…
He also called for greater investment in infrastructure and education, which he said would encourage businesses to move to Wisconsin, rather than putting money into incentives like the package for Foxconn.
"(Businesses will) want to come to our state because we invest in our state," he said.
Lance Tryggestad, president of the La Crosse Firefighters Union, introduced Mitchell by praising his character, charisma and leadership.
"I've witnessed firsthand Mahlon's ability to rise and lead, and get people to work hard for the right cause," he said. "It's in his blood as a firefighter and will serve us all well when he's elected governor to serve the people of Wisconsin."
Mitchell visited La Crosse after stops in Wausau and Eau Claire earlier in the day. His gubernatorial bid marks his second statewide campaign. He lost the 2012 recall election to Republican Lt. Gov. Rebecca Kleefisch.
Get local news delivered to your inbox!
Subscribe to our Daily Headlines newsletter.