More than 77 years after he died in the Japanese attack on Pearl Harbor, Navy Seaman 1st Class George E. Naegle of La Crosse — whose remains were identified last year — is coming home in May.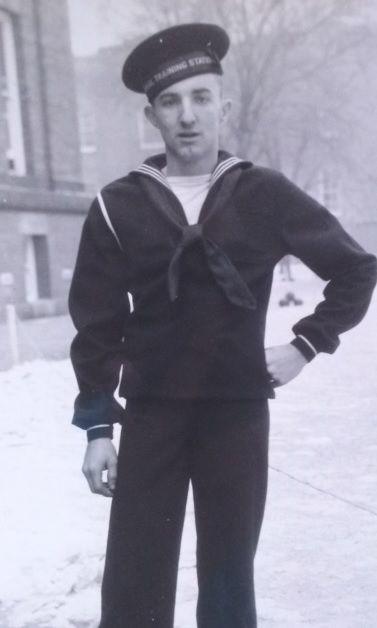 Funeral services for Naegle will be at 10:30 a.m. May 18 — which also is Armed Forces Day — at the Cathedral of St. Joseph the Workman, 530 Main St. in downtown La Crosse.
Burial will be in the St. Joseph Mausoleum in Catholic Cemetery along Losey Boulevard, the same cemetery where his parents, George W. and Anna Naegle, are buried.
Schumacher-Kish Funeral and Cremation Services in La Crosse is handling arrangements.
The funeral, burial and funeral home arrangements have been made by Cathedral parishioner Mary Ann Lyden, who is Naegle's niece.
She was only 5 years old when Naegle died at Pearl Harbor, and was only 2 or 3 when he enlisted in the Navy. She has little memory of him, but heard a lot about him as she grew up. 'He was a good guy" with lots of friends, she said.
"I am grateful that he is returning to La Crosse, and that he will have a funeral Mass and burial here after all these years," Lyden said. "I'm happy that he's finally going to be home, and I'm also happy for the sake of his parents and his sister," who had hoped that Naegle's remains might someday be found and returned to La Crosse.
Naegle's sister, the late Louise Naegle Weimar, was Lyden's mother.
Last September, the U.S. Defense Department's POW/MIA Accounting Agency announced that Naegle's remains have been identified through DNA and other methods of analysis.
It said that Naegle, who was 22 and stationed on the battleship USS Oklahoma when he died, was accounted for on Aug. 27.
Naegle's remains were identified with the use of DNA, dental and anthropological analysis, as well as circumstantial evidence, DPAA said.
Lyden said Defense Department officials contacted her family a few years ago to get DNA samples from them. She and two of her sons, Randy and Robert, provided the agency with swabs from the inside of their cheeks, as they were asked to do.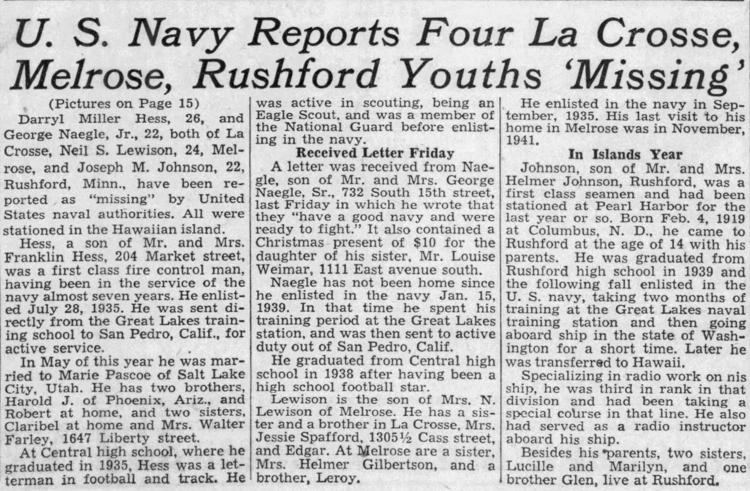 Naegle was a 1938 graduate of Central High School, where he was a star football player, according to a story in the Dec. 22, 1941, La Crosse Tribune, which reported that he was still missing. He had enlisted in the Navy in January 1939.
Naegle was on the battleship Oklahoma, which was moored at Pearl Harbor in Hawaii, when it and other U.S. ships and aircraft were attacked by Japanese airplanes on Dec. 7, 1941. The battleship was hit by multiple torpedoes, which caused it to quickly capsize.
The attack on the ship resulted in the deaths of 429 crewmen, including Naegle.
From December 1941 to June 1944, Navy personnel recovered the remains of the deceased crew, which were subsequently interred in the Halawa and Nu'uanu cemeteries.
In September 1947, members of the American Graves Registration Service disinterred the remains of U.S. casualties from the two cemeteries and transferred them to the Central Identification Laboratory at Schofield Barracks.
The laboratory staff was only able to confirm the identifications of 35 men from the USS Oklahoma at that time. The AGRS subsequently buried the unidentified remains in 46 plots at the National Memorial Cemetery of the Pacific, also known as the Punchbowl, in Honolulu.
In April 2015, the deputy secretary of defense issued a policy memorandum ordering the disinterment of unknowns associated with the USS Oklahoma. And on June 15, 2015, DPAA personnel began exhuming the remains from the Punchbowl for analysis.
As of December 2018, DPPA had identified 186 sailors and Marines from the USS Oklahoma who were previously unidentified.
As they are identified, their remains are being sent to relatives around the U.S. for funeral and burial services.