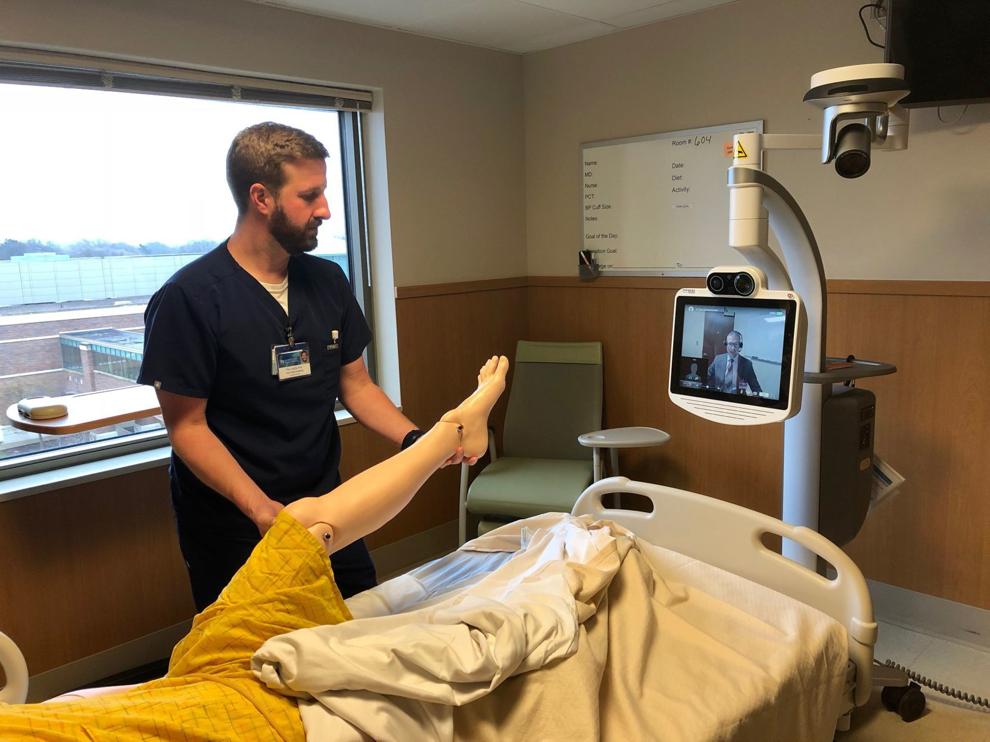 Eight years after introducing telestroke services in its La Crosse emergency rooms, Mayo Clinic Health System is bringing the technology into the inpatient setting, offering a new opportunity for collaborative care.
Mayo Clinic, which has utilized telestroke for nearly 90,000 patients across 30 Mayo Clinic Hospitals nationwide, brought the multipresence, data-encrypted telestroke system to the main hospital area in mid-October, where it is likely to be used less frequently but with perhaps even greater purpose. 
Dr. Bart Demaerschalk, Arizona-based Mayo Clinic neurologist and Center for Connected Care Synchronous Services director, says that about 95 percent of cerebrovascular accidents occur in the emergency room, but "although stroke is an infrequent occurrence in the hospital compared to the emergency room...the outcomes are traditionally not as good."
Demaerschalk says studies across all hospitals show that the staff response to stroke, and the administration of treatment, is "much slower" in a non-emergency department, and telestroke in the inpatient area will allow providers to "overcome the deficiencies" in reaction time. 
"If inpatient telestroke services is as successful as we think it will be, we are looking forward to expanding to other hospitals across Mayo Clinic Health System," Demaerschalk says. "It's one of the many ways that telemedicine and digital health care can help all our patients have access to Mayo Clinic expertise and knowledge while still being treated locally."
The new service, a collaboration among the Enterprise Telestroke Committee, the Center for Connected Care, Information Technology, and the La Crosse stroke program, will allow "an extra level of assurance that we're offering the best care to our patients," says Dr. Jeffrey Wiswell Jr. of Mayo Clinic Health System.
Patients and providers using telestroke at Mayo Clinic Health System in La Crosse will work with a neurologist in the Rochester, Florida or Arizona clinics on remote evaluations, consultations and treatment recommendations. 
Using the technology, the offsite neurologist is able to control surveillance of the room, zooming in on the eyes, listening to the heart through the machine's stethoscope attachment or even moving moving the entire telestroke device down the hall to speak with staff or visit other rooms. 
While inpatient telestroke has only been used a few times so far, Tom Halada, RN and stroke coordinator at Mayo Clinic Health System in La Crosse, says staff is "really welcoming" of the technology, and that patients seem to appreciate the face-to-face interaction over a phone consult.
Demaerschalk agrees, noting the digital aspect "seems to just melt away after 10 or 15 minutes...the technology is not a barrier for more than a few minutes. It's a new paradigm of a provider being virtually present rather than physically present."
The efficacy of telestroke has proven overwhelmingly positive, with a 98 percent accuracy rate in identifying stroke and determining adequate treatment options, in addition to having the same mortality rates as scenarios with onsite neurologists, Demaerschalk says. 
Strokes can be tricky to diagnose, with symptoms similar to those of metabolic derangement, seizure or a migraine with an aura, so some stroke alerts activated by Mayo staff prove unfounded.
However, as a precaution, whenever an alert is sounded, staff will respond and run tests like a CT scan, which both onsite physicians and a telestroke neurologist analyze before conversing to determine whether a telestroke session is necessary. 
"Sometimes it's not possible to make a diagnosis until all parties are present," Demaerschalk notes. "Part of our role is to help our colleagues." 
Both Mayo Clinic Health System and Gundersen Health System espouse a new bill requiring Medicaid to cover telehealth services, and Demaerschalk is eager to see telestroke, and telemedicine in general, reach patients outside of La Crosse. 
"Our overall goal is to extend telestroke expertise to rural and underserved communities that may not have access to round-the-clock specialists," he says. 
"Our overall goal is to extend telestroke expertise to rural and underserved communities that may not have access to round-the-clock specialists."

Dr. Bart Demaerschalk, Arizona-based Mayo Clinic neurologist