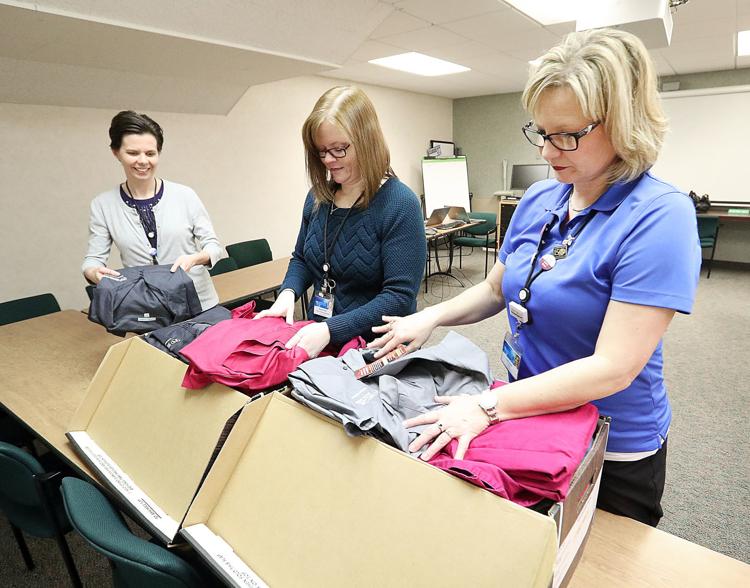 Sometimes, it's almost impossible to give people the shirt off your back — just ask Paula Hogan.
Hogan, a hospital registration worker at Mayo Clinic Health System-Franciscan Healthcare, had nearly given up in her search to donate 542 Mayo-Franciscan shirts to a worthy cause after two departments changed their dress code and employees contributed their shirts to the effort.
Hospital officials deemed it inappropriate to donate the shirts to local agencies such as Goodwill or The Salvation Army because of security concerns if 500-plus shirts with the health system's logos were floating around, said Becki Hanson, Mayo-Franciscan's office access management supervisor.
Hogan ran into several rejections during her quest, she said, adding, "Some only wanted scrubs, some couldn't handle that volume, and others were afraid they would never get the shirts and they'd end up on the black market.
You have free articles remaining.
Register for more free articles.
Stay logged in to skip the surveys.
But she found a ready, willing and able recipient at the Salvatorian Mission Warehouse, a 25,000-square-foot facility in New Holstein, Wis., where volunteers with the Salvatorian order of priests, brothers, sisters and lay people repackage such donations. The clothing and other supplies are loaded into large shipping containers and sent to missions around the world.
Some employees kept a few shirts for old time's sake, while most donated ones that still have a lot of miles on them, Hogan said. Donations included button-down and polo shirts and cardigans.
The official shirt color for workers in Mayo-Franciscan's revenue cycle hospital patient access and office access management department were changed to royal blue for uniformity, Hanson said.
Previously, colors had included raspberry, light and dark blue, light and dark gray and pink, among others, she said.