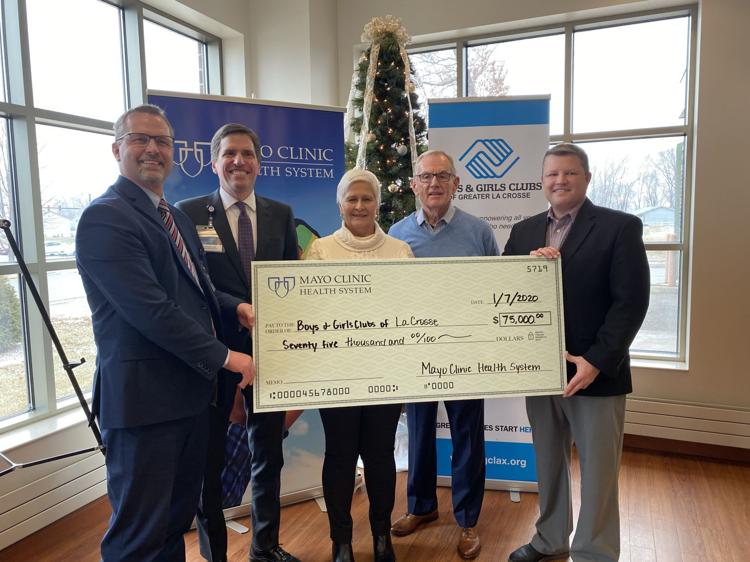 The Holmen Area Club & Community Center is $75,000 closer to becoming a reality.
Mayo Clinic Health System on Tuesday announced that it is contributing that sum toward the creation of a Holmen Area Boys & Girls Club inside the community center, which is moving into the former Festival Foods at 600 N. Holmen Drive.
Organizers now have nearly $7.5 million in hand, and must raise another $1 million to cover construction and programming costs. The center is expected to open by Sept. 1.
"Our goal in making this contribution is to support both the mission of the Boys & Girls Club and the needs of the Holmen community," said Paul Mueller, Mayo's regional vice president. "Providing these funds aligns with our commitment to maintaining the region as a great place to live, work, raise families and be healthy."
Leaders from Mayo emphasized the hospital's longstanding relationship with local Boys & Girls Clubs.
Mayo lends two full-time behavioral health specialists to the children and families at the Mathy and Erickson clubs in La Crosse.
The two organizations are also co-presenters of the annual Big Blue Dragon Boat Festival, the proceeds of which support breast cancer survivors and local youth programming.
You have free articles remaining.
"The Boys & Girls Club provides valuable programs for area children and teens, and plays a particularly vital role serving at-risk youth who may have few other supports," said Jason Fratzke, Mayo's regional chief nursing officer and a board member of the Boys & Girls Club of Greater La Crosse. "With Holmen experiencing such a rapid growth in population, the time is now for us to offer the programs needed to support children and families in this community."
The vacant grocery store — which was donated by Dave and Barb Skogen in July, along with $5 million to get the project rolling — will be home to much more than a Boys & Girls Club.
Organizers envision two gymnasiums, a playground, a community center and programming space for the School District of Holmen.
"Our intent is for this place to be where kids can connect with adult role models who listen, get academic assistance, play sports or learn an instrument, get your first job, just be a kid and feel good about yourself," said Jake Erickson, executive director of the Boys & Girls Club of Greater La Crosse. "We've been welcomed with open arms by the Holmen community, and there's a lot of excitement from businesses, individuals, the school district, the village. We've had tons of great support."
The announcement of Mayo's donation comes on the heels of a $20,000 gift by Bluff View Bank.
Erickson said he is pushing to raise the remaining $1 million within the next 30 days, as construction is scheduled to begin in early February.
For more information or to make a contribution, visit holmencc.org.