Controlling costs and speeding the delivery of cutting-edge technology to patients are two of Dr. Paul Mueller's top priorities as the new head of Mayo Clinic Health System-Franciscan Healthcare in La Crosse.
Mueller, who has worked at Mayo in Rochester, Minn., since 1995, was named the successor to Dr. Tim Johnson as Mayo's vice president for its Southwest Wisconsin Region during a press conference Tuesday, effective Oct. 1.
Mueller is a native of Worthington, Minn., who grew up in Winona after his family moved there when he was 5 so his father, Everett, could become a teacher and later associate superintendent in the Winona School District.
The 56-year-old Mueller comes to La Crosse, which he described as "a dream come true, a homecoming," after nine years chairing Mayo's Division of General Internal Medicine in Rochester. He supervised about 100 physicians in that position.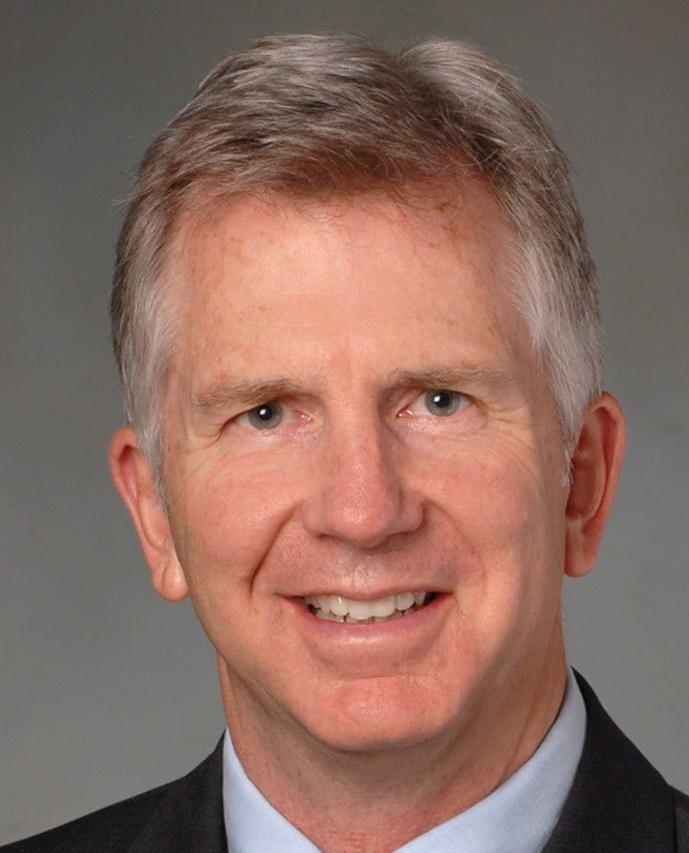 Johnson, who had been CEO of Mayo-Franciscan for eight years, including the past few as southwest regional VP, announced in March that he wanted to return to patient care. He will continue as vice president through September to help ensure a smooth transition.
After that, the 63-year-old Johnson plans to work part-time at Mayo-Franciscan, mainly with patients with musculoskeletal disorders.
Mayo Vice President Bobbie Gostout praised Johnson's role in making Mayo-Franciscan "flourish, with the highest patient satisfaction anywhere in the Mayo system," as well as incorporating measures to control costs without detracting from quality.
"We honor your service," said Gostout, who said the 18-member committee that chose Mueller from dozens of candidates included members of the Franciscan Sisters of Perpetual Adoration, Mayo-Franciscan staffers in La Crosse and throughout the area, and Mayo officials from Rochester and its sister facilities in northwest Wisconsin.
Mueller also lauded Johnson for instituting money-saving measures, saying that "the cost of care is the biggest challenge" in health care.
Another daunting task is "translating cutting-edge technology to practice," he said, adding that it sometimes takes as long as 15 years to get innovative techniques and improved screenings and tests from the lab into the hands of hospital personnel.
Mueller acknowledged the dilemma health systems face in trying to provide health care to rural areas, also noting that inner cities face the same problem in getting care to underserved people.
You have free articles remaining.
Register for more free articles.
Stay logged in to skip the surveys.
"Mayo is not immune to those," he said. "The key is how do we provide access to people? I'm a big believer that it does not have to be face to face and we have to leverage technology" with Skype visits and other forms of telemedicine available at Mayo-Franciscan and throughout Mayo's national network.
He cited the case of a woman he said is very close relative but didn't identify who had complex cardiac problems but lived in a very remote area. She had to visit a hospital only once during her care, which otherwise was delivered through remote assessments and teleconferencing, he said.
"She received outstanding care that was good for her and the system," he said.
Similarly, he said, someone in La Crosse, Tomah or other Coulee Region city, town or rural area who is ill can tap into Mayo's hundreds of specialists nationwide, he said.
Mueller and his wife, Nancy, have three adult children. Nancy, an aerospace engineer by training who has worked with the U.S. Navy, including submarine work, decided she wanted to help girls in STEM programs — science, technology, engineering and mathematics, Paul said.
So she took education courses and now teaches physics and chemistry at Mayo High School, said Mueller.
The Muellers eventually will live in La Crosse, although Nancy will honor the contract she has to teach in Rochester next year, Paul said.
Mueller, who also is a professor of medicine and biomedical ethics at Mayo's College of Medicine and Science, has focused his clinical practice on internal medicine. U.S. News and World Report has recognized him as a "top internist."
He completed his undergraduate studies at Augsburg College in Minneapolis and received his medical degree and master of public health degree from the Johns Hopkins University in Baltimore, Md. He completed his internship, residency and chief residency in internal medicine at Johns Hopkins Hospital.
Johnson, who described Mueller as a "great choice," said he is looking forward to treating patients again.
"It's a great way to end a career," Johnson said. "You start seeing patients, and you end it seeing patients."
Asked what he considers his greatest accomplishment as CEO/VP, Johnson said, "It absolutely is being instrumental in putting together a team of leaders who are truly dedicated, fine people. I'm not responsible for it, but I had a part in it. That will be my legacy."