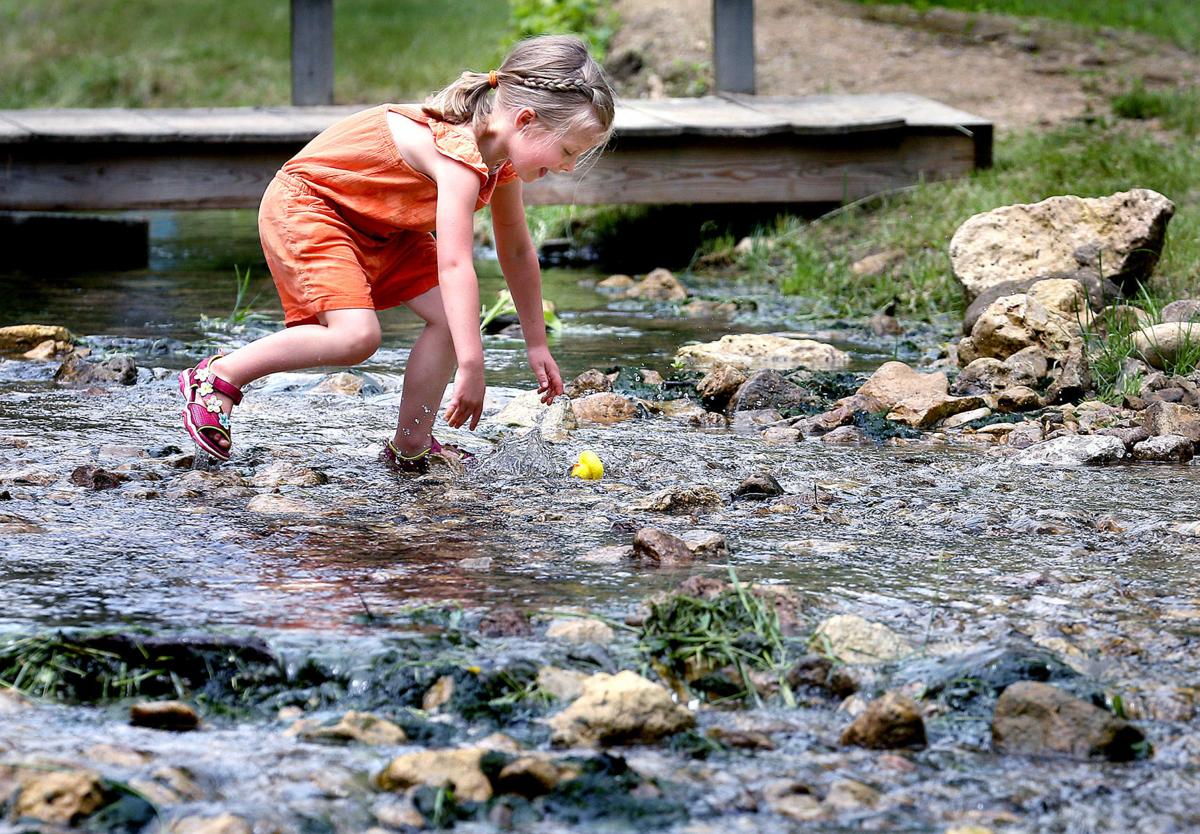 A troll is by definition cantankerous and prone to grumbling, but not even extreme heat could coax out a complaint from Betty Stoleson.
Norskedalen's resident troll of 18 years, Stoleson was in full ogre regalia at Saturday's Midsummer Fest, draped in a heavy brown cloak with an oversized, full haired rubber mask covering her face. Passing out rocks to children as they approached the bridge to the Bekkum Homestead, the uncharacteristically content troll was unfazed by humid temperatures in the 90's.
"I've got my water, there's a breeze," Stoleson said. "It's beautiful down here. The scenery is really something to see."
Midsummer Fest, now on its 35th year, usually draws between 200 to 500 visitors, and while numbers were on the lower end this year, families braved the heat for the chance to explore life in the late 1800s.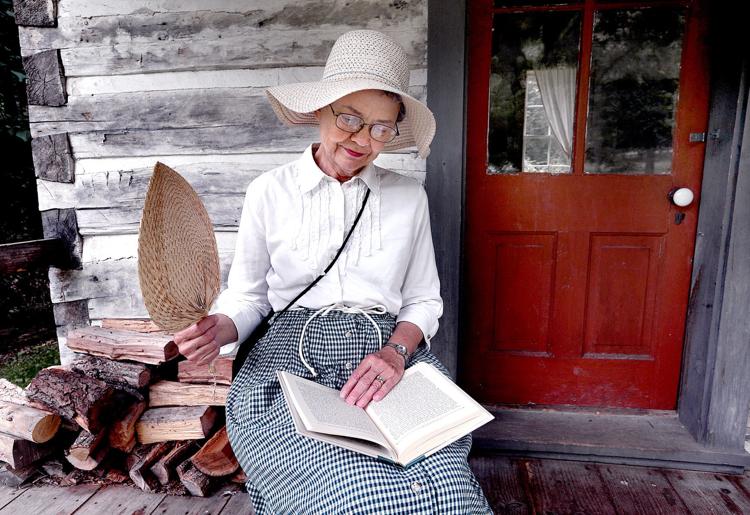 "It's kind of like a living history event," said Kristin Glomstad, heritage programs coordinator for Norskedalen. "This is an opportunity to see those traditional crafts taking place in a traditional setting. People appreciate a chance to be able to see how their great-grandparents lived."
A Norwegian celebration of the summer solstice, a traditional Midsummer Fest centers on food, dancing and games, with Norskedalen's incarnation featuring lefse and shortcake, live music, a scavenger hunt, crafts and rubber duck race down the creek. For the second year, the event offered a game of kubb, a bowling/horseshoe hybrid lawn sport with wooden blocks and batons.
Making the most of the picturesque landscape, many attendees opted to hitch a ride on the horse drawn wagon or venture to the Helga Gundersen Arboretum. Around 40 volunteers helped facilitate the event, giving tours of the 1870's era Engum house, a two-story wood home that once housed a family of 15 and contained no running water or electricity.
A blacksmith gave demonstrations in a small shop, powering through the additional heat from the forge, and members of the Coulee Region Woodturners showed off their skills of the ancient craft, albeit with the aid of a modern machine.
"(Woodturning) is thousands of years old," said Dan Check, whose pieces are far more artistic than the somewhat crude, utilitarian versions from the period. "Realistically, before the advent of molding metal, all the bowls in the kitchen were wood. They would be passed down from generation to generation — they were heirlooms. There's a whole heritage behind this."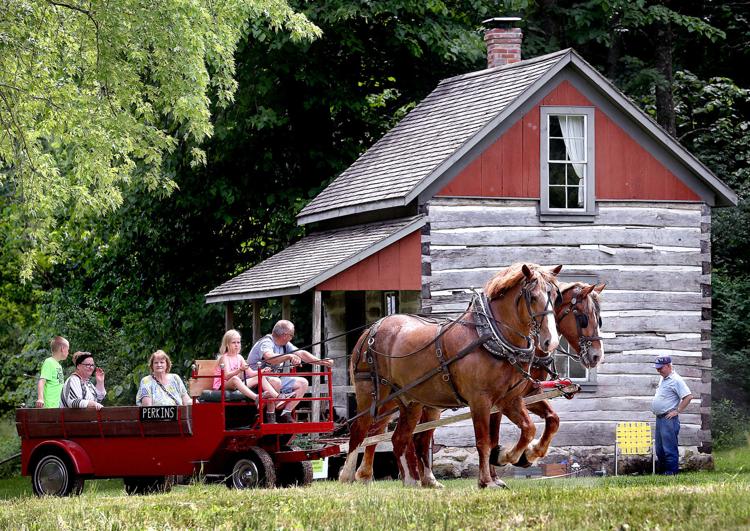 The art of rosemaling was also on display at Midsummer Fest, with an assortment of wood plates, frames and pendants intricately embellished with oil paint. The folk art can be done in many styles unique to each region of Norway, from Telemark, characterized by scrolls and flowers, to Gudbrandsdal, with a 3D, carved appearance. Rosemaling is a practice in patience, an art so intensive the Vesterheim museum and heritage center in Decorah awards an annual gold medal to exceptional artists.
Joyce Fulfurd, who has practiced rosemaling for three decades with the Coulee Region Rosemalers, is frank about the dilligence required, noting, "It might take me an hour, and the 30 years it took me to get to that hour. You really have to practice."
Carol Arlt and daughters Susanna, 12, and Katie, 14, along with friends Makayla Kramer, 14, and Hallie Geary, 12, marveled over the rosemaled jewelry, with some of the girls purchasing earrings. Along with the baubles, the group was excited about the fjord horses on the homestead and the duck race, Susanna taking home a prize. No one went away empty handed, however, with each in possession of a rock from the bridge troll.
"I'm going to keep it forever," Makayla said.
From Tribune files: A look at life in La Crosse from 1900-1987
These photos are filled with many familiar faces and places from our area's past.
Get local news delivered to your inbox!
Subscribe to our Daily Headlines newsletter.