OSHKOSH — Miss Onalaska Madeline Kay Adickes was named first runner-up Saturday in the Miss Wisconsin pageant.
Adickes, 21, is the daughter of Sue Adickes.
She won the second round of preliminary talent judging Thursday evening with a vocal and piano solo performance of "When We Were Young." She also won the $250 Rookie Talent Award.
Adickes, a first-time state pageant entrant, will complete her reign as Miss Onalaska in August and will have the opportunity to represent Wisconsin in the 2019 Miss National Sweetheart pageant, Aug. 28-Sept. 1, in Hoopeston, Illinois, a national pageant for state runners-up.
Miss Rock County, Alyssa Marie Bohm, 24, of Racine was selected Saturday as Miss Wisconsin for 2019 at Oshkosh West High School.
The former UW-Whitewater education student bested 23 women from around the state for the title and a $10,000 scholarship. She succeeds Tianna Marie Vanderhei, 26, of Wisconsin Rapids, who won the Miss Wisconsin crown last year on her sixth attempt, a state pageant record.
Bohm, who tap danced to "Get Up," is only the second woman to win the state crown with a tap dance talent. In 2012, Katherine Gorman of Onalaska won with a tap dance routine but then changed to singing for the Miss America competition.
The remaining runners-up to Bohm were Miss Southern Lakes Elise MacKenzie O'Connell; Miss Wisconsin Rapids Danielle Moon; and Miss Oshkosh Katrina Nicole Mazier, a three-time state entrant, was fourth runner-up.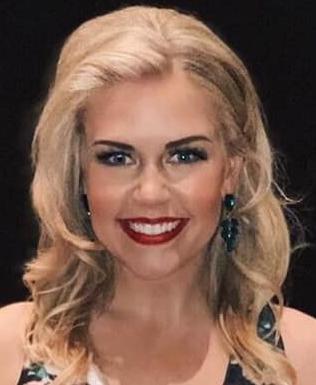 Meanwhile, Miss La Crosse/Oktoberfest Gabrielle L. Mark, 21, of Red Wing, Minn., who won the city title last September, won the $500 non-finalist talent award.
She also earned the special $500 Marketing/Communications Scholarship, and tied for the Health Sciences scholarship award with Miss Fond du Lac Amanda Jo McClelland, 23, of Berlin.
The other La Crosse area contestant was first-time state entrant Miss Sparta, Emily Phillips of Sparta, who is a central services tech at Gundersen Health System in La Crosse. She did not place among the 11 semi-finalists.
Bohm will advance to the 2019 Miss America pageant later this year, which will be televised on NBC.
On Friday, Holmen native Savannah Horstman, 17, who competed as Miss Onalaska Teen was chosen as Miss Wisconsin's Outstanding Teen on her third attempt at the state title. Miss Majestic Bluff's Teen, Rubie Stetzer of Trempealeau, won the Miracle Maker Award for supporting the Lions Club eye-bank donation program.