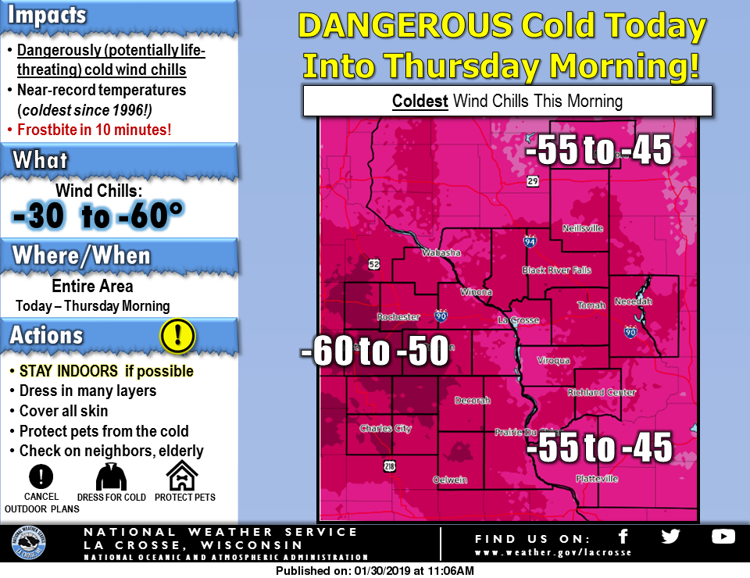 It might be time to add a caveat to the U.S. Postal Service's unofficial motto: It turns out that bone-chilling, life-threatening cold as low as minus-31 degrees means the carriers can stay indoors.
That's after the Postal Service announced Tuesday that delivery will be suspended Wednesday because of the brutality of the polar vortex.
While "neither snow nor rain nor heat nor gloom of night stays these couriers from the swift completion of their appointed rounds," a National Weather Service prediction of wind chill values as low as minus-52 means a day without mail.
Canceling school and postponing events are not big surprises during a cold snap, but Mount La Crosse? Even the playground of winter-hardy skiers and snowboarders was set to be closed a second day in a row Wednesday, as the daytime high is expected to be minus-13 degrees.
What's more, the list of public facilities and private businesses — including the entire Valley View Mall and increasing numbers of restaurants — that will be closed Wednesday is growing faster than a roofline icicle.
Valley View closed at 6 p.m. Tuesday, as did La Crosse's three public library locations, and they will remain closed Wednesday. Valley View also was closed Monday. La Crosse County Library locations in Bangor, Campbell, Holmen, Onalaska and West Salem also closed early Tuesday and are expected to be closed Wednesday.
Gov. Tony Evers issued an executive order to close all non-essential offices Wednesday, saying the weather presents "an imminent threat to the well-being of the public." Most emergency response, public safety and public health employees are reporting to work. The State Capitol will be open Wednesday.
Extreme weather conditions have prompted Amtrak to cancel all trains into and out of Chicago on Wednesday and most services to or from Chicago on Thursday. This includes service to La Crosse.
The Children's Museum of La Crosse will be closed Wednesday, and several restaurants announced plans to close during the deep freeze. It's advisable to call your destination in advance to make sure it's open.
Darcie Breidel, Mount La Crosse's general manager and marketing director, remarked on the fickle weather of late: "Three weeks ago the (ski) area was closed because of warm, rainy weather."
Indeed, La Crosse set a record high of 54 degrees (above) zero on Jan. 5, according to NWS records that also indicate that the minus-31 overnight low Wednesday could flirt with the 32 below that three dates share: Jan. 19, 1970, and Feb. 9 and 10, 1899.
Those figures are far above the record low of minus-43, set on Jan. 18, 1873.
If the temperature dips to 31 below Wednesday and rises to a predicted 39 above on Saturday, that would be a 70-degree swing in just three days.
There is no magic number that triggers a closing decision, Breidel said.
"Management discusses a multitude of variables, including ambient temperatures and wind chill," she said. "This time around, it was ultimately a combination of both, and, while the area is reluctant to lose a couple of days to the winter weather, erring on the side of caution when it comes to the safety of employees and patrons was the final decision."
Making snow will continue, with plans to stock up enough of a supply to last through any warm spells through the typical end of the ski season in mid-March, she said.
Two employees, girded with layers and layers of clothing and taking breaks in a snow cat, were directing the snow cannons on Wednesday, said Don Polanowski, assistant manager of the pro shop.
The ski area could reopen at noon Thursday, depending on conditions, he said.
Keeping the heat on
Heating companies were doing a brisk business Wednesday.
Cary Plumbing and Heating in La Crosse started with three calls Tuesday morning, and had tallied 19 by 1:30 p.m., said co-owner Marv Becker. During the weekend, Cary crews replaced a lot of motors that had worn out from running so long, he said.
You have free articles remaining.
"This time of year usually is slow, so we're running ahead," Becker said, noting that 40 to 45 calls a day were common during some blistering periods last summer.
Mark Schneider, co-owner of Schneider Plumbing and Heating in Onalaska, said business was brisk Tuesday, but "(i)t isn't that crazy yet. I think it's going to get worse today and tonight."
The main things homeowners should watch for is frozen or covered vents and make sure filters are not clogged, Schneider said.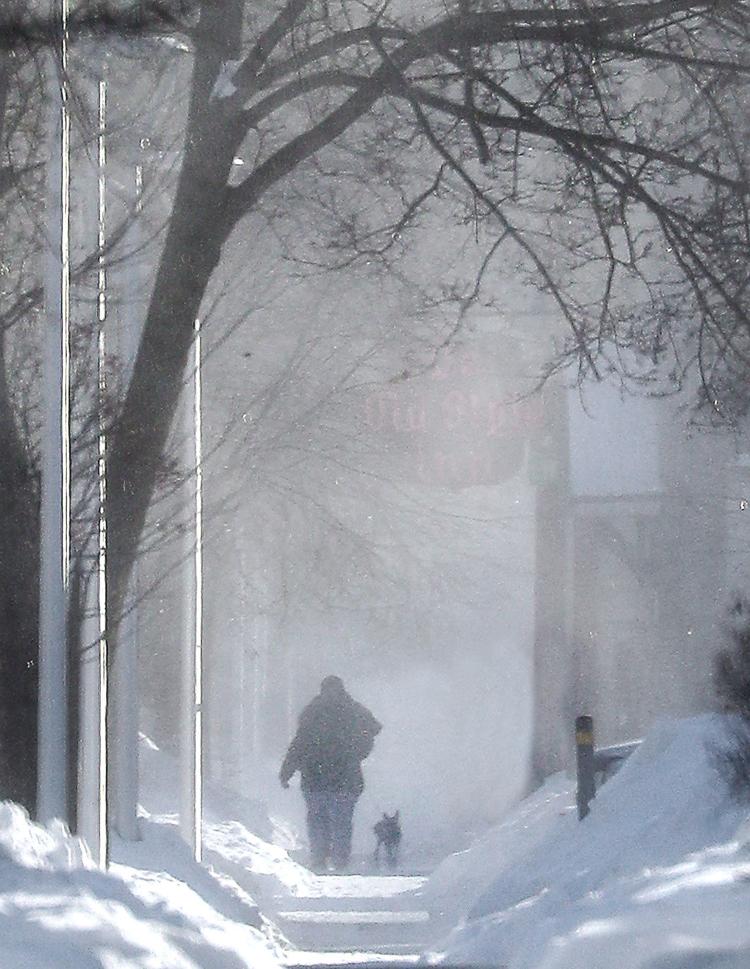 A wet weekend ahead
La Crosse utility crews will monitor snowmelt and rain conditions as the weekend approaches, with a forecast of a temperature as high as 39 and a chance of rain Saturday, said Bernie Lenz, the city's utilities director.
The frozen ground, with a frost line of 18 inches to 2 feet for this time of year, won't absorb water, although the snow will and lessen runoff, he said.
"If forecasts evolve to show there is significant rain coming Saturday, we'll be out making sure critical inlets are open ahead of that — even in the cold weather, Lenz said.
"Every winter or early spring, we have to deal with rain or snowmelt on streets that still have ice or snow around," he said. "We routinely clear corners of snow and ice to keep catch basins open. If a melt or rain comes soon after a snow, we do know the frequent problem areas and would hit them first, as we go around making sure the storm sewer inlets are open and water will drain.
Weather presents health, safety risk
Gundersen Health System and Mayo Clinic Health System-Franciscan Healthcare reported few weather-related visits to emergency rooms.
La Crosse police reported an increase in welfare checks and disabled vehicle calls, Capt. Jason Melby said. About 50 percent of those calls are weather-related welfare checks and vehicles malfunctioning in traffic, he said.
The number of disabled-vehicle calls to dispatch increased from two to 39 from last week, Melby said.
The Wisconsin Department of Transportation issued a warning to be on the lookout for black ice, a thin layer of transparent ice that forms as melting snow refreezes on roads and bridges. The road may appear wet or look as if there's no hazard at all, the department said.
"Black ice tends to occur most commonly overnight and in the early morning as pavement temperatures drop, but the Wisconsin forecast through Friday morning makes black ice a daytime possibility as well," according to the advisory.
Motorists should be especially cautious at traditional black ice trouble spots such as underpasses, in areas where trees shade the road, at intersections or on interchange ramps.
Key links
The Associated Press contributed to this report.