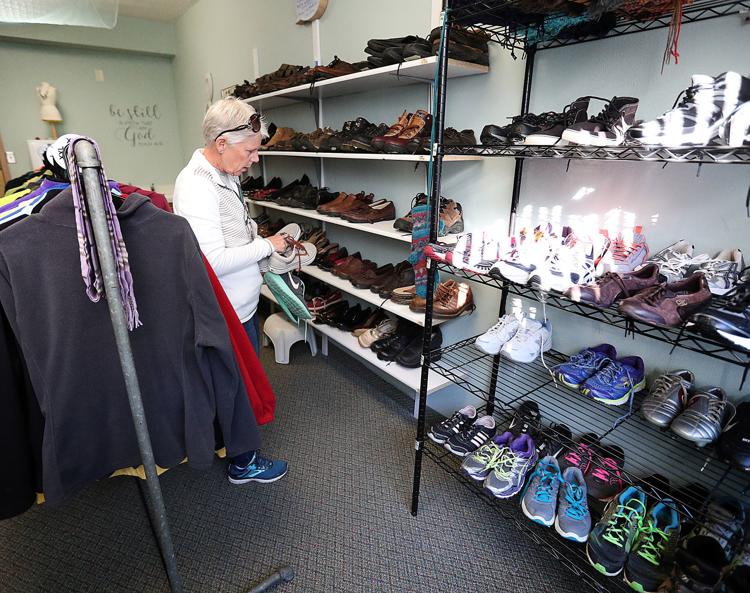 At the First Teen Clothes Closet, secondhand ensembles are given the boutique treatment, with trendy tops hung on circular racks and shiny necklaces draped from jewelry trees.
A great deal of thought and care go into the displays at the multiroom "closet," stocked with gently worn or new shoes, sweatshirts, leggings and jeans for teens and young adults in need. Run entirely by volunteers, the Closet has been bustling with customers since relocating to the upper floor of Trinity Lutheran Church on Aug. 20, the lower level of which houses the Children's Clothes Closet. The tandem location provides families with both youngsters and teens a "one-stop shop" for their needs.
"It's been wonderful to have the Teen Closet here," Children's Closet volunteer Karen Dieringer said. "We had a whole population we weren't able to help having only the smaller sizes."
Previously located in First Lutheran Church in Onalaska for the past six years and open by appointment only, volunteers found the First Teen Clothes Closet wasn't drawing the crowd they expected, with the lack of busing in the area preventing many from coming. With a large portion of their clientele from La Crosse's North Side, Trinity Lutheran Church, also close to schools and with a bus stop right out front, was the perfect location.
Since debuting its new location, the Closet has quadrupled its reach, with more than 100 guests already. Open on Mondays from 4 to 6 p.m., 10 to 15 individuals have utilized the closet each of the past eight weeks. In 2017, the First Lutheran Church location served 180 people total, giving out about 2,000 pieces of clothing.
"We knew from our connections at Trinity that there were many more teens in need who we weren't able to reach, in part because of transportation barriers to get to our Onalaska location," said Lori Lunney, steering committee member for First Teen Clothes Closet. "We explored other options for bringing clothes to the teens who need them, and co-locating with the children's closet just made the most sense."
Members of the youth ministry at First Lutheran Church in Onalaska, who created the Closet as a way to help their peers meet their needs in a low-stress, stylish environment, still oversee much of the project. The teens sort through donations from church groups and community members, weeding out faded, out of style or adult pieces. Grant support from the Franke Foundation is used to purchase full size toiletries, new undergarments, socks and leggings, and special request items such as gym shoes in a specific size.
About a dozen volunteers in addition to the youth ministry run the closet, sorting inventory by size and type in three adjacent rooms, each colorfully painted with wall art and boutique touches, like an armoire stocked with socks and baseball caps hung on staggered hooks. Teens are asked to come no more than once every 60 days to fill a laundry basket with items. Three dressing rooms with full mirrors are available, and items that fit are folded and packed in reusable tote bags for the full shopping experience.
"They get to come and pick out the things they want and shop, which is an experience some of them may not have had," Shari Hegland, a volunteer, said. "Our goal is really for the kids to get the things they need to feel good walking into school. If we can take away that worry of 'Do I fit in?' we can let them focus on other things like school and home."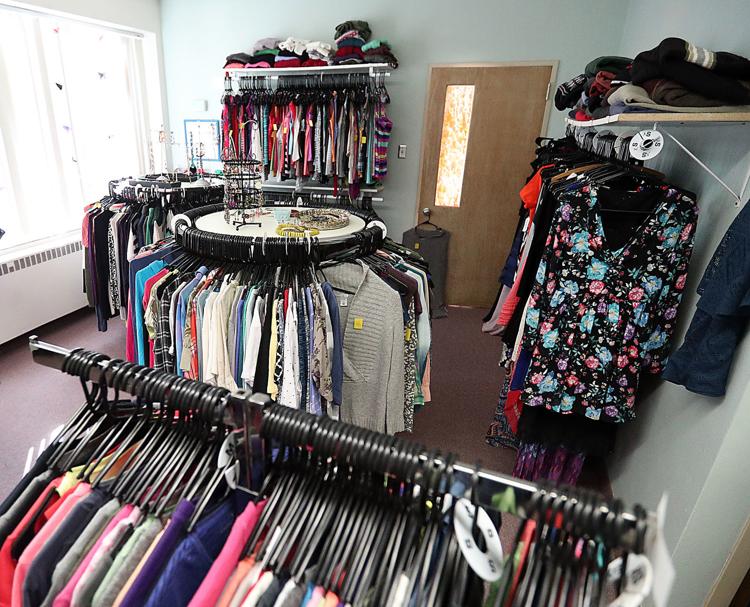 In order to reach all facets of need, the Closet collaborates with other local organizations, passing on the adult appropriate donations to places like the Salvation Army and inviting groups from Hope Academy, the Boys & Girls Club and Project LIVE to shop during special hours. Job interview attire is available, including ties and loafers, as are fancy dresses for prom.
Volunteer Terry Lee says they have been blessed with high-quality donations in a wide range of sizes. Hegland says some of younger girls are ecstatic when they find a particularly on-trend item, and one teen boy was pumped to find a T-shirt featuring his favorite band.
Iesha Seymore, 14, had utilized the Kids' Closet with her two younger sisters for the past few years, and was excited to have a second floor of more teen-friendly options to choose from. Selecting jeans, athletic pants, pajamas and a purse, Iesha noted "It's fun. My favorite part is all of it."
Guests are invited to enjoy the free meal Trinity Lutheran Church offers at 5 p.m. on Mondays and take home pantry items for late in the week. Some families pay it forward, dropping off clothes their kids have outgrown before picking out new ones. The gesture is appreciated, but Hegland says they simply want guests to arrive feeling welcomed and leave feeling confident.
"As a ministry we strive to treat people with dignity and let them know there are people who care about them," Hegland said. "We want it to be a positive experience for them."
The First Teen Clothes Closet and Trinity's Children's Clothes Closet, located at 1010 Sill St., are open from 4 to 6 p.m. Mondays or by appointment. Appointments can be made by calling First Lutheran Church in Onalaska at 608-783-2236.
Donations of new or gently used teen-appropriate clothing, shoes, accessories and toiletries, and monetary donations, can be dropped off at First Lutheran Church, 410 Main St., Onalaska. Hoodies, winter coats, spirit gear from local schools and new leggings are of particular need.