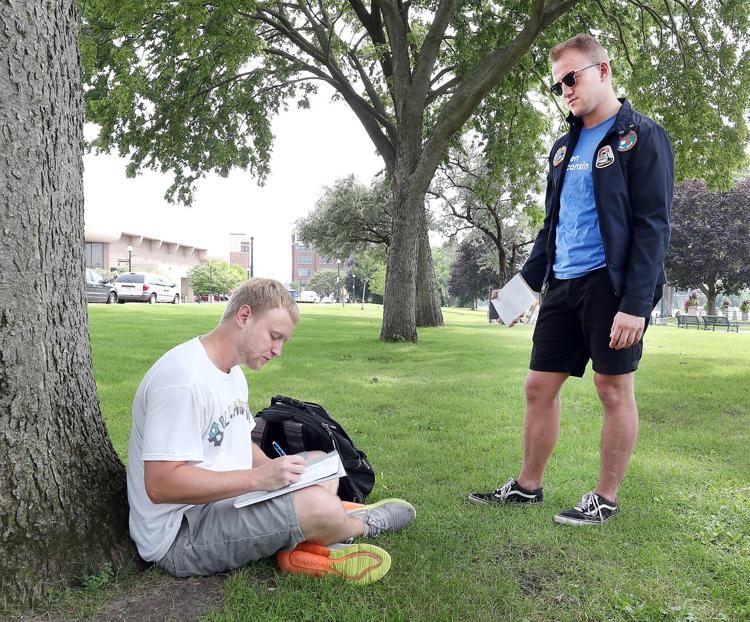 NextGen America is on a mission to reach eligible voters throughout the country, and organizers are hitting the Coulee Region to push progressives to the polls toward.
The organization, which was founded by hedge-fund billionaire philanthropist and liberal activist Tom Steyer in 2013, initially supported environmental causes as NextGen Climate, and then expanded its focus to include affordable health care, LGBTQ rights, racial equality and immigration policy in response to decisions by the Trump administration.
NextGen Rising is funneling $32 million into outreach in 11 states, including $2.5 million in Wisconsin alone, with staff and volunteers hitting local colleges and universities to register voters for the November election and express support for U.S. Sen. Tammy Baldwin and Gov. Scott Walker's Democratic Party opponent. The organization is not endorsing a primary candidate for governor.
Three staff members and dozens of volunteers in blue T-shirts will begin canvassing the city in the upcoming weeks, with efforts amping up during UW-La Crosse Welcome Week. NextGen expects to register more than 250,000 people for the fall election, targeting those age 18 to 35. Organizers themselves are all of college age or recent graduates, an approach Sean Manning, media manager for NextGen Wisconsin, says resonates with young voters.
"A lot of them feel like our elected officials are tokenizing them rather them empowering them when their campaigns address them," Manning said. "Young people really do care. They're not apathetic about the issues."
NextGen funds will go toward paying staffers and hosting events and giveaways, meant to engage students, hear their concerns and remind them their votes count. During Thursday Hammock Save the Planet gatherings, students will discuss the issues that matter to them, and local organizer Kade Walker, who will oversee outreach at UW-L, Viterbo and Western, will recruit people to knock on doors, speak with voters and distribute pledge-to-vote cards. Organizers will be available to help students locate the documents they need to vote and direct them to their polling location, as well as bringing activities and treats to campus.
NextGen, which helped organize the in-state March for Our Lives tour and the Families Belong Together rallies, is in tune to the tuition concerns shared by many in their target demographic. The cost of higher education combined with the reduction in majors offered is the No. 1 issue expressed by students, according to Manning, with gun violence, Medicaid, equality and the family separation crisis also striking a chord.
"We're going to fight tooth and nail for the issues that matter to them," Walker said. "We're here, and we're going to be fighting the whole time. When believe when young people get involved, young people make big changes."
NextGen's approach is channelling the existing energy and passion of GenXers and millennials, the latter the most diverse and largest generation in history. A report released by the Brookings Metropolitan Policy Program in January states that 44 percent of the nation's 75 million millennials are minorities.
"Young people are going to be the difference makers in this election," said Manning.
At the top of NextGen Wisconsin's agenda is defeating Walker, reclaiming a Democratic majority and electing more young and diverse officials into office, and re-electing Baldwin, who cites college affordability, universal health coverage and gun control among her priorities.
"(Baldwin) is a candidate who is true to her beliefs and stands up for the young people," Manning said. "Since she fought for us, we're ready to fight for her."