NORWALK — Monroe County residents living near Hawk High Dairy are concerned that a large-scale farm in their community could threaten water quality in local streams and private wells.
Hawk High Dairy, which sits above the village of Norwalk and Moore Creek, is in the process of applying for a manure discharge permit it should already have under state regulations.
The Wisconsin Department of Natural Resources regulates waste storage and manure spreading on concentrated animal feeding operations, or CAFOs, to keep agricultural pollution from entering state waters. Animal waste is rich in nutrients including phosphorus and nitrogen, which can fuel algal blooms that deplete the oxygen in the water and cause fish to die. Since CAFOS — which house 1,000 or more animal units — generate far more manure than smaller farms, they must develop DNR-approved plans for how to manage and apply the solid and liquid waste to cropped fields.
Hawk High Dairy started applying for a permit after the DNR found the dairy in noncompliance with state CAFO rules after a separate enforcement action in 2017. The DNR learned that owners Robert and Connie Radke had expanded their herd without obtaining the necessary discharge permit and nutrient management plan for handling their manure.
Farms are required by the DNR to apply for this permit 12 months before increasing their livestock numbers beyond the 1,000 animal unit threshold.
Hawk High Dairy currently has about 660 dairy cows, 540 heifers and 90 calves, which counts for about 1,420 animal units. These animals generate about 10.1 million gallons of liquid manure and 7,688 tons of solid manure each year. The waste is spread over about 1,000 manure-spreadable acres of owned and rented cropland.
The permit, which would expire at the end of 2023, is written to accommodate future growth of up to 1,100 dairy cows, 1,090 heifers and 165 calves, or approximately 2,490 animal units.
Under the proposed permit, Hawk High Dairy would need to have enough storage space to hold 180 days of manure waste.
The permit would also require the dairy to sample manure from each of its barns for nitrogen and phosphorus on a quarterly basis and liquid manure from its waste storage pond for nitrogen and phosphorus twice a month when manure is being applied to the fields.
No groundwater sampling is required in the permit, either at the farm or on the fields where manure is applied.
Spill sparks inspection
The DNR issued a notice of violation to Hawk High Dairy after a warden noticed a manure spill into Moore Creek, an impaired waterway with elevated phosphorus levels, on Sept. 23, 2017. The spill came from fields that the dairy had leased from Monroe County to apply manure waste.
Riffey Ag Service, the contractor hired to apply the manure, said that their its training "consisted of going through a pamphlet on field application" and that the driver hadn't realized how close the field was to the creek, according to a DNR summary of the subsequent enforcement conference Oct. 19 with Hawk High Dairy. At the time, Hawk High Dairy had 1,383 animal units and no nutrient management plan for the field where the spill occurred, according to the summary notes. Neither did the dairy check the nutrient levels in the manure being applied to the fields.
After a site inspection, the DNR learned that Hawk High Dairy had become a CAFO without securing the appropriate permits. In response, the agency required Hawk High to submit a complete final application by March 5, 2018.
Hawk High missed the deadline twice, prompting the DNR to issue a letter of noncompliance in June 2018.
'I put it off because of money'
Hawk High Dairy is owned and managed by three generations of farmers headed by Robert and Connie Radke.
Connie stressed that their dairy was a family farm, not a factory farm, because they live and work on the farm they own.Connie, who spoke at the public meeting, said they have been preparing for the last couple years to grow into a CAFO, "but at this point, we've just been making the changes where we could."
"I knew I needed a permit," Robert said after the meeting. "I put it off because of money."
They expanded their herd and put in the new barn and milking parlor "back when milk prices were high," Robert said.
You have free articles remaining.
Since they started the permit application process, they've had to spend $30,000 on engineering costs, Connie said.
"It's a big expense," Connie said. "To be honest with you, I don't think there's any dairy that (gets the permit first)."
"I've done nothing wrong so I'm not worried," Robert said. "This will be permitted."The DNR collects an annual fee of $345 from permittees, said Tyler Dix, the DNR wastewater specialist who drafted Hawk High Dairy's permit. The agency doesn't collect an application fee for CAFO permittees, though CAFOS typically hire consultants to help with the application.
Connie Radke also addressed at the public meeting whether the CAFO will expand to the maximum herd size allowed in the permit.
Those numbers were just a projection, Connie said.
They currently "don't have the land base to (expand)," Connie said. And their milking parlor cannot hold more than a thousand cows, she said.
'Should we bear the brunt of that cost?'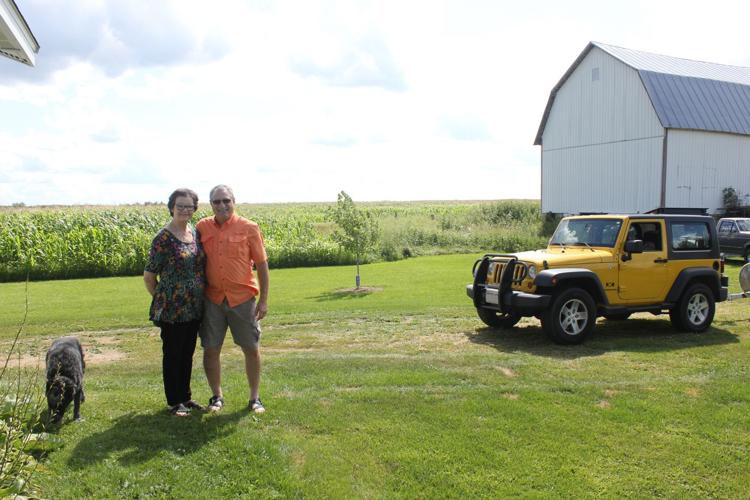 Robert and Mona Kufalk live about a quarter mile from Hawk High Dairy and are one of the most outspoken opponents of having a CAFO in their backyard. Their house is surrounded on all sides by fields on which the dairy applies manure waste.
The Kufalks have turned their dining table into a makeshift command center stacked with papers, including enforcement letters from the DNR to Hawk High Dairy, articles on communities fighting CAFOs, and informational flyers that they hand out to neighbors.
Kufalk said at the public meeting that she was concerned about nitrate contamination in her well, which sits less than half a football field from the edge of one of Hawk High's fields. Nitrates are associated with agricultural runoff from manure and other fertilizers, as well as septic tank leaks. Anything above 10 milligrams per liter exceeds federal drinking water standards for nitrates in public water systems.
The Kufalks' drinking water tested for a nitrate concentration of 7 milligrams per liter in July, compared to 4.4 milligrams per liter when they bought their house in 2014.
This house was supposed to be their retirement home, Mona said after the meeting. Now they buy bottled water to drink.
It would cost them about $10,000 to install a reverse osmosis system to remove the nitrates or $25,000 to dig a deeper well, Robert said. "Should we bear the brunt of that cost because one family wants a big dairy farm?"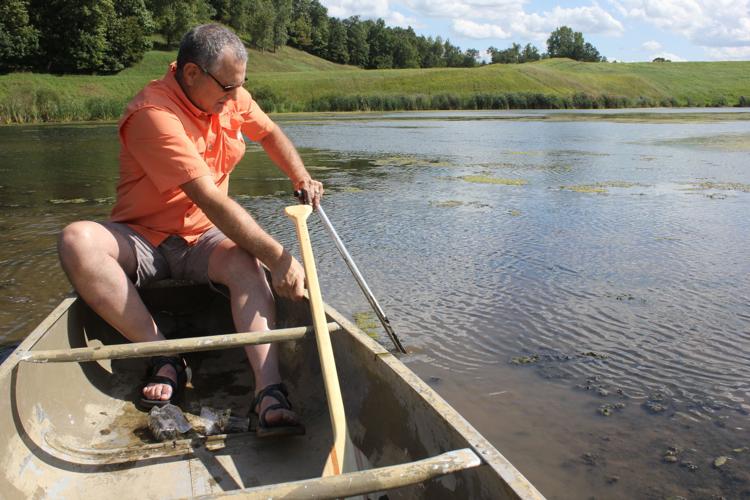 Several residents who attended the Tuesday public hearing in Norwalk asked the DNR to add on-site agency inspections and groundwater monitoring in fields where manure is applied to Hawk High Dairy's permit.
Whether the DNR can require groundwater monitoring wells at manure application sites is being contested at the Wisconsin Supreme Court.
However, the DNR can add to the permit groundwater monitoring requirements at the farm where the animals are housed and manure is stored, Dix said.
A state hydrogeologist will evaluate the bedrock and existing well reports to decide whether on-site monitoring should be included in the approved permit, Dix said.
The DNR has "tentatively decided" that the permit should be approved, but the public hearing Tuesday gives the public and other agencies the opportunity to give feedback on permit requirements, Dix said.
The public comment period closes Sept. 3.
"(Getting a permit is) a big expense. To be honest with you, I don't think there's any dairy that (gets the permit first)." Connie Radke, who owns

Hawk High Dairy with her husband, Robert
Jennifer Lu is the La Crosse Tribune environmental reporter. You can reach her by phone at 608-791-8217 and by email jennifer.lu@lee.net.
"(Getting a permit is) a big expense. To be honest with you, I don't think there's any dairy that (gets the permit first)."

Connie Radke, who owns Hawk High Dairy with her husband, Robert