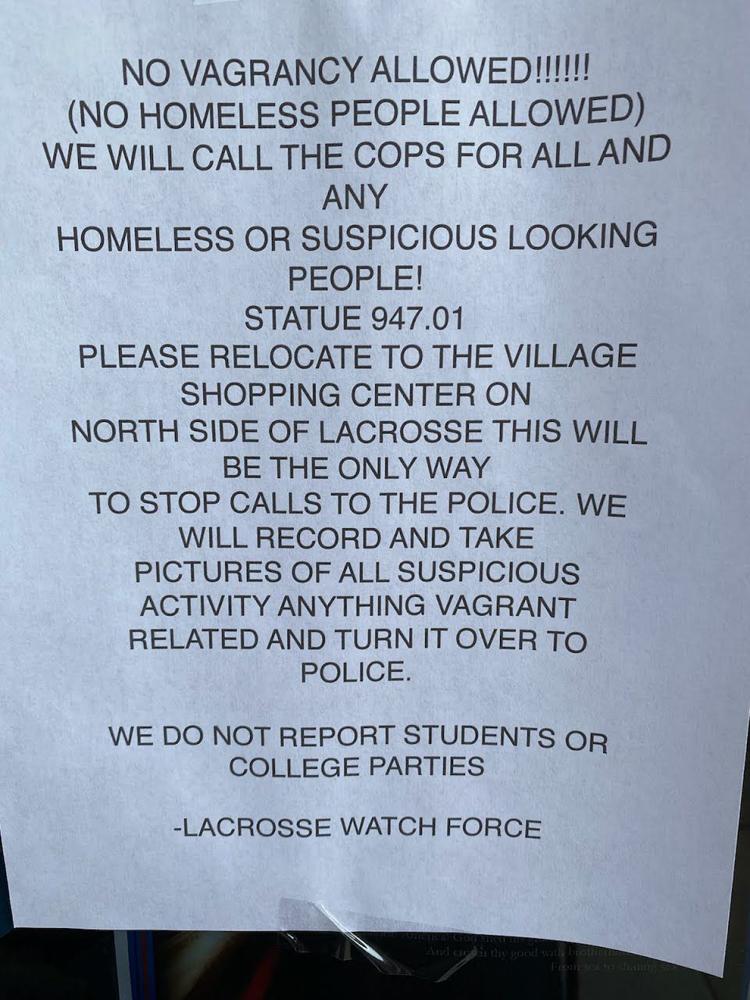 Local leaders denounced a series of flyers Thursday that were posted around downtown La Crosse that threatened to call the police on members of the homeless community and "suspicious looking people."
The note was signed by a group called the "La Crosse Watch Force," though the La Crosse Police Department has only identified one individual involved. It made threats to videotape and photograph all "suspicious activity" and "anything vagrant related" and turn it over to the police.
It also read "no homeless people allowed," telling those experiencing homelessness to "relocate" to a different part of the city, but noted at the end that it wouldn't report college students or parties.
"This will be the only way to stop calls to the police," the note threatened.
The note also cited Wisconsin state statute 947.01, a law that prohibits disorderly conduct, including things like violence, abuse, profanity and unreasonable loudness.
The La Crosse Police Department posted on its Facebook page saying that it has found the individual responsible and is taking unspecified action, and that the individual is not associated with any of the establishments where the sign was posted.
The department noted that just hours before the sign was posted, it held a community event in downtown Cameron Park to connect those experiencing homelessness with resources in the area.
"We as a police agency will continue to work cooperatively with stakeholders to assist those who remain unsheltered in our community," the Facebook post read.
The note was posted on several downtown establishments, including the Salvation Army, which serves as a shelter for those experiencing homelessness, as well as the La Crosse Public Library on Main Street.
"We would like to remind folks that libraries are for everyone and we are proud to serve everyone in our community," the library wrote in a Facebook post. "The La Crosse Public Library is your library and theirs."
Get local news delivered to your inbox!
Subscribe to our Daily Headlines newsletter.