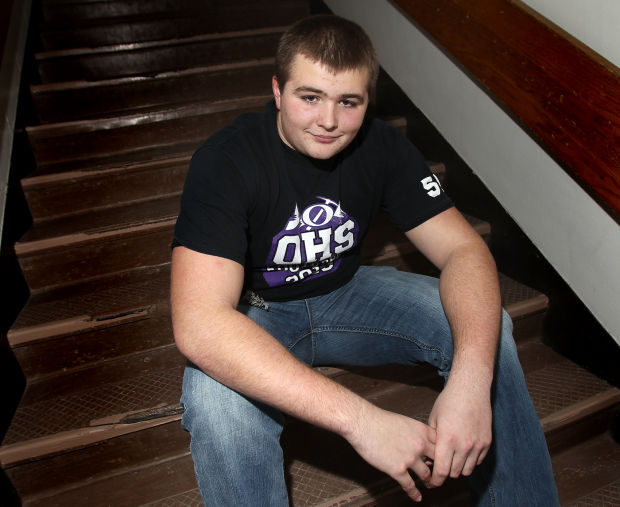 ONALASKA — Cody Marquardt fights for every lesson he learns.
Holding his fists together with his thumbs out, he explains one of the many techniques he has used over the years to battle learning disabilities that will never go away. In middle school, the fists helped him distinguish between B and D — one of the many potholes that have threatened Cody's ability to excel in class.
It's a bumpy road Cody knows will never end. That's why school always comes first, "before anything," Cody said.
"I still work very hard," Cody said. "Probably more than the other students, but I obviously will get it done."
Cody is the La Crosse Tribune Extra Effort Award winner for Onalaska High School.
Teachers noticed Cody had difficulties in reading and language when he was in third grade. By fourth grade, he had been assigned to an individualized education program for extra help at school, mother Karen Marquardt said. Already taller than most of his peers, leaving class for special study sessions made Cody feel even more awkward.
"He was very self-conscious about going," Karen Marquardt said. "You do worry about how that's going to affect them."
Classmates teased Cody as visits to the resource room became part of his education. He learned techniques that would help him succeed in class, but the room also reminded Cody that other students saw him as an outcast.
He wanted to prove them wrong. He decided to break out on his own when he started high school.
"People have called me stupid because I was in a different classroom," Cody said. "I just made it a goal. And I reached it."
You have free articles remaining.
Lynn Groves, now retired, was a resource room teacher at the high school when Cody was a freshman. Groves remembers helping Cody leave behind his old support system.
Cody was unafraid to go to teachers for help, and that tenacity probably helped him succeed, Groves said.
"He was very accepting about learning strategies that helped him," Groves said. "He wasn't afraid to risk, to kind of step out of his comfort zone."
Karen Marquardt took solace from the support offered by teachers like Groves, who watched from a distance as Cody transitioned to a normal class schedule.
"I just found that hard work, dedication to my studies was needed," Cody said. "It's going to take me a little bit longer than the normal person to learn that lesson."
Meanwhile, Cody found an outlet for his frustration. He harnessed it on the football field. The 6-foot-5 offensive and defensive tackle was big, even as a freshman, but coaches worried about his speed.
Cody did what he had already started doing in classes. He worked harder.
"He would have guys stay after, and they'd do drills all summer," coach Tom Yashinsky said. "There were no coaches around."
Cody's dedication helped him earn all-conference honors last year and the team's Lineman of the Year award, Yashinsky said. Cody plans to play college ball next year while studying plastics engineering at the University of Wisconsin-Stout.
He tallied a 3.7 grade-point average in the last semester of his junior year, with a 3.5 overall.
"He now knows what he has to do to obtain what he needs," Karen Marquardt said.