Eighteen talented individuals submitted their original works for the inaugural Record Award banner contest, illustrating their take on inclusivity, diversity and the power of the arts.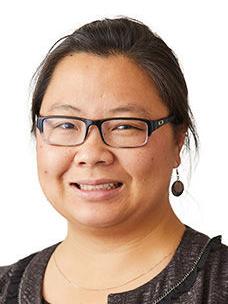 On Tuesday, the winner of the contest and $1,000 was announced as Mai Chao Duddeck of Onalaska, a self-described mother, artist, author and social justice warrior, and employed as a senior equity adviser/recruiter at UW-La Crosse.
Duddeck's mixed media piece, titled "Roots," will be officially unveiled as a 10-by-10-foot banner during a reception at 11 a.m. Monday at the La Crosse Public Library, 800 Main St., in conjunction with National Library Week.
Established in April 2018, the Record Award — named for local arts advocate Dick Record, who is providing the prize money — is a collaboration with La Crosse Public Library and La Crosse Arts Board.
The Record Award contest was created to strengthen the community and the relationships of its members through celebrating its diverse population. Duddeck's banner will accompany the "Libraries are for Everyone" display above the main entrance and serve as a permanent installation.
Raised in the Ban Vinai Refugee Camp in Loei Province, Thailand, Duddeck's first memories of creating art are as a child in the monsoon season, recalling, "After watching sheets of rain under the protection of corrugated aluminum roofs, my friends and I ventured out to the muddy ground to play. From there, we found small rocks and tree branches that we used to make pictures on the ground. Since then, I have been a visual artist."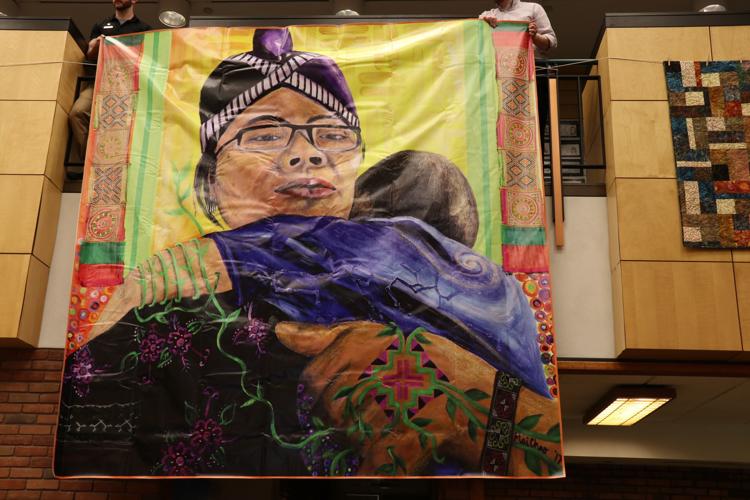 Duddeck's banner, done in acrylic, fabric and metal, depicts a woman clothed in a traditional dress and cap, clutching her baby to her chest against a yellow background representative of the bamboo walls of refugee camp quarters and bordered by a colorful motif print. The woman has a strength in her face, embracing her future as "her cultural roots (flow) deeply through her veins and into her child." Her young son's blue attire embodies "endless possibilities of hope depicted in the constellations and the galaxy," Duddeck says.
Arts Board member Jennifer Williams says Duddeck's entry, with bold hues of green, blue and magenta, stood out for its evident human connection, use of color, quality of design and pertinent message.
"(It) highlights the library as a resource for knowledge, and especially shared knowledge," Williams said. "An image that can without words promote the values of reading and learning is so important."
Duddeck likens her piece to a diary rich with dreams, love, unity, history and hope. Raised by jeweler parents who paid for her and her brother to attend school, Duddeck is grateful to have received an early education, something not all youth in her community were fortunate enough to have. She expresses appreciation for the sacrifices of her elders and ancestors, with her art emblematic of both childhood memories and the experiences of minority women living in the U.S. Duddeck expresses a fascination with adversity and "how stories shape the way people see the world."
"Art has healing powers and brings community members from all walks of life together," Duddeck says. "I want my creative work to motivate people so they find their own cultural roots, seek to learn from diverse backgrounds, and build authentic and compassionate communities. More importantly, I want my art to inspire conversations that lead to transformative experiences through genuine interactions. ... I want people to be brave by expanding their circle of competence to reach for new personal and professional growth. Whether through the visual arts or creative writing, my purpose is to share an alternative perspective while elevating invisible voices."
The Record Award banner, Williams said, is another example of the Arts Board's advocacy efforts for public displays of art, whether through murals, sculptures or performances. Each of the 17 other submissions, either originals or copies, will be on display in the Public Library as well. Among all the thought-provoking and expressive entries, Duddeck says she is grateful "Roots" was chosen.
"By having my artistic work be exhibited in a public space, I know it can have a profound influence on positive relationships that help create a stronger sense of belonging, inclusion and diversity," Duddeck said. "This award benefits everyone and my artwork is for all of us."