The ceremony looked a little different this year, but the spirit of giving was as evident as ever during the 2020 Women's Fund of Greater La Crosse grant ceremony.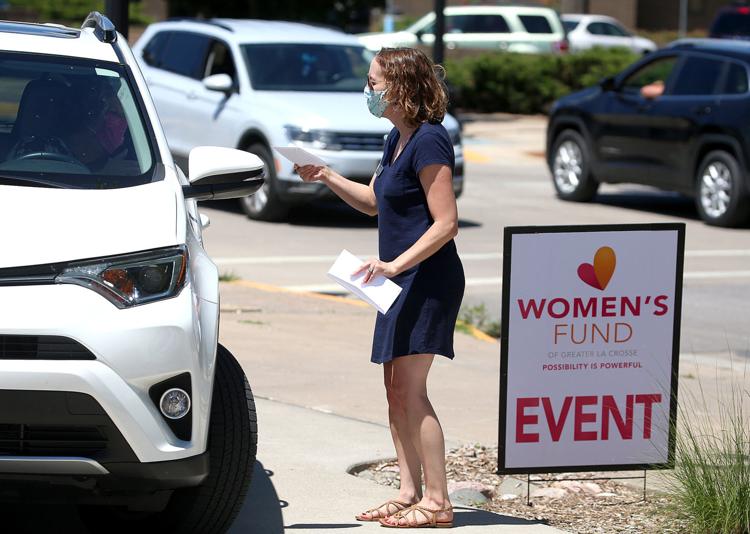 Rather than a dinner, speakers and congratulatory hugs, the celebration went social-distancing style, with a downtown drive-thru recognition of the two dozen organizations receiving a total of $71,000 in funding.
Grants in amounts ranging from $1,000 to $8,000 were awarded to local projects and entities that support the health, self sufficiency, opportunities and philanthropy of female youth and adults. 
"We know the economic strain of the COVID-19 pandemic is hitting women hardest, and these programs will be even more crucial in the months and year ahead as women and families work to sustain self-sufficiency in our community," says Womens Fund executive director Kaycie Green. 
Since its inception, the Women's Fund has given almost $700,000 in grants, beginning with $2,000 distributed in 1999.
This year, Green says, the organization was able to increase the total grant funding by $20,000, "thanks in part to a $200,000 investment made to our endowment, which funds our grant programming in perpetuity, in celebration of our 20th anniversary in 2018. It is also the result of incredibly generous individuals giving over the past year."
Among the organizations honored this year were the YWCA Ruth House, which the Women's Fund has supported in previous years, and the Wisconsin Early Education Shared Services Network's COVID-19 child-care support endeavor.
Ruth House
Ruth House in La Crosse serves as a shelter for women transitioning out of substance abuse treatment and in need of safe housing. The sober-living facility offers those in recovery individualized case management, assistance in finding permanent housing and employment, assistance successfully reintegrating into the community and guidance for preventing relapse. 
"We're providing them with a safe shelter location so they can just focus on their recovery ... and not have to stress over fear of abuse in the home or negative influences coming in and out, if that's something they've experienced through homelessness," says Lauren Journot, executive director of the La Crosse YWCA.
Residents of Ruth House are able to stay about 90 days, and in 2019 the facility housed 26 women for a total of 1,500 nights. The women are connected with resources after their departure to ensure a smooth and healthy transition. 
"Success for an individual coming out of Ruth House looks like continued sobriety, having a safe housing situation," says Journot. "It looks like job security and additional supports in the community to help the women stay on track."
Part of the Ruth House mission, Journot says, is taking away some of the misconceptions and judgments surrounding addiction. Some people, she says, associate drug and alcohol abuse with poverty, intense trauma or rundown neighborhoods. And while addiction can stem from such circumstances, it is a disease that doesn't discriminate.
"Addiction affects everyone across every socioeconomic level, across every race, and ethnicity and age group," Journot says. "It's not something that targets one specific demographic -- it's not that simple."
Journot also stresses that those suffering addiction "are not bad people," and asking for help is a sign of strength. 
"Getting that support and seeking that support is not something to be ashamed of," Journot says.
 Wisconsin Early Education Shared Services Network 
The Wisconsin Early Education Shared Services Network was founded in 2019 to help child-care programs and child-care providers succeed and thrive by improving the quality of services, lowering costs and boosting efficiency.
Facets include access to specialized child-care management data systems, responsive trainings and, in response to the COVID-19 pandemic, providing emergency funding and assistance.
WEESSN partners with small, independent child-care services, including those in Westby and Vernon counties, the latter of which is considered a child care desert, with at least three children per every one available regulated child-care slot.
In Vernon County, says WEESSN coordinator Kelly Matthews, there are about  5,200 youth under age 4 and 1,125 regulated slots. 
Licensed child care is even harder to come by in the COVID-19 era, with approximately 60% of such facilities nationwide closed due to the pandemic.
According to the Center for American Progress, without adequate federal funding 4.5 million child-care slots could be eliminated, including 41,357 in Wisconsin, which equates to a 30% loss. 
"We see WEESSN really as helping to stabilize child care so that for families, when they are ready and willing and able to go back to work, there is child care available," says Kelly Hook of the Wisconsin Early Childhood Association. 
Among the services and undertakings by WEESSN in response to the coronavirus crisis are the availability of "floating substitutes" for workers who are sick, providing information and direction on applying for federal relief packages, the creation of a guidance document with current rules, regulations and best practices for safety during the pandemic, and the coordination of a community supply share of needed materials for child care programs.
Additional efforts have included the development of a consistently up to date digital resource page, virtual professional development programs and weekly online updates and Q&A regarding COVID-19 related issues.
In Vernon and Monroe counties, Hook says, child-care services "using WEESSN are faring much better than other programs that don't have that support."
With about 97% of early childhood educators females, according to the U.S. Department of Education, WEESSN embodies the Women's Fund mission.
"The multi-prong way that supporting child care supports women and girls is really phenomenal," Matthews says. "It is a linchpin for healthy communities."
Get local news delivered to your inbox!
Subscribe to our Daily Headlines newsletter.