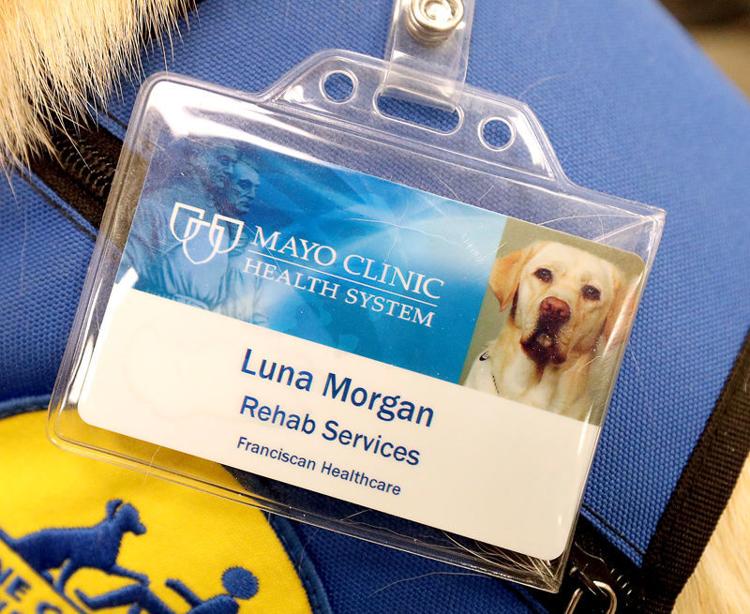 Mayo Clinic Health System marked the first anniversary of its facility dog, Luna, last month, celebrating a successful year of pet-centric care and companionship.
Now, the sweet-natured yellow lab and smitten staff are kicking off 2020 with an expansion of the facility dog program, thanks in part to the generous donation of a patient couple.
Dan and Leora Garner, dog lovers and longtime patients of Dr. Paul Mueller, regional vice president of Mayo Southwest Wisconsin, gifted $2,500 toward the program's growth, a sum Mueller has offered to match.
The $5,000 will be donated directly to Canine Companions for Independence in Delaware, Ohio, the organization that bred and trained Luna.
Canine Companions, which relies on donations and volunteers to raise assistance dogs, estimates each of its graduates are valued at $50,000, yet are given free of charge to hospitals, rehab centers, schools or individuals with disabilities or impairments.
"This is an example of how grateful patients can support an organization," says Lisa Morgan, supervisor of rehabilitation services in La Crosse and Luna's handler. "In this case, Mayo Clinic Health System is paying this gift forward and giving back to an organization that has given so much to us."
"What makes this gift unique is that it will be going to an organization that is making a difference in the care our patients are receiving at Mayo Clinic Health System," Mueller said. "Luna is able to engage with patients in a way that humans often can't."
The Garners have pledged an additional $2,500 to Canine Companions, with the hope that another of the organization's dogs will eventually join Luna and the Mayo team. Presently, Luna assists patients with rehabilitation exercises, offers comfort to individuals in the cancer center, visits with juvenile patients and offers staff members stress relief in the form of a cuddle and a wagging tail.
"Facility dogs give unconditional love, which promotes healing," the Garners say. "We hope that our gift will, in the future, help grow the facility dog program at Mayo Clinic Health System."
Construction is underway on a new Ohio-based facility for Canine Companions, which will allow for the training of more dogs. In honor of the total $7,500 donation, a paver at the finished building will be dedicated to the Garners and Mayo Clinic Health System.
"We are very excited about Canine Companions' work with Mayo Clinic Health System," said Paige Mazzoni, CEO of Canine Companions for Independence. "What has started with the impact of one amazing assistance dog team promises to grow and positively affect the outcomes of many more Mayo Clinic Health System patients. We are especially grateful for the financial support of Dan and Leora Garner, as well as Dr. Mueller, in working to achieve these goals. We see this as just the beginning, and are excited to work with Mayo Clinic Health System to do more good for years to come."
Get local news delivered to your inbox!
Subscribe to our Daily Headlines newsletter.