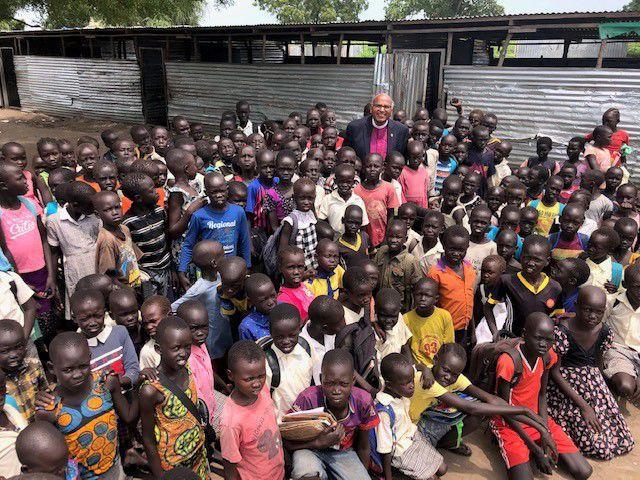 After 16 years presiding over Christ Episcopal Church, Patrick Augustine left the comforts of La Crosse last June to accept the role of assistant bishop of the Diocese of Bor.
After a summer of service work in sweltering temperatures and mosquito-riddled quarters, Augustine is grateful for a brief reprieve in the Coulee Region, and the support of Living Word Christian Church, where he will be prayed over this weekend before his return to South Sudan.
After nearly three decades of assisting Sudanese refugees, including helping settle thousands of the Lost Boys of Sudan in America, Augustine was summoned last May to serve the Diocese of Bor, consecrated last June in South Sudan.
With the appointment, Augustine committed to four- to six-week visits, thrice yearly, to aid the country as it rebuilds after its 2011 independence from Sudan as well as build relationships between the impoverished country and the United States.
Upon his return to La Crosse in September, Augustine, who is respecting the protocol to take an extended break from his former church to allow the new pastor to develop a leadership role, was searching for a place to attend Sunday service.
By chance, he ended up in the parking lot of Living Word Church, where pastor Mark Clements and his congregation welcomed him with open arms, inviting him to speak of his work and "adopting" Augustine and his mission.
In addition to offering financial support, Living Word Church holds weekly prayers for Augustine, and will do so in his presence during the 8:15 and 10:30 a.m. services Sunday at 2015 Ward Ave. Clements and church elders will also anoint him with oil.
"They will lay hands on me and pray and commission me to go on this trip ... to rebuild confidence in the people and rebuild a nation," Augustine says.
Augustine, who is also being supported through prayer and monetary donations by La Crosse Christian Church, will — after a month of ministry in Pakistan — return to South Sudan in January to continue his work with the church, St. Andrews Primary and High School and the Mothers' Union.
Among Augustine's tasks and projects have been teaching theology, building classrooms, developing a sewing center and opening a cafeteria for women to make a living wage cooking and selling food.
Augustine, who brought computers over the summer, would like to bring more laptops and books when he returns, and to get started on building three or four more solar powered classrooms during the next six months.
"I have thousands of children to help educate," Augustine said. "The economy is really poor and in shambles and I'm trying to provide encouragement to the children and the teachers."
Though rewarding, Augustine's experience in South Sudan has been far from easy. On a scale of one to 10, the living conditions, Augustine says, are "a one or a two," and he has suffered boils and infections. However, he is committed to the mission he accepted.
"It was unbearable for me but I survived those two months," Augustine says. "It was very primitive and basic but people there were very kind to me and I'm not discouraged. I felt peoples' resolve was strong and they have suffered so much. ... I want to make a difference to these people and give them hope."
To contribute to Augustine's missionary work in South Sudan, send checks to Living Word Church, 2015 Ward Ave., La Crosse, Wis., 54601, memo: "Help With Compassion." For more for information and updates, visit https://www.helpwithcompassion.com/.