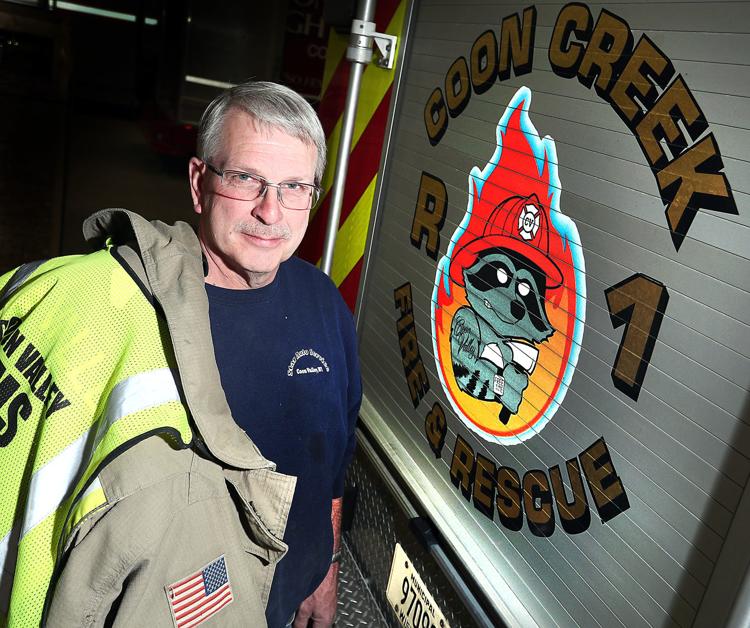 Above him, the sky was dark. Below him, the water murky and waist deep. Russ Cornford estimates the weight of his soaked turnout gear topped 150 pounds as he trudged through flooded streets and homes, hoisting frightened residents and shivering pets over his shoulders.
For some 26 hours straight, the Coon Valley fire chief powered through the most devastating flood the village had ever seen last August and September, thinking not of hunger, not of fatigue, not of pain, but of people — the 700 men, women and children in the community he loves, the village he calls home.
Cornford, 60, has been a resident of Coon Valley for five decades, a small town, he says, of friendly folks with deep ties.
"I don't know how to describe it," Cornford said. "But I don't want to leave."
The feeling, say many members of the community, is mutual. The owner of Star Auto Service, dedicated family man, and veteran firefighter and first responder is described by Coon Valley Elementary secretary Lisa Olson as a pillar of the community. Coon Valley Village president Karl Henrichsen notes Conford's wealth of knowledge and experience. Resident Chelsea Nobrega calls him amazing all around.
Cornford is a leader, a lifesaver, a local hero. And he is the La Crosse Tribune's 2018 Person of the Year.
A volunteer firefighter of 40 years and fire chief for 38, Cornford has been hailed for his determination, quick thinking and fearless action in the midst of the Aug. 27-28 and Sept. 3-4 floods that left homes and businesses ravaged. But not a single life was lost. Under his leadership, the 26 members of Coon Valley's all volunteer fire squad and responders from neighboring counties evacuated more than 125 people to safety as up to 12 inches of rain poured down the first night, washing out roads and bridges, collapsing roofs and destroying one safe haven after another. The damage to Vernon County, home of Coon Valley, totaled around $4 million, with torrential rains in 21 counties causing $150 million in damage to some 4,300 homes and 140 businesses, as estimated by Wisconsin Emergency Management.
Through it all, Cornford stayed calm, but he won't claim credit for the remarkable rescues performed with not a single person left injured or unaccounted for.
"It wasn't me," Cornford said. "I have to give a shout out to my team, the people from Westby, Viroqua, Stoddard, Shelby and Genoa who helped — I'm so proud of these people."
Putting community first
The job of a firefighter intrigued Cornford from a young age. Told he was too young at 16, he was invited back to train three years later, shortly before marrying Nancy, a former classmate, in 1978. Cornford, who says was a partier in his youth, didn't take his responsibility seriously at first — just excited to have "a red light on his car." But one night, an emergency call came in after he had consumed a few drinks. Unable to respond, Cornford felt a pang of guilt, vowing to live a sober life to best uphold his duties.
"He was just a little rascal," recalls Olson, who has known Cornford since their school days. "He just grew into this pillar of the community. We know if something is wrong, Russ will handle it."
His dedication showed, and Cornford was promoted to assistant chief within months and chief, the youngest in the department's history, a year later. He balanced his duties with raising sons Justin and Eric and working second shift as a welder at Chart Industries, opening Star Auto Service down the block from the fire station around 2003. When he was laid off from his job at Chart, he began working long days at Star Auto, earning a reputation as a reliable, personable business owner and mechanic, taking calls at all hours.
"He's just a great guy," says Coon Valley Elementary principal Mike Berg. After dropping off his beloved grandchildren Rhea, 9, and Bentley, 4, (he is also grandfather to Adeline, 18 months) off at school, Cornforth is known to pick up teachers' cars in need of repair, fixing them up and returning them to the parking lot before school is out.
A frequent volunteer at the school, "He's just one of the kindest people I've ever known," Olson said. "He's very generous and always thinks about himself last. The glue holding the community together is Russ."
Proud wife Nancy says her husband's "giving spirit" is evident in all facets of his life, whether through good deeds, donations or community service.
"People come up to me and tell me he's an angel," Nancy says. At Coon Valley Elementary, where the annual theme is "What's your superpower?," he is regarded as a superhero.
"Russ would be the front one," Berg said. "He does things because it's the right thing to do, and he goes under the radar doing it."
Chelsea Nobrega, 25, who works at the Kwik Trip down the street from Star Auto, sees Conford most mornings when he stops in for breakfast. Always cheerful, Cornford's caring nature is evident when he jumps in to help those less fortunate. When Conford encountered someone rummaging through the dumpster, Nobrega says, he encouraged the woman to stop by his shop whenever she was in need of food — he'd offer her a snack or buy her a meal.
"He's just an amazing guy all around," Nobrega says.
Cornford consistently finds ways to better both himself and the fire squad's ability to serve, becoming certified as a first responder eight years ago and hosting fundraisers to purchase updated equipment for the department, including a medical transport van, for which he raised half the $160,000 cost. The squad responds to over 100 hours of EMS calls annually and about 30 fires, including barn fires lasting up to 18 hours and fatal car accidents. Cornford places lives before jurisdiction, saying, "I don't have borders when it comes to fire and EMS calls — whoever can get there the fastest."
Conford's team drops everything when a call comes in, said Coon Valley clerk treasurer Renita Williamson. When her husband fell six years ago, they had arrived within minutes. It is crucial to Conford that each and every firefighter be confident and equipped to take charge, entrusting them to make decisions encouraging growth and leadership skills.
"He runs a tight ship," said Coon Valley Fire Department Capt. Jason Rundhaugen, 39. "He's an excellent person to have as a lead. It takes a lot to gain his trust and earn his respect, so being named an officer means a lot."
"He says the guy at the lowest totem pole should know as much as the guy at the top of the totem pole," said Ryan McGuire, 26, captain of the Coon Valley Fire Department. "Put your egos aside — it's about the people."
Taking charge in the face of disaster
You have free articles remaining.
Coon Valley has seen mass flooding before, in 1997 and again a decade later, but the August/September floods, Cornford says, were "the worst thing I've seen in my 40 years."
The first call came at 11 p.m. Monday, Aug. 27. A mudslide had been reported on Highway 14. Driving in from Westby, McGuire shut down traffic, taking a back road into town to meet the team at the fire station. Reports of high water started pouring in, and Conford called Nancy to check the basement. Hazy from the cold medicine she had taken before bed, Nancy wandered down in confusion, finding water "geysering" up from the floor in their Nelson Addition home. Cornford told his wife to leave, and Nancy fled to a neighbor's home.
At 1:30 a.m., Conford, McGuire and two other firefighters reported to their first home rescue, arriving at the duplex of Nobrega, who was fast asleep and unaware of the pummeling rain when she heard banging on the door. Water up to her ankles, Conford gave Nobrega instructions through the window before he and two of his team members were able to force open the door. Outside, Nobrega says, the current was strong and water was waist high. Cornford gathered up Nobrega's frightened daughter, Averi, 4, and took the pair, along with black lab Bella, to the fire station, settling them in with blankets and locating a phone for her to call her fiance, Cody, who was working a night shift.
"I was freaked out. (Averi) was crying and scared," Nobrega says. "I can't imagine what would have happened if they hadn't come. I didn't even realize what was happening. I don't think I would have made it out."
With roads rapidly washing out, Rundhaugen set out by boat to help those near Coon Creek, taking command of Anderson Street, ferrying 10 people from their homes. Meanwhile, word came that water was beginning to seep into Bothne House Assisted Living, where a single night shift employee was scampering to assist the 16 elderly residents, startled and panicked, many dependent on canes and some with dementia. Conford and McGuire began carrying the frightened residents, reticent to be separated from their friends, out one by one, McGuire soothing them by asking questions about their lives and walking them through the evacuation steps. A neighbor opened his garage for the residents, supplying chairs and coolers for them to sit on, as Conford commandeered the facility's van, sending the residents to Coon Valley Village Hall for safety.
The fire team began banging on doors, summoning families out of their houses. Not realizing the severity of the situation, some argued or tried to shut the door on Cornford, who says now, "I'd rather you be pissed at me and alive than drowning and dead."
By now, water was waist deep and front end loaders and MRAP military vehicles were summoned from neighboring counties. The obstacles kept coming. Village Hall, the official evacuation site, was flooding. Everyone needed to be moved, and Conford opened up the fire station.
"We'd never seen water like this before," says Ken Phillips, 49, first assistant chief and 21-year member of Coon Valley Fire Department. "We just focused on the job we had to do."
Meanwhile, Cornford's neighborhood was succumbing to the flood. Stationed in the MRAP, Cornford was down the street performing evacuations as Nancy was being rescued herself, in the bucket of an end loader, by Coon Valley Fire Department second assistant chief Stanford Bender.
"(Russ and I) were yelling across the street at each other," Nancy recalled. "I said, 'I thought you were going to rescue me!'"
Soon, the fire department was no longer a safe haven for evacuees, and Conford, in possession of the key to the school, made the call to move people there. (Later, Conford would recall feeling bad about the unavoidable mud tracked into the school, a concern Berg calls typical of the always conscientious Cornford).
The team, some members veterans of the squad and others on for mere months, was spread throughout the village as night turned to day, miraculously keeping everything under control despite little ability to communicate.
"We were all scattered, but somehow the right hand knew what the left was doing," McGuire said. "We knew everything was being taken care of. We didn't have to talk about it. (The new fire fighters) did a phenomenal job of what was asked of them."
It wasn't until everyone was safe early Tuesday afternoon that Conford and the team took a break, the magnitude of the flooding beginning to set in as they pulled their worn feet out of water logged boots and dug into food dropped off by grateful residents. The break didn't last long, as they set out to deliver water and cleaning supplies to neighbors who had returned home to survey the damage.
Cornford hadn't paused to think about his safety, his health or the toll the floods had on his own home until that afternoon. The Cornfords had lost most of their belongings, and while Conford's perspective is "it's just stuff," it was devastating to watch Nancy comb through unsalvageable treasures and mementos.
Community members rallied together to pump out basements, clear debris and load dumpster after dumpster with dilapidated furniture and soaked carpeting. Nogreba's home had water up to the ceiling. Garages were completely caved in. Cleanup efforts were still underway when the rains returned with a vengeance on Monday, Sept. 3, dumping some 4 more inches and washing out a bridge. Conford led a second round of door-to-door alerts, and the fire team spent another 14 hours doing damage control, rescuing a motorist caught in the flash flood and evacuating an elderly couple with Alzheimer's disease from their home.
Weary residents, many of their clean up and repair efforts washed away, started back at square one. Bothne House closed. About seven homeowners decided to leave for good.
"It almost makes you want to cry," Cornford says. "I've never lost sleep after a first responder call. I've lost sleep since the flood."
Moving forward
Cornford, whose business and home suffered considerable damage in the flood, found himself on the receiving end of aid in the weeks following. Laundromats and grocery stores were dropping off gift cards, and people from neighboring towns were flocking in to offer their assistance. Cornford gratefully accepted some donations but passed many forward to those hit harder than himself.
"I felt so blessed and fortunate for the outpouring of help," Cornford says. "I think if this happened again, the same people would show up (to help)."
Morale, Cornford says, is good four months after the floods, and the fire squad is using the experience to prepare for potential future incidents, mapping out grids and guidelines. Many marvel that, despite an experience like no other, not a single injury or illness was reported as a result of the flood. Averi, Nogreba says, didn't stop talking about Conford for days after their rescue, pretending to call him on the phone over and over to say "thank you."
There is, understandably, some lingering fear of another natural disaster, Berg says, but the competency of the fire team is a great comfort.
"The command staff (Cornford) has is extraordinary," Henrichsen agrees. "They were in the positions they were because of his guidance."
Cornford demurs, saying, "I may be the guy in charge — somebody has to be — but we work shoulder to shoulder. It's a brotherhood."
The ordeal, both emotionally and physically draining, hasn't diminished his passion for public safety. Eventually, he will retire from Star Auto. But a firefighter is for life.
"Once it's in your blood, it stays," Cornford says. "I don't think I could ever quit."