They came by the hundreds, by the busloads and by the carloads — pilgrims traveled hundreds of miles from at least five states to view and honor relics of St. Padre Pio Wednesday at St. Joseph the Workman in La Crosse.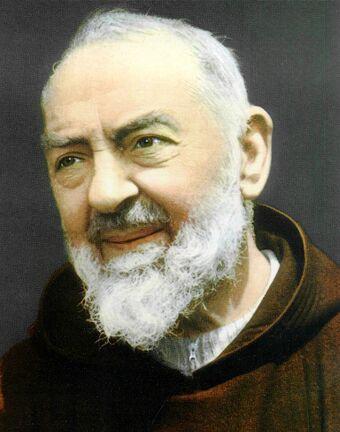 At the rate of 500 an hour, they started lining up outside the cathedral at a pace that promised to far surpass the 2,000 minimum turnout that officials of the La Crosse Diocese expected and up to 4,000 possible.
Spurring some was lifelong devotion to Pio, a noted 20th century Capuchin Franciscan priest, mystic and healer especially honored for bearing the stigmata, a rare circumstance in which an individual receives wounds corresponding to the crucifixion wounds of Jesus Christ.
Some came with little knowledge of Pio in a quest to learn more, and still others, in the hopes of obtaining healing for themselves, relatives or friends through Pio's intercession.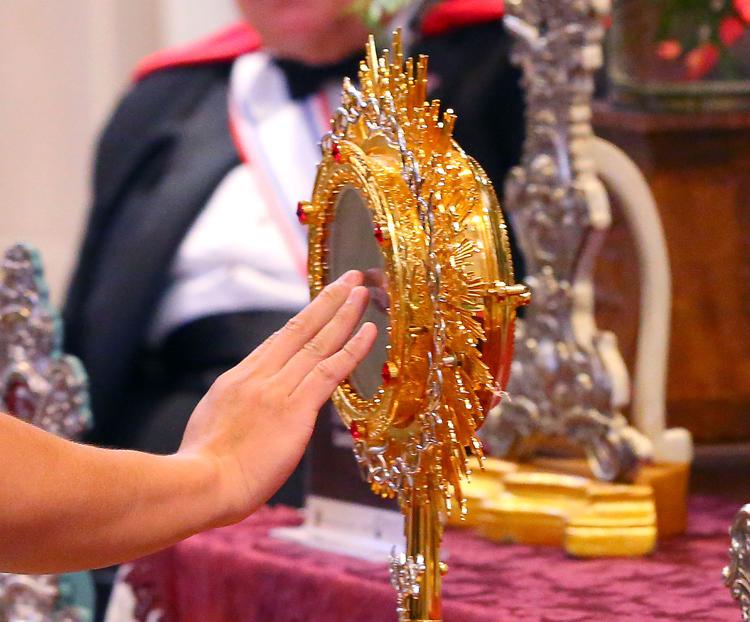 Healing was on the minds and in the hearts of Mary and Jim Metz, who traveled to the cathedral from Eau Claire.
Jim, who converted to Catholicism five years ago and was less inclined to speak than his wife, "is battling cancer, and my sister needs help," Mary said.
"He (Jim) is learning," she said as both laughed.
Mary's devotion to Pio stretches back 15 years, she said, when she began reading books about his life and reputation for miraculous powers of healing and knowledge.
A busload of 41 came from the Archdiocese of St. Paul and Minneapolis on a three-day pilgrimage that also included visits to the Shrine of St. Joseph at St. Norbert College in De Pere, Wis., the National Shrine of Our Lady of Good Help in the Green Bay suburb of Champion and the Our Lady of Guadalupe Shrine in La Crosse.
Members of that contingent steadfastly resisted a reporter's attempt to bait them with a worldly question of picking which of the Marian shrines is better.
Deb Steele of St. Jude of the Lake Parish in Mahtomedi, Minn., outdid even the wisdom of Solomon with a sly smile when she said, "Who's your favorite mother?"
The Rev. Ralph Talbot, pastor of St. Mary of the Lake Parish in White Bear Lake who led the archdiocesan pilgrims, said the shrines "speak to different people at different places."
Nikki Walz, faith formation director of the Diocese of St. Cloud, Minn., brought two busloads with a total of 83 pilgrims from that area, which is 225 miles from La Crosse.
Many participants made the pilgrimage because of health concerns, Walz said, adding that she also was praying for healing of her mother's lyme disease.
La Crosse is one of just a dozen U.S. dioceses that hosted the tour of St. Pio's relics, which included a lock of his hair, a glove, a handkerchief soaked with his sweat hours before his death, crusts from his wounds, cotton gauze stained with his blood and his mantle, which is a sort of robe.
The tour, which stops at the Cathedral of St. John the Evangelist in Milwaukee on Thursday, commemorates the 130th anniversary of Padre Pio's birth and the 15th anniversary of his canonization as a saint. The Saint Pio Foundation, which works to promote awareness of the priest, is sponsoring the tour.
Jason and Jennifer Billings of Lancaster, Wis., brought their five children to instill devotion, Jason said.
"We try to learn about all of our saints. It is an important part of our faith," said Jason, whose family belongs to St. Augustine Parish in Platteville. "This is a rare occasion."
La Crosse Bishop William Callahan underscored the role of such commemorations, saying, "This kind of thing is important. The devotional life of the church is so significant — the backbone of the church."
Relics of saints bring to mind the lives of "our brothers and sisters who were witnesses to Jesus Christ to inspire our life," said Callahan, who said the diocese has been a member of the Saint Pio Foundation for several years.
"Our understanding of the church is supernatural, and that's a big deal — it's above nature" the bishop said.
"Devotion touches our minds as our hearts are touched, and our minds are open to God," he said.
"People come to see the relics as reminders of those who have gone before us," he said. "I have a pair of cufflinks of my father's. Those are relics. I have jewelry from my mother. Those are touchstones to people."
Callahan, a Franciscan, as was Pio, said, "Our habit is made in the shape of the cross. Franciscans have a particular devotion to the cross. The suffering of Jesus is the light of Jesus Christ in the world."
Asked how he might respond to someone who suggested that venerating saints' relics is akin to idolatry, Callahan said, "I would tell them to go home and see how many pieces of memorabilia they have. Do they have scrapbooks? Pots and pans that their mother used to use" that prompt memories of her making this dish or that.
"Those are relics, and they help you get in touch with that person," he said. "I have my grandfather's wedding ring, which was passed to me for some reason, and I have his pocket watch.
"We don't think of these as just things — they help us remember the person and keep in touch with that person," Callahan said.
The presence of Padre Pio's relics also brought a standing-room-only Mass at 12:10 at the cathedral, as well as to a 7 p.m. Mass at which Callahan presided.
The Saint Pio Foundation raises funds for American Catholic health care, as well as educational, social, religious and cultural organizations in the U.S.