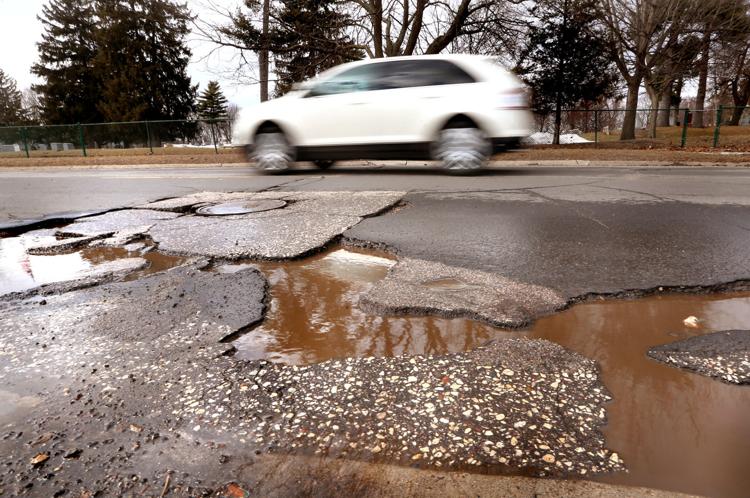 Recent rains have washed away La Crosse's thick blanket of snow, revealing quiet streets and main thoroughfares that look downright lunar.
"Some of these spots have gone beyond potholes and are more like craters," said Mike La Fleur, superintendent of streets for the city of La Crosse. In 28 years with that department, "this is probably the worst that I've seen, along with last year. Streets are bad all over town."
To keep track of these tire-blowing, rim-bending problem spots, the Tribune has started a new project: Pothole Patrol. We're asking readers to visit our website and report the gnarliest potholes they've come across — data we'll plug into an interactive map meant to keep cars running and officials accountable.
Early submissions include a "giant, money-sucking pothole" near the intersection of Jackson and 19th streets, and a depression on Losey Boulevard, in front of Central High School, that "someone could fall in."
La Fleur said crews have been scrambling to patch the busiest, most problematic streets. On Friday, the city announced lane closures on two major arteries — Losey Boulevard, between State and Mormon Coulee roads, and George Street, between Gillette and Clinton streets — as repairs continue.
The weather seems to be cooperating, too, drying up. Rain and snowmelt this week pooled in the streets, sometimes as crews were working, disrupting repairs.
"With all this moisture, we just haven't been able to keep up," said La Fleur, who compared it to gardening. "If you put a handful of black dirt in a dry pot, you can pack it down nice, and it will stay. But if you fill the pot a quarter of the way with water, and then put the dirt in, you're going to have some problems."
Water affects streets the same way a hole punch affects paper.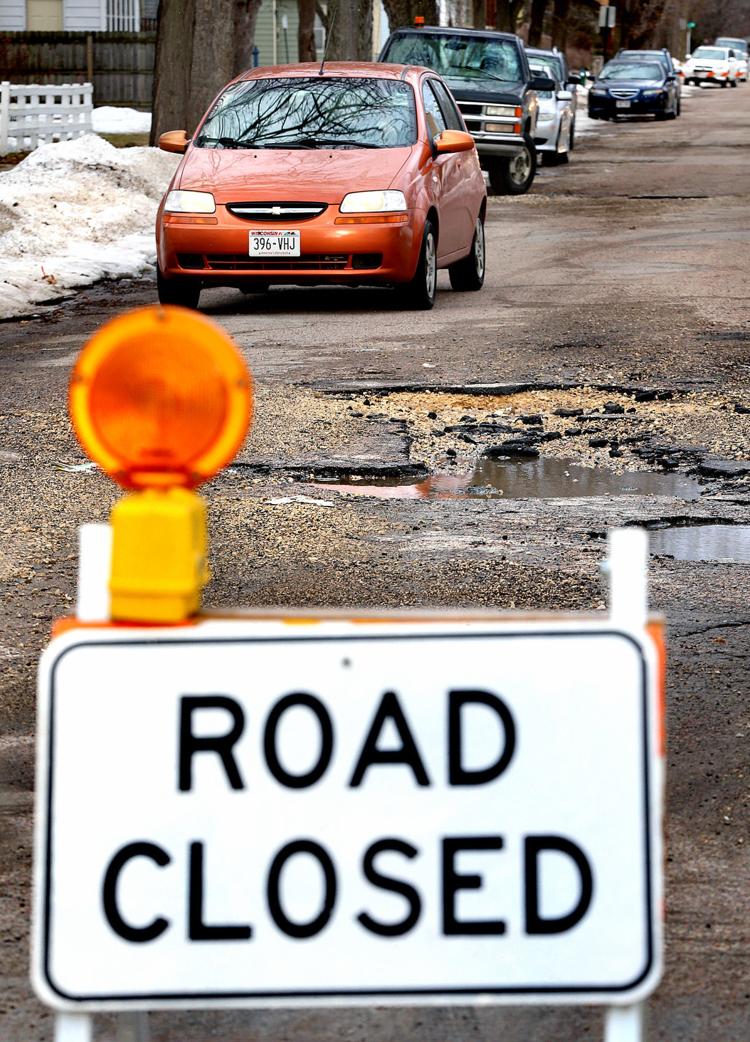 In the winter, groundwater freezes under streets, expanding, causing the pavement to fracture. These cracks let in more water, resulting in another round of freezing and fracturing.
The weight of cars and trucks puts further stress on these fault lines, until it looks as if a meteor shower has made landfall.
Mark Webster, manager at Goodyear Auto Service in La Crosse, said he is accustomed to a steady trickle of pothole-related repairs each spring. But he was not prepared for this.
"We've had an unusual amount, a ridiculous amount — a 100- or 200-fold increase," he said. "Every morning when we come in, there are at least three more vehicles that need new tires."
"They're coming in like crazy with ruined tires and bent rims," said Fred Lezpona, service adviser at Fred's Brake & Alignment. "We're trying to keep up, trying to keep everyone happy."
Mechanics and city officials alike urge motorists to take it slow on ravaged roads, especially those with pooling water, and to avoid potholes however possible.
Swerving, they said, will not always suffice.
"If you know an area that's notoriously bad, it might be best to find a different route," La Fleur said. "People have lives and places to be, and they can't get there if they blow a tire or wreck their front end."