Rep. Jim Hagedorn, R-Blue Earth, held his first town hall event Monday in La Crescent since the impeachment inquiry into President Donald Trump was launched by House Democrats.
Hagedorn, a staunch supporter of the president, called the inquiry "political recklessness on the Democrats' part" and said he is against the probe.
"I don't believe that it's warranted, I think that they're trying to basically take out a newly elected president of the United States for reasons that are not sufficient," he said. "I read (the transcript), I didn't see anything wrong with it."
About 80 residents from the Houston County area attended the town hall event — both in favor and in opposition
Minnesota's First District was held by Democrat Tim Walz from 2007 to 2018, when he gave up his seat to successfully run for the governorship.
Hagedorn, powered by his political action committee titled "MAGADORN," according to its FEC filing, won the district in the 2018 midterm election with 50.1% to his opponent, Democrat Dan Feehan, who received 49.7% of the vote. Feehan plans to run against Hagedorn for the seat again in 2020.
The congressman opened the town hall with a brief civics lesson about how Congress works and provided some background about the district as well as updates on what's going on in Washington, D.C., and how it pertains to Minnesota. He reiterated some of his campaign platforms that became his three main goals as a member of Congress: protecting the "right to life," the "right to keep and bear arms" and the "right to religious freedom."
He touched on the issue of partisanship and the increased political divide across the aisle as well as across the country.
"I think what's going on right now is not good," he said. "I've seen a lot of bills that have come up where we have both sides of the aisle that agree, one on prescription drugs to reform the generic prescription drug system and you could have had 400 votes for that bill," but a "poison pill" — or polarizing partisan issue — was included in the bill, which made it unpassable for one party, he said.
You have free articles remaining.
"Why don't we just agree on 90% of the stuff we can all agree on, make some change," he said. "There's a lot of messaging that's been going on out there, not a lot of legislating."
Hagedorn discussed the "American Workforce Empowerment Act," a bipartisan bill he authored with Rep. Van Drew, D-N.J., that expands education eligibility for post-high school vocational and trade training, and took questions on election meddling in 2016 and the possibility of electioneering by foreign governments in 2020.
The congressman deflected a question about how he plans to fight white supremacy after the FBI classification of white nationalism as a terrorist threat and shared a heated exchange with one resident concerned about the impact of climate change and non-renewable as well as renewable resources.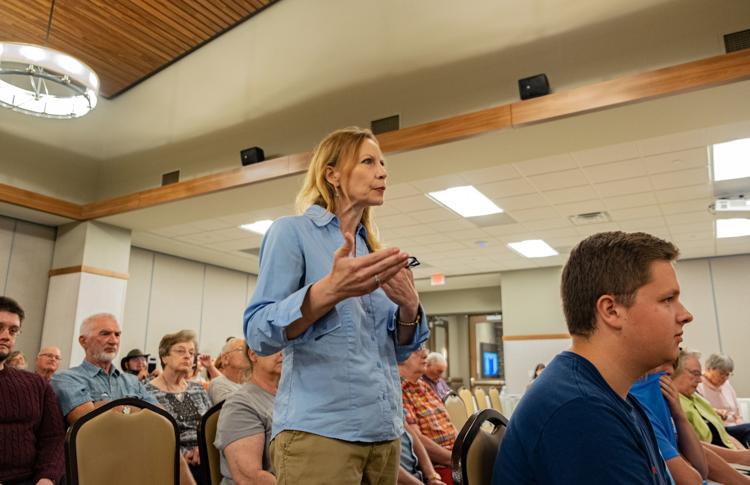 "We are going to lose out economically if we're not on the right side of the issue," said Janette Dean, a Caledonia resident. "Think of the cost that we're going to incur as (the severe weather related to climate change) keeps continuing. You must support renewables, battery technology, this is an opportunity, and this crisis can benefit us if we simply step into the future and support the technology that will protect us, other species and others around the world."
"This is what I support, and this is what I ran on — nuclear, gas, coal oil, renewables, whatever it takes, all of the above to make sure we have a stable energy supply that's reliable and affordable for the American people," Hagedorn replied. "We also have to have the infrastructure in place, the pipelines, the refineries and the distribution points in order to make sure we efficiently utilize the sources that we have."
His response was met with an even amount of disapproving groans and approving applause from constituents on both sides of the issue, and he continued to say there is no feasible technology at this point to allow for energy consumers to switch to completely renewable resources.
Hagedorn, who sits on the House Agriculture Committee, said his top priority as a legislator in the district is to focus on agriculture production and maintaining the district's rural way of life. He touted the USMCA, and said he wants to keep generational farms in business through government reform, by removing EPA regulations and expanding global markets.
"I ran under priority of making sure that we would sustain agriculture and our rural way of life," he said. "Agriculture is the backbone of our economy, rural way of life is very important for most of the people in this district, even the folks in Rochester get it, that the rural areas are important and our farmers are important."
The freshman congressman, who represents Minnesota's First District along the southern border of the state, also took a moment to rail against Sen. Elizabeth Warren, a candidate for the Democratic nomination in 2020, calling her a socialist. He also briefly invoked another Democrat presidential candidate, Beto O'Rourke, and the former congressman's stance on gun control when asked if he would support a federal measure to buy back AR-15s and other assault style weapons.
The event was the seventh in-person event during a tour of Minnesota's First District, which spans the width of the state on its southern border. The congressman plans to visit each of the district's 21 counties on the tour, which launched in June.