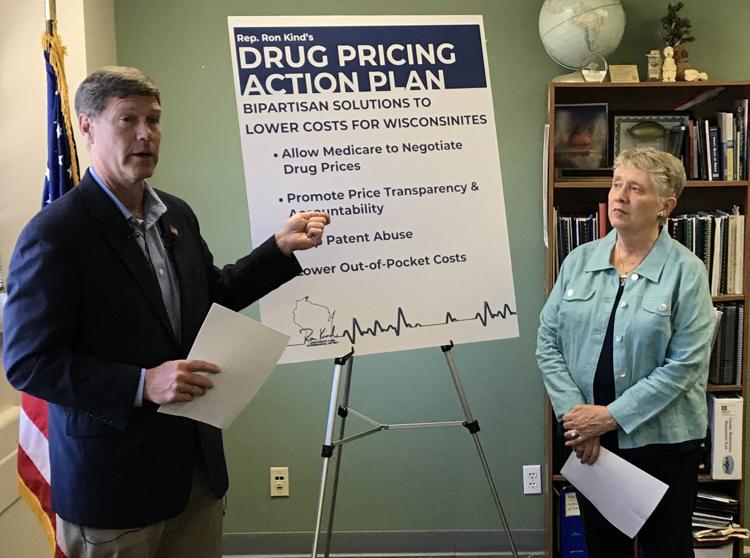 From going without groceries, to turning to payday loan companies, to smuggling product in from Canada, Americans who rely on prescription drugs to keep them alive are doing whatever it takes to get them.
A series of bills introduced in Congress is intended to make such acts of desperation a thing of the past, creating more competition in the prescription drug market and ultimately driving down drug prices.
"These are life-saving drugs that people need access to. ... Americans shouldn't be in this position," Rep. Ron Kind, D-La Crosse, said at a press conference Thursday. Kind, a vocal proponent of the bills, said drug companies have propped up their monopolies in recent years by manipulating the patent system — one of the main reasons for rising costs.
"They've gotten very clever at tweaking something in the existing patents, so they get another 12 years of protection," he said. "That leaves no competition, and it allows them unfettered price increases. It's an abuse of the system."
Together, the bills would serve four major purposes:
Allowing Medicare to negotiate prices with drug companies.
Forcing companies to explain and justify price increases.
Breaking monopolies by limiting patent renewals.
And reducing patients' out-of-pocket costs.
Congress stripped Medicare's negotiating powers in 2003, a move that critics say only lined the pockets of drug company executives.
Effects on pricing have been severe.
The cost of insulin, for example, has risen tenfold during the past two decades, affecting roughly 20,000 diabetics in the La Crosse area and 350,000 across the state of Wisconsin.
You have free articles remaining.
Register for more free articles.
Stay logged in to skip the surveys.
"It's insane that it's against the law to negotiate drug prices. Why would we do that?" said Noreen Holmes, a volunteer with AARP Wisconsin and the former director of La Crosse County's aging unit. "It's important, especially when you talk about insulin and people with diabetes. If you don't get insulin, you will probably die."
Holmes has seen firsthand the drastic lengths to which people will go to acquire their medicine.
She remembers one local cancer patient, years ago, who lost her ability to eat and relied on a costly, doctor-prescribed liquid diet.
To pay for it, she took out a payday loan with an interest rate of nearly 550%, a loan she wasn't good for.
"She felt she didn't have any other options," Holmes said. "That always made me feel terrible, that that's what it had come to for that family."
Officials on each side of the political spectrum have spoken out against exorbitant drug prices, promising solutions.
President Donald Trump vowed during the 2016 presidential election that he would restore Medicare's ability to negotiate drug prices — but later backed off that stance, advocating instead for prices to be based on those in other advanced industrial countries.
On Wednesday, Trump announced a plan that would allow the United States to import prescription drugs, something Kind praised as "another shot across the pharmaceutical bow."
Kind was less bullish when predicting the fate of the bills he was championing Thursday.
Two of the bills have been approved by the House, and the others are awaiting a vote. They'll need Senate approval to land on the president's desk.
"We'll see how serious the president is," Kind said, noting his dismay at Trump's selection of Alex Azar as secretary of Health and Human Services in 2017. "For all the rhetoric he gave in the '16 campaign about draining the swamp, guess who he appointed to head up that federal agency: a former CEO of a drug company."