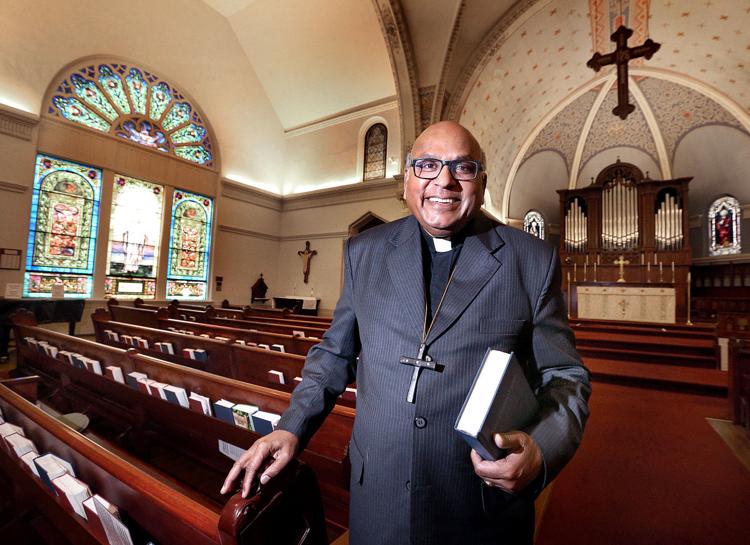 It was a magazine article that kept the Rev. Patrick Augustine awake at night, that brought tears to his eyes, that shaped the course of his life.
Augustine was serving at a parish in Virginia in 1992 when he received a copy of "Yes" magazine from the Church Missionary Society in London, a photo of Bishop of Bor Nathaniel Garang on the cover.
Inside, Garang had detailed the plight of the Sudanese, who were suffering through decades of war, genocide and religious oppression under the reign of the National Islamic Front.
The Second Sudanese Civil War had begun nine years earlier, after the First Sudanese Civil War of 1955 to 1972, and by its conclusion 2.5 million lives would be lost and 4.5 million citizens would be displaced, among them Christians refusing to accept Sharia law.
"When I read that story, it really touched my heart," Augustine said. "I was very much disturbed by what was going on."
The cause has remained near to his soul for the past 27 years, and after 14 visits to Sudan, visiting refugee camps, speaking with residents, preaching and offering aid, Augustine will leave his 16-year post at Christ Episcopal Church June 2 to serve as assistant bishop of the Diocese of Bor, set to be consecrated next month in South Sudan. An interim priest will take over his role in La Crosse.
"At age 69, I never thought in my wildest dreams I would be called to be a bishop in South Sudan," Augustine marveled. "God has called me to leave a very comfortable, beautiful place to be in a very challenging, difficult place. God is calling me to serve the least of Christ's people, where there is hunger and suffering ... and provide them hope and give them a voice."
Augustine, who has aided in settling thousands of the Lost Boys of Sudan to the United States and was bestowed with the Cross of St. Augustine Award by the Archbishop Canterbury in 2013, was planning to retire in two years when he received a letter of appointment last August from Reverend Ruben Akurdid Ngong.
Bishop Michael Curry drew up an agreement of Augustine's position as assistant bishop in Bor, which will go into effect June 9. The multi-year commitment (the exact duration is dependent on his health) will bring Augustine to South Sudan for four to six weeks at a time, thrice annually, to help the country rebuild after its 2011 independence from Sudan and bridge communication and create relationships between South Sudan and the U.S.
"Our people in South Sudan know about your work as our brother advocate in the Anglican Communion and on the global scene," Ngong wrote in his invitation of conscrecation dated March 3. "You were part of conversation of our church in bringing peace and liberation of South Sudan as an independent nation. You have been (an) advocating voice of the voiceless of Sudan...our people are suffering because of war and internal conflicts. We lack resources and our people are hungry, suffering from diseases and many are living in refugee camps and displace(ment) camps. We need the world community to stand in solidarity with us to help God's children who are suffering. Your role will be our voice and representative to the world to seek help in the continuing work of peace and resources for development to empower our people to live in harmony."
Born and raised in Pakistan, Augustine, the son of a priest and grandson of a minister, had experienced religious persecution himself as a Christian in a predominantly Islamic region.
After coming to the U.S. in 1983, Augustine served as a pastor first in Chicago before relocating to Virginia.
Upon reading Nathaniel Garang's account of Sudan, Augustine began seeking ways to help and spread awareness. In 1994, congressman Frank Wolf, who four years earlier became the the first U.S. representative to meet with John Garang, the head of the southern Sudanese rebels, was in the pews when Augustine spoke, and the legislator invited him to Washington D.C., to meet with government officials.
In 1998, Augustine was among six officials of the Episcopal Church invited to South Sudan by Nathaniel Garang and Rev. Marc Nikkel of the Bor Diocese.
There, Augustine met some of the 54,000 residents of the Kakuma Refugee Camp, where food rations were meager and people were starving. He visited a group of men from the Nuba Mountains, a poor area cut off by the Khartoum government.
He witnessed the lack of educational opportunities, the schools without books or libraries.
He saw the pain of a young Episcopal Evangelist, paralyzed from the waist down after being shot at and recently released after months of recovery in a rudimentary hospital.
The suffering brought Augustine to tears. There were new mothers so malnourished they were unable to produce milk for their infants, people dressed in rags or nothing at all and the ashes of humans and animals, burned alive by Sudanese security forces, covering the fields. He later recounted his experience in the book "Hear My People's Cry," distributed to churches and organizations.
"I decided I can never be silent," Augustine said. "Because if I'm silent, I'm agreeing with the oppressor. It is a modern holocaust. I asked God to give me the courage to speak up."
In 2001, Augustine, who has testified on human rights violations and religious persecution four times at U.S. congressional committee hearings, was appointed as the Canon and Commissary to the Archbishop of Sudan.
Two years later, he left Virginia to became rector at Christ Episcopal Church, his brother and sister both located in the Coulee Region.
Augustine brought awareness to the congregation of the suffering in Sudan, as well as that in Garissa, where a 1980 massacre by the Kenyan government left thousands dead, and Pakistan, where human rights violations are rampant and brutal. Church members responded generously, helping fund schools and clinics in ravaged countries.
"This church has been working with me all around the globe," Augustine said. "The greater La Crosse community has supported me in so many ways."
Augustine says he has lost sleep over his acceptance of the assistant bishop position.
His wife, Myra, will only be joining him for a week, and he is saddened to leave the "beautiful church and loving La Crosse community" as well as the comforts and climate of home.
Augustine will arrive in South Sudan during the mosquito-heavy rainy season. Despite vaccinations and medications, he has contracted malaria and other diseases during past visits. To help prevent food poisoning, he plans to subsist largely on protein bars.
Augustine's intensive plans for South Sudan include creating vegetable gardens, helping families acquire chickens, starting and stocking a library and installing solar panels in the schools.
For his first trip, Augustine will bring three donated laptops for the 1,500 students, who have no computers, and he would like to set up pen pal relationships with American youth to encourage global communication and understanding. Augustine hopes to bring along doctors and teachers on subsequent trips, as well as flying South Sudanese educators to Wisconsin for a few weeks to learn new curriculums and teaching tools.
To help fund these projects and to purchase supplies for the residents of South Sudan, Augustine aspires to raise $20,000 before his departure. He requests checks be mailed or dropped off at Christ Episcopal Church, 111 Ninth St. N., memo "Help With Compassion Ministry." Donations made after June 2 may be sent to P.O. Box 273, La Crosse, WI 54602-0273.
"I have become God's beggar for the poorest of the poor, and I feel no shame when I ask people in my community to please give your financial help and support me with your prayers," Augustine said. "I have every hope the people of La Crosse will support me."
"At age 69, I never thought in my wildest dreams I would be called to be a bishop in South Sudan. ... God is calling me to serve the least of Christ's people, where there is hunger and suffering ... and provide them hope and give them a voice." Rev. Patrick Augustine