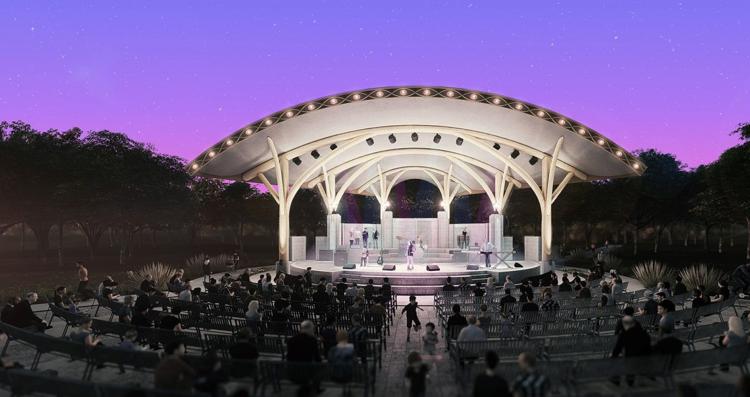 The consortium of users including Valley View Rotary Moon Tunes, La Crosse Concert Band, The La Crosse Jazz Orchestra, Rotary Lights and La Crosse Riverfest is attempting to raise $550,000 to build an acoustical shell covering the existing bandstand in Riverside Park.
"It's fun to see the community get behind something that's going to enhance our park," said Terry Bauer of Valley View Rotary, which organizes Moon Tunes.
Designed by architect Roald Gundersen, the acoustic shell will reflect sound to audiences and to performers on stage. It also will shelter performers from most weather and provide ambient lighting.
The group already has confirmed $90,000 dollars coming from Moon Tunes, Pearl Street Brewery, On Three Printing, La Crosse Riverfest, Sprout for Kids Foundation, The Pearl Ice Cream Parlor, and Piggy's Restaurant and Blues Lounge.
The group will announce major corporate sponsorship opportunities in late October.
Two projects to improve La Crosse's Riverside Park moved forward Thursday after a pair of decisions by the city's parks board.
The city's parks department won approval and $1.14 million in funding from the La Crosse Common Council to proceed with repairs on the existing stone Wendell Andersen bandstand. Work should be done by May 1.
Moon Tunes has been raising money for the shell project for years, waiting for the city to work out plans to update the bandstand.
"Now we're there. We're at that point, which is great news," Bauer said.
You have free articles remaining.
Register for more free articles.
Stay logged in to skip the surveys.
Riverside Park's historic bandstand could get a roof over its head thanks to a group of civi…
The acoustical shell will complement the city's investment but will be independently funded and given to the city.
"We're not asking the city for a penny to complete the shell part of the bandstand project," Bauer said. "They are two separate projects."
The shell will be about 42 feet deep, 84 feet wide and 32 feet tall, and it will cover most of the bandstand.
The planned tree-supported acoustical roof plays on the logging history of La Crosse, while the roof mirrors the Pettibone Beach House across the river and the artistic lines tie into the city's iconic blue bridges.
Both the city's Heritage Preservation Commission and Board of Park Commissioners have approved the design and the goal for completion of shell installation is May 2020.
Design plans, FAQs and other information on the project can be found at lacrossebandshell.org. Those interested in sponsorship may also visit the website to find out how to make contributions or mail donations to Rotary Works Foundation, P.O. Box 1571, La Crosse, WI 54602.
Photos: 2018 Moon Tunes performances at Riverside Park in La Crosse