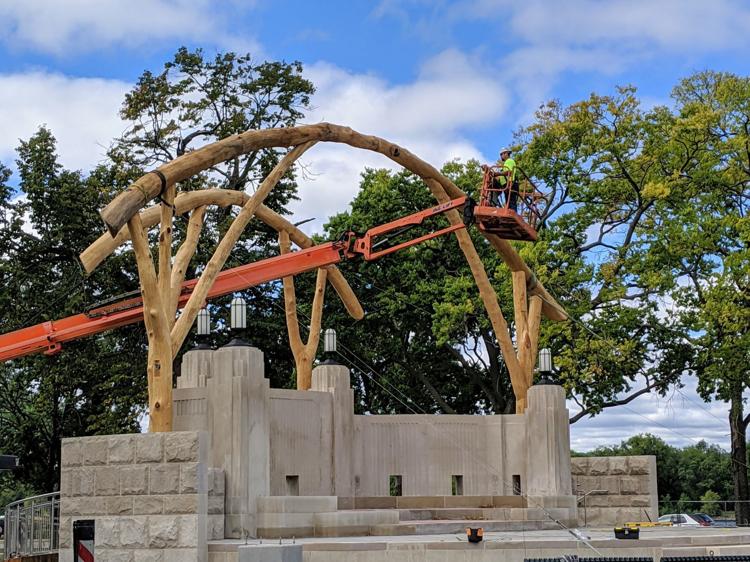 The volunteers behind an effort to build a shell over the Riverside Park bandstand took a break from fundraising Friday to put some sweat equity into the project.
While the band shell won't quite be ready for Saturday's Moon Tunes' Woodstock event — which is from 2 to 9 p.m. on a temporary stage in the park — the people who have supported the consortium of users' efforts to give the Wendell Anderson bandstand a cover will get to see some of the fruits of their labor.
Workers from Brickl Brothers and Modern Crane & Rigging were installing the arches that will be the bones of the band shell, made up of about 18 white oak trees. Terry Bauer, a member of the consortium, took a break from staining the trees that make up the third arch to take in the sight.
"It's a blessing to see it come to fruition after years of community support," Bauer said. "We can't thank the community enough for their support."
His fellow volunteer, Dave Clements — who was also helping out on the job site — echoed the sentiment, saying, "The community has been wonderful. It's amazing."
The project was delayed due to its unconventional design, which required finding exactly the right trees with the right curvature to fit.
You have free articles remaining.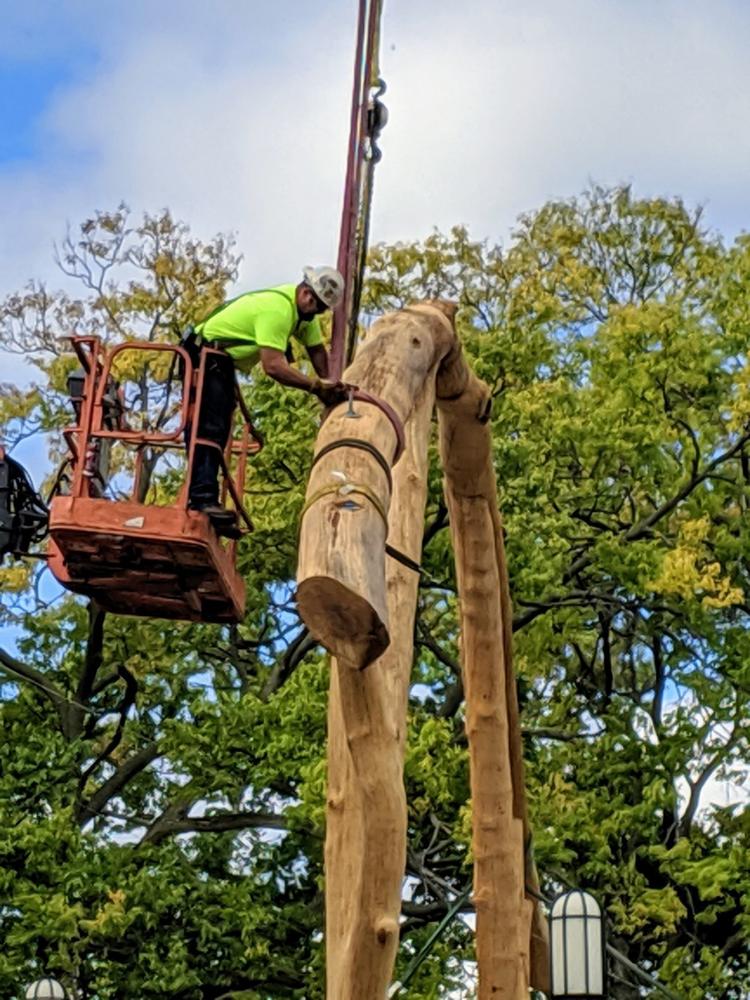 They can't exactly go to Menard's and pick them up, Bauer said. "It's a labor of love," to find them, he said.
After finding and falling the trees, they strip the bark and stain them. On Friday, crews were tying them together in the sky and squaring them up to drop them into the pedestals on the ground.
"When it's all said and done, I think it's going to be iconic for at least 50 years," Clements said.
The consortium — which includes Rotary Lights, Moon Tunes, La Crosse Concert Band, Riverfest, La Crosse Jazz Orchestra and Explore La Crosse — has been raising private funds to add a roof to the bandstand, turning it into a true band shell, both to improve the acoustics and provide some shelter to those underneath.
The design, developed by architect Roald Gundersen, incorporates a round timber structure with arches mirroring the Cass Street bridge and a copper fish-scale roof similar to the one on the Pettibone Park gazebo across the Mississippi River.
"It's going to be here when we're all dead and gone, and I am proud of that," Clements said.
The group has nearly reached its fundraising goal of $850,000 and will continue to sell pavers — set to be installed next spring — through Sept. 30. Visit lacrossebandshell.org for more information or to donate.