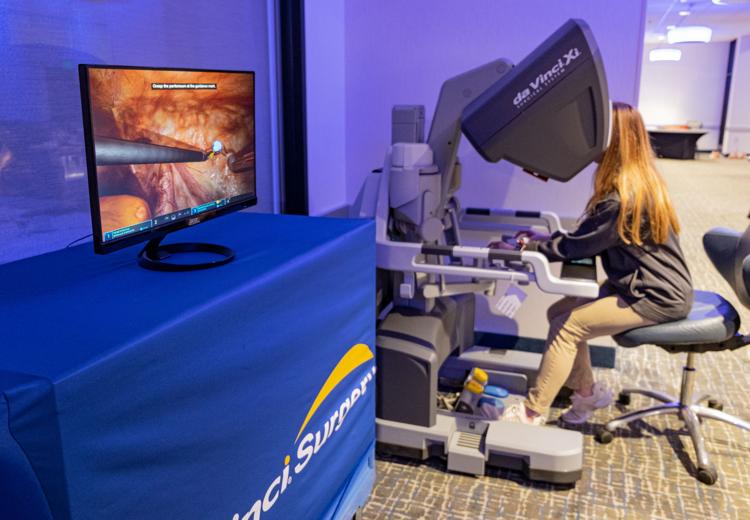 Robot assisted surgeries could decrease the number of opioids prescribed for post-operative recovery and lessen the cost of the medical procedure through shorter hospital stays, according to Mayo Clinic Health System surgeons.
"We can use smaller incisions to do very advanced type of procedures," when working with a robot-assisted surgery tool, called the da Vinci Surgical System, said Dr. Amy Lloyd one of the Mayo Clinic Health System physicians who spoke Monday at a community forum.
The da Vinci system has wrist-like motion that allows the surgeon to pivot tools inside of the patient and perform tasks with precision and greater flexibility than traditional laparoscopy, a technique that allows the surgeon to directly manipulate a fiber optic tool through a small incision in the patient's abdomen.
"There's less pain in these patients," when comparing robot-assisted surgery with laparoscopy and open surgery, said Lloyd, the head of the Department of Surgery at Mayo Clinic Health System in La Crosse.
"I see patients every day saying 'when can I get back to work?' Well, in some instances I can tell you, you can go back to work as soon as your feel comfortable, which may even be the next day" after the robot-assisted surgery, Lloyd said. And less time in the hospital means less cost to the patient or health insurance companies.
Surgeries done with the help of robotics include hernia repair, gall bladder removal, and colon and acid reflux procedures, but new capabilities of the da Vinci system are being discovered regularly.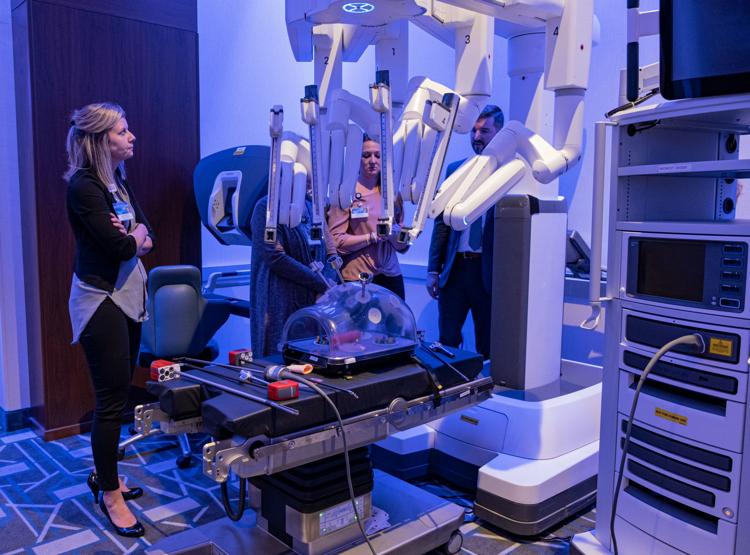 Robot-assisted heart surgery is already a reality at Mayo Clinic in Rochester, Minn., said Dr. Mark Sawyer, chairman of Surgical and Procedural Practices at Mayo Clinic Health System in La Crosse.
You have free articles remaining.
"Some heart valves are being [operated on] robotically," Sawyer said. "Brain surgery is a different robotic system, but computer guided robotic biopsies are already a thing."
Mayo Clinic Health System in La Crosse has had access to the da Vinci Surgical System for the past few years, but recently the facility has opened the robotic-assisted surgical training program to include more physicians.
"We've just really amplified the program that was there, and now we have a lot more surgeons that are doing robotic surgery in a lot of different areas," Sawyer said.
Dr. Scott Pate says the rise in popularity of robot-assisted surgery will continue to increase during the next few years. In the mid 2000s, about half of prostate removal surgeries were done with robotics. Now 90% of the prostate removal surgeries are robot-assisted, he said.
"You're just going to continue to see a bias toward robotics," he said.
Pate, who specializes in urology at the Mayo Clinic Health System in La Crosse, also has performed open surgeries, but he prefers to use the da Vinci system. He's completed nearly 400 surgeries with the system during the past six years.
"From a precision standpoint, you can be zoomed in 10 times to the ninth mollification of what my eyes can do, so I can see the surgery much more precisely," he said.
Robot-assisted surgeries have decreased the amount of pain felt by patients, as well as the amount of time spent in the hospital after an operation, through increased procedural precision and smaller incisions. Pate said that patients often are able to leave the next day after surgery without a prescription for potentially habit-forming pain medication.
"They go home taking Tylenol now rather than taking [opioids] for one-to-two weeks," he said. "This has been studied, there's less of a chance of [opioid] addiction."