U.S. Rep. Ron Kind returned to Washington, D.C., on Tuesday girded with bipartisan amendments he is proposing in the congressional battle over the 2018 Farm Bill.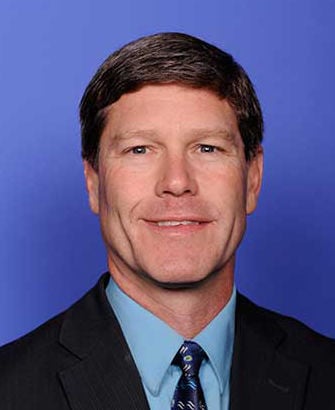 Among other things, the bill, to be taken up this week, must buoy low commodity and dairy prices, Kind said during a press conference in front of the La Crosse Regional Airport, on a sunny day that finally granted relief from several gray, rainy ones.
"We need to come together and demand a better Farm Bill that works for Wisconsin farmers, families and communities," the La Crosse Democrat said.
Kind, acknowledging that his proposals target special interest groups "I have battled before," singled out three amendments out of seven he is proposing and the House Rules Committee is considering:
Setting a gross income limit for crop insurance recipients at $500,000. As it is now, "the sky is the limit" for crop insurance subsidies that go even to millionaires and billionaires, he said.
Reinstating the federal Conservation Stewardship Program to help farmers continue to protect their topsoil and avoid runoff.
Reforming the crop insurance program to lower the return rate insurers can receive on premiums to 12 percent. Kind decried the current limit of 14.5 percent, saying no other entities have such guarantees.
While factional politics get in the way in the House, he said, the Senate is operating in a more bipartisan fashion that bodes well for the $867 billion bill, spread over 10 years. Congress is tasked with renewing the legislation every five years to subsidize agriculture and food assistance programs.
The bill of more than 640 pages needs at least 60 votes in the Senate, where Republicans hold a 51-47 edge over Democrats, and in which two independents caucus with Democrats.
Even as many dairy farmers have begun selling their herds or consider doing so after months at the mercy of low payments, Kind said they are entitled to at least fair market prices.
He also expressed concern about exports, saying that dairy farmers would be forced out of business if President Donald Trump follows through on threats to eliminate dairy exports to Mexico.
"I will be meeting with the Trump trade team" this week to underscore such concerns, Kind said.
Kind criticized the potential for tighter work requirements for recipients in the Supplemental Nutrition Assistance Program, often referred to as food stamps. Reports indicate that Trump will announce Wednesday that he will veto any bill that doesn't require stricter work requirements.
SNAP covers more than 42 million Americans, and Kind noted that roughly two-thirds are children, disabled or elderly. He doesn't mind work requirements, as long as they don't affect those neediest people in the anti-poverty program.
Addressing the fact that many SNAP recipients already work but don't earn enough to buy food, Kind said the fluctuating economy also cycles some recipients in and out of the program.
More wet weather kept farmers out of their fields much of last week in southern Wisconsin: La Crosse reported 1.8 inches of rain, and Madison …
In response to a question about whether he is comfortable with the credibility of the White House, amid almost continuous examples of lying on the part of the president and staffers, Kind said, "Every day is an adventure, with tweets at 3, 4, 5 in the morning."
The country requires "focused leadership instead of constant tweeting over stupid things," he said.
In answer to a question about the furor over White House communications aide Kelly Sadler's comment that U.S. Sen. John McCain's voting potential is irrelevant because "he's already dying," Kind said that the Arizona Republican's service in the Vietnam War and the torture he endured as a POW "should unify the country" instead of devolving into rancor.
"Regardless of your party, John McCain is a true American hero," he said.
Regarding moving the U.S. embassy to Israel from Tel Aviv to Jerusalem, where first daughter Ivanka Trump stood in for her father to open the new facility on Monday, Kind said, "It was a step too soon.
"Giving such a huge issue away makes us look like we can't be an honest broker" and undercuts the potential for Mideast peace with a two-state solution, he said.
Moving the embassy to Jerusalem, ground zero for Israeli-Palestinian discord, spurred tens of thousands of Palestinians to protest. Members of the Israel Defense Force answered with gunfire, killing more than 50 Palestinians, including eight children younger than 16, and injuring more than 2,400.
Although some of those slain were shot trying to cross the Gaza Strip border, news reports indicate that people as much as 300 to 400 yards away fell to IDF sniper fire.
Israeli and U.S. officials blamed Hamas militants for propelling protests and defended the military response.
However, at the United Nations Security Council in New York, Palestinian Ambassador Riyad Mansour told reporters, "We condemn in the strongest term the atrocity by the Israeli occupying forces using this massive firepower against civilians who have the right to demonstrate peacefully, and they have been demonstrating peacefully.
"We demand that this action be stopped immediately, and we want those responsible to be brought to justice from the Israeli side because this is not allowed under the provisions of international law," Mansour said, according to ABC News.