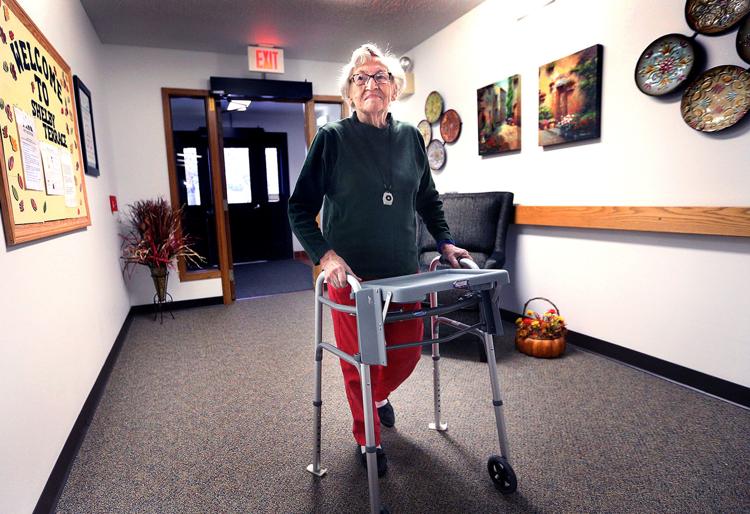 When Gail Loeding assumed the position of director at Shelby Terrace a year ago, she immediately began rearranging the furniture in the foyer, moving in a coffee cart to encourage socialization among the residents. The plan worked.
The 25 residents at the assisted living facility, adjacent to Bethany St. Joseph Corp. on Shelby Road, are known to gather for conversation and reminiscing, and on Wednesday the communal area received an upgrade of cushy reclining rockers, polished wood end tables and a stately fireplace.
The new amenities were brought in in honor of Shelby Terrace's 30th anniversary, which will be celebrated with cake, door prizes and tours from 1:30 to 3:30 p.m. Sunday. Staffed 24 hours a day by a group of eight and currently home to men and women age 61 to 99, the facility offers a homey environment for seniors transitioning out of independent living.
"Thirty years of residential service is a testament to listening to people and delivering what they need. Over the years, the services offered by Shelby Terrace have evolved to match changing needs and trends in both independent and assisted living," said Karen Sepich, community services administrator for BSJ Corp. "We are proud to serve people in their neighborhood, in a beautiful place that they can actually afford.
"Our staff really makes the difference," Sepich added. "We are blessed to have the brightest, kindest group of people committed to making Shelby Terrace somewhere you want to live."
The facility's oldest tenant is Ardelle Umberger, a good-natured and witty 99-year-old who could easily pass for 75. Umberger, a widow of over three decades and a 90-year resident of the Coulee Region, moved into Shelby Terrace 18 months ago after maintaining her home became too big a task.
"Mowing the lawn, taking care of the flowers — it was getting to be too much, and you can only rely on your family for so much," Umberger said. "It's nice to see the snow without having to shovel."
Umberger's room is filled with homey touches — a peace quilt made by her daughter, a picture-covered wall hanging — and every Sunday at 6 p.m. her family drops in for a round of cards. Her game of choice the rest of the week is "Bingo, of course," a staple for the residents.
"Bingo is at a certain time on a certain day, and if it's not that time, they're at my office, trust me," Loeding said with a laugh.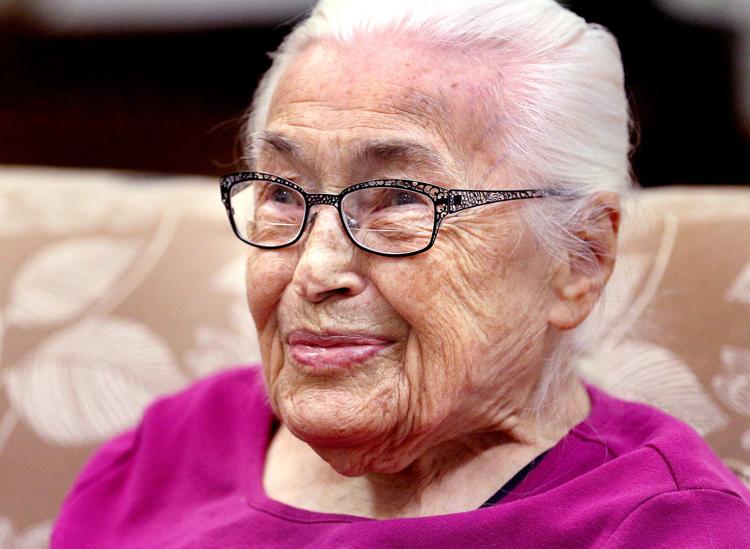 Loeding takes a personal approach to her job, cooking up elaborate monthly birthday breakfasts of quiche and french toast, leading seasonal craft sessions and responding with delight when residents pop by her office to chat. The camaraderie and comfort is not lost on two-year resident Verna Zeichert.
"It's home," Zeichert said. "That's the way I feel about it."
Initially resistant to assisted living, Zeichert found the staff at Shelby Terrace friendly and inviting, and, before her husband died over two years ago, she was able to take the short walk to see him in the neighboring Bethany St. Joseph nursing home.
"It's really hard for them to lose that independence, but when they come into a family like this and learn everyone feels the same way, it's easier for them to accept, I think," Loeding said.
The residents have "an interwoven love between them," Loeding says, extending concern and well wishes when someone falls ill and visiting residents who briefly transition to the nursing home to recover from ailments or injuries.
Staff develop friendships with residents as well, with Zeichert is particularly fond of the two women in the BSJ beauty shop who braid her hair. The Shelby Terrace team is "amazing," Loeding says, and "would do anything for them."
Activities are often done "as a family," with concert trips, resident-performed plays — Umberger set aside her sweetness to play a convincing critical and cranky character — and holiday traditions, including decorating a two-story tree for the holidays.
"That tree is beautiful," Zeichert noted.
Perhaps the biggest perk of Shelby Terrace is the dining service. Zeichert and Umberger don't miss the prep work for a home cooked meal.
"Cooking is not my forte," Umberger said. "I like the chicken here."
"Oh yes, the chicken is good," Zeichert concurred.
In a few weeks, Zeichert will be feasting on Thanksgiving dinner with all the trimmings, surrounded by her Shelby Terrace friends. To Zeichert, they have become more than friends.
"I've got family here now," Zeichert said, bringing tears to Loeding's eyes. "Everyone is family."