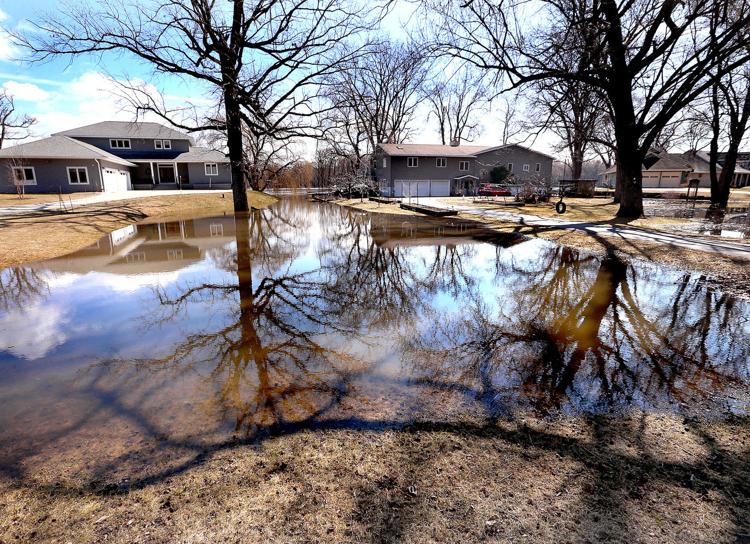 Rising waters have turned parts of Shore Acres Road in La Crescent, Minn. into a retention pond as the Mississippi River climbs toward its projected 14.6 feet crest Wednesday.
To travel between their houses and the road, residents must drive through submerged streets that are 1 foot to 18 inches underwater in places, or put on waders and walk.
Although the bend beneath the railroad tracks, which is prone to flooding, has been swamped with water since last week, spreading floodwaters also have covered the section of Shore Acres Road that connects to the emergency bypass, a dirt loop meant to provide backup access by circumventing the most flood-prone sections of the road.
The bypass was put in after the 2001 flood — La Crosse's-second highest crest on record at 16.41 feet — cut residents off from fire and emergency medical services and a house burned down.
Residents started parking their cars on dry land during the weekend in the Wagon Wheels Trail parking lot near the swing bridge.
Tom Poellinger was waiting in the lot Tuesday in his red Jeep Wrangler so he could ferry wife Mary back to the house when she returned from her errands.
"It's like going to a picnic," Tom said as he loaded up the Jeep after Mary pulled in with a trunk full of groceries.
"It's kind of a nuisance," Mary said. To avoid driving through water at night, they've had to cancel some of their evening activities, including tickets to the theater and Tom's gun club meeting.
They don't intend on going out again today, Tom said. "I hope I can get through tomorrow, but I'm not sure, though the water's supposed to go down."
A UPS delivery truck, met with a foot of standing water where the emergency bypass reconnects to Shore Acres Road, did a U-turn after the railroad tracks.
When Shore Acres becomes impassable, UPS will either hold the packages and notify residents by email or leave the packages with one of the residents for pickup, said driver Kevin Thomas, who stopped to take a video of the flooding to send to his boss.
"(Another) driver told me about it, but I was kind of like, I want to see if for myself," Thomas said. "There's just too much water."
Meanwhile, mail is being held at the post office for pickup, Tom Poellinger said. "I can't expect the mail to come in a canoe."
Peter Zimmerman, a hydrologist with the Minnesota Department of Health Well Management Section who was in the area for unrelated work, also stopped to look at the flood.
Zimmerman recommended that well owners who have had floodwaters come within 50 feet of their wellhead get their water tested. Those who've had floodwater cover their wells should get their wells cleaned out, Zimmerman said.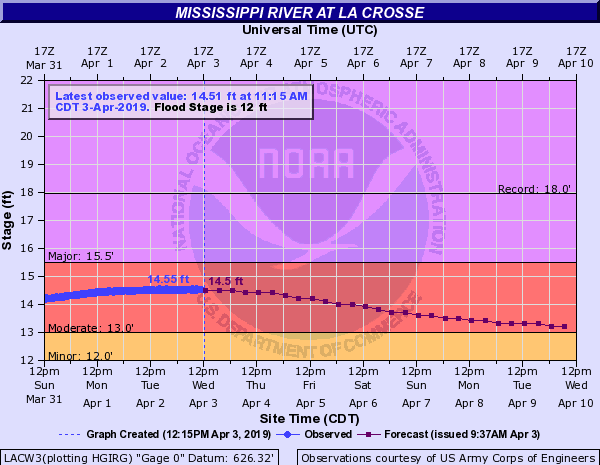 Jerry O'Flaherty pulled on a pair of waders after he parked his car. He keeps a suitcase with an emergency change of clothes in the trunk as well.
O'Flaherty, a longtime resident of Shore Acres Road, lives about two-thirds of a mile up the road. His parents bought property in 1949, he said. "I remember the '52 flood, and the '65 (flood) was the really big one."
Still, it's been a while since flooding has made such a large stretch of the road inaccessible to cars, he said.
Now that water covers the road, his neighbor's geese swim freely in the streets, he said. "The gander came at me the other day."
"If it drags on, like in 2001, we'd move out," O'Flaherty said, adding that he doesn't expect it to come to that.
The river is expected to crest before noon Wednesday and though there's water between the road and his driveway, his yard is dry, O'Flaherty said.
They've rebuilt their parents' house and filled it high, he said. "I probably have a foot and a half of water in my basement, but I have a lot of shelves and things hanging from my ceiling. I'm used to it. If I didn't like it, I wouldn't live here."
The rising river has disrupted some aspects of life on Shore Acres Road, delaying UPS shipments and limiting residents' mobility.