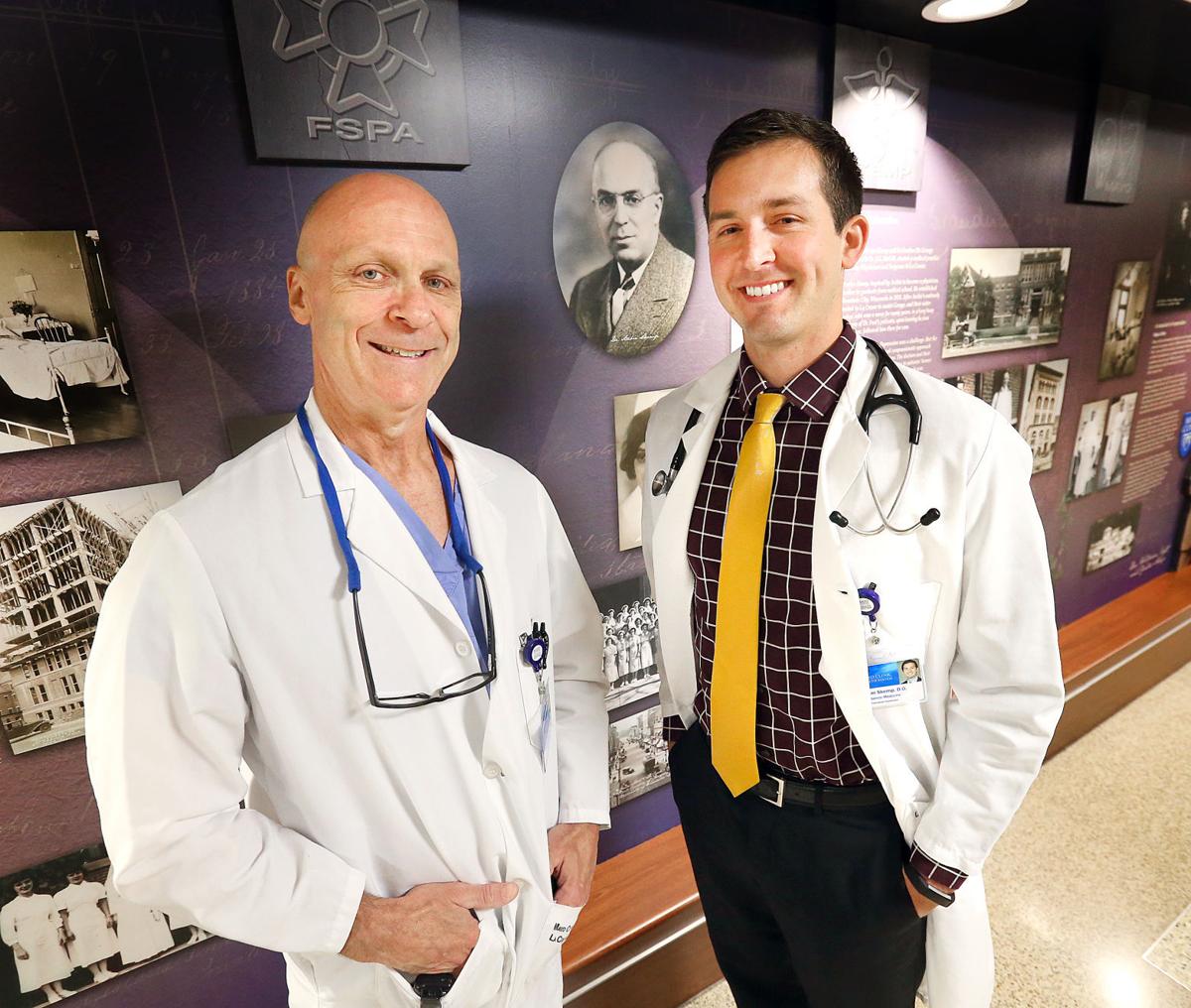 Dr. Adam Skemp is continuing the four-generation like-father, like-son Skemp lineage at Mayo Clinic Health System-Franciscan Healthcare in La Crosse.
So it's little surprise that one of the first questions Adam said he has heard during his first few weeks on the job as an internal medicine physician at Mayo-Franciscan is, "Are you related to the Skemps?"
An almost equally common question runs something like, "Are you old enough to be a doctor?" the 31-year-old Adam acknowledged with a smile.
Not that he minds the ancestral inquisitions or the age jokes, he said: "It's a good conversation starter."
If you're interested in the father-son names on the family tree, it goes something like this: Like Dr. Archibald Skemp, like Dr. Charles Skemp (plus John and Sam); like Charlie, like Dr. Joseph Skemp (as well as Archie and Neil); like Joe, like Dr. Adam Skemp, who now is the fourth generation of Skemps at Mayo-Franciscan, stretching back nearly a century, to when Archibald founded the Skemp Clinic in 1923.
However, not all of the 13 physicians on the tree have resulted from the father-son progeny path. Dr. Margaret Grenisen's grandfather, Fred, was in the initial wave, along with brothers Archie and George.
Three are practicing at Mayo-Franciscan: Adam and Joseph, a surgeon, and Grenisen, one of the founders of the Center for Women's Health, where she still works.
Adam, the oldest of Joseph and Lisa Skemp's five children, insists there was no pressure to join what many might describe as a family franchise not unlike the Gundersen clan's down the street, although the Gundersens have had 23 doctors who fell close to the tree and also landed in other states.
"At Halloween, I was always a doctor or surgeon," Adam said, adding that he had aspired to the profession since he attended Crucifixion Grade School in his home town of La Crescent.
Adam's costumes always had a realistic touch, with accessories such as masks and tongue depressors his dad requisitioned on the sly (don't tell the Franciscan Sisters of Perpetual Adoration).
Having been exposed to a variety of health care options growing up, Adam initially imagined himself scrubbing for surgery suites like his dad.
"It's intoxicating being in the OR," Adam said, but then, "Life happened, and there is a lot more stability" as an internist.
"It goes to (the credit of) my dad that everybody who works with him likes him, and I thought all doctors would be that way," he said, acknowledging that his experiences in med school and during residency burst that bubble.
"Med school is a mixed bag," he said. "It's like 'Survivor' or 'Big Brother,'" never knowing when a classmate was being a friend or trying to leapfrog.
Adam is happy with his ultimate choice as an internist, which includes being involved in diagnosis, treatment and care.
"It's well-rounded, and I like that responsibility," he said. "Every day is different, and you have to make so many profound decisions. The patients will remember it for years, and that's powerful, after years of study."
Adam hasn't perfected the stereotypical chicken-scratch doctors are known for, explaining that his penmanship retains the cursive flair he learned in Catholic school.
Confessing that he had told his parents he never would come back to practice in La Crosse, he said he changed his mind after attending medical school in Kirksville, Mo., and his residency at a hospital in Bradenton, Fla.
"After being around the country, I realized how good it is here, with the bluffs, the scenery, the people," he said.
So Adam and Marci, his high school sweetheart and now wife, and their children — Isabel, 2, and Owen, 7 months — high-tailed it out of the Sunshine State after his residency.
"We rushed back," he said, also noting that health care in Florida is much more cumbersome, sending patients hither and yon for various tests and treatments that usually are under the same roof back home.
Joe admitted he had made a similar vow when he left the nest.
"When I went off, I said I'd never come back," he said. "I thought I'd be on a hospital ship, going down the Amazon, because I'd heard about something like that."
The father-son age/professional gap surfaced when Joe and Adam answered questions about the accuracy of and preferences when comes to TV doctors.
"I was a big 'St. Elsewhere' fan, and 'Trapper John, M.D.'" Joe said, while Adam responded, "I watched 'E.R.' and 'Scrubs.'"
Both are happy to be practicing in the same hospital, with Joe saying, "In our family, we see it more as a vocation than as a job. … I like spending time with patients, and I see high school friends. It's inspirational, really."