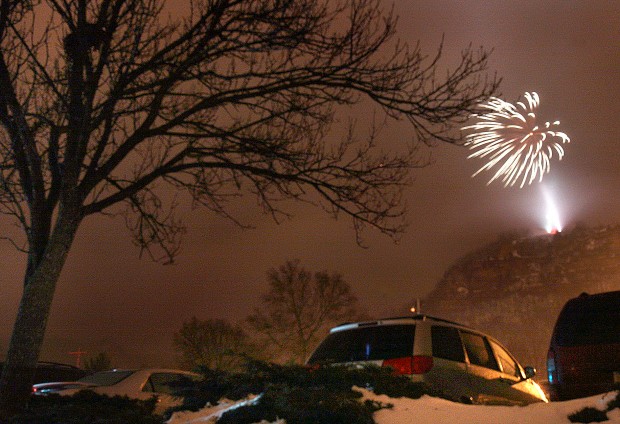 The La Crosse Skyrockers intend to light up not only the night sky but also the entire length of Grandad Bluff with an expanded fireworks salute to the new year.
"We think the bluff is so cool, we're gonna try to light up the whole thing," said Pat Bonadurer, president of the nonprofit, volunteer organization that has sponsored the pyrotechnics for 84 years.
"We'll have a lot more smaller ones covering the whole top of the bluff," Bonadurer said, adding that the mortar shells will be 2 inches instead of the larger sizes used at
the main display at the bluff's pinnacle.
About 25 club members are involved in setup, which includes "a couple of miles of wires and electrical connections for the electronic show," he said.
The initial salvos will be fired during press events at 6 p.m. Dec. 1, 2 and 3.
As in previous years, the Skyrockers will offer individuals and families the chance to light fireworks at 6 p.m. daily during December in the run-up to the New Year's Eve grand finale.
Suggested donations are $25 a pop, with proceeds helping defray the $11,000 cost of the fireworks, said Bonadurer, whose grandfather, William, was among the 10 founders of the annual show in 1929.
"We have a 100-year-old dynamite blasting box where they can push the plunger and shoot a cheer into the sky," he said.
The calendar of open dates is available at the group's website, skyrockers.org, which also features a ticker counting down the seconds to 2014.
On New Year's Eve, the children's show will be at 6 p.m. for youngsters and oldsters alike who can't make the midnight blast, with the big show at midnight.
The Skyrockers also will host its third annual "Stuff the Mortars" open house and fundraiser from 1 to 4 p.m. Dec. 7 at Myrick Park, offering a behind-the-scenes look at what they do.
"What we love to see at this is dads who have always had a hankering to see how fireworks work, with their kids," Bonadurer said.
Entertaining and providing reflective moments as the year ends motivate the Skyrockers to put on the shows.
"We can't sing or dance," Bonadurer said, "but we can paint the sky."